News > Spokane
Spokane County Superior Court Judge James Triplet dies; he was 55
Oct. 24, 2018 Updated Wed., Oct. 24, 2018 at 9:54 p.m.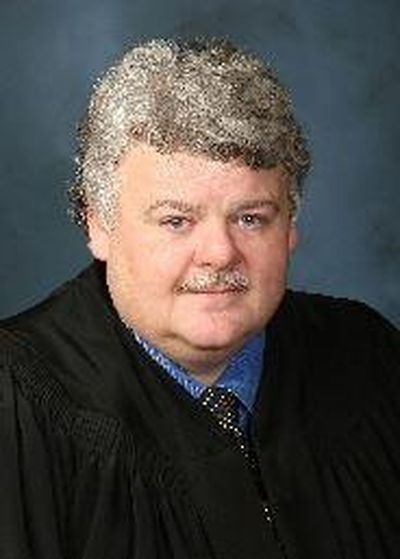 Spokane County Superior Court Judge James Triplet died Tuesday. He was 55.
"Superior Court is very sad to lose such a dedicated judge," said Ashley Callan, Spokane County Superior Court administrator.
Triplet took medical leave on Sept. 17, two weeks after taking vacation in the beginning of August, Callan said. The cause of death has not been released, but a news release from Michael P. Price, presiding Superior Court judge, stated he "had courageously battled a number of significant health challenges over the last year and, unfortunately, never fully recovered."
While on leave, other judges took turns running his docket, which included all incoming felony cases – one of the busiest dockets in Superior Court. Callan said Price has officially taken over the caseload until a temporary replacement can be found.
"We're deeply saddened for this unexpected loss," Superior Court Judge Tony Hazel said in a statement. "I had the opportunity to work with him both as a lawyer and a colleague. He was one of the brightest individuals I got to work with over the years. It's a big loss to the Superior Court bench."
Triplet replaced former Superior Court Judge Neal Reilly, who said he had heard that Triplet had recently been in the hospital.
"He was a very nice man and a very, very good judge," Reilly said. "He was a hard-working man and he treated everyone respectfully."
Gov. Jay Inslee is now tasked with finding a more permanent replacement, who will serve until the position is filled by voters in a countywide election.
Triplet became a court commissioner in 2004, beating a group of 36 applicants and five finalists. Before that he'd served as a fill-in commissioner about twice a month for seven years, and spent several years running his own law firm that he opened in 1993.
"It's an exciting opportunity," he told a Spokesman-Review reporter in 2004. "I have had some experience as a part-time pro tem commissioner, and I'm looking forward to the challenge of doing it full time."
In 2010, he was appointed to the court by former Gov. Chris Gregoire – something he had to keep a secret from his competition.
"She swore me to secrecy until she could make the announcement," Triplet said, according to a 2010 story in The Spokesman-Review. "It's both an honor and a privilege to get this appointment."
Triplet was picked over finalists Mark Vovos, a prominent defense attorney, and former Spokane Mayor Dennis Hession.
He earned a business degree from Eastern Washington University in 1984 and a law degree from Gonzaga University in 1988. He also worked for Mary E. Schultz & Associates.
"It's so sad," Hazel said. "His legal analysis abilities were great. Our thoughts are with his wife and children."
Judge Price wrote that Triplet was beyond smart and bright.
"With a sharp knowledge of the law and of world history, Judge Triplet enjoyed engaging in trivia with friends … especially as it relates to the American Civil War," he said. "One came to expect Judge Triplet would win every time, but you would also learn something in the process."
Local journalism is essential.
Give directly to The Spokesman-Review's Northwest Passages community forums series -- which helps to offset the costs of several reporter and editor positions at the newspaper -- by using the easy options below. Gifts processed in this system are not tax deductible, but are predominately used to help meet the local financial requirements needed to receive national matching-grant funds.
Subscribe now to get breaking news alerts in your email inbox
Get breaking news delivered to your inbox as it happens.
---