A&E > Stage
Dave Attell's comedy continues to evolve with times
Thu., Oct. 25, 2018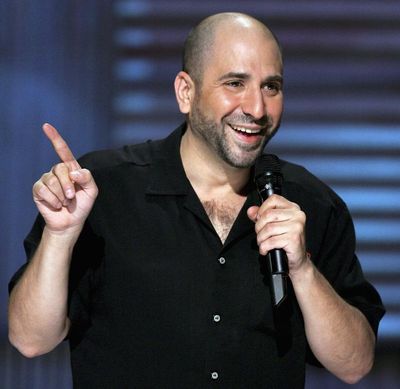 Dave Attell, former host of Comedy Central's "Insomniac with Dave Attell," is coming to the Spokane Comedy Club this weekend. In addition to his successful stand-up comedy career, Attell has written for shows like "Saturday Night Live" and "The Jon Stewart Show."
The way people largely consume comedy has changed a lot since Attell started performing stand-up 32 years ago.
"It's a whole new game now. Just getting anyone off the web and down for a live show is a big achievement. Every week (Netflix launches) two or three new specials," Attell said; "Bumping Mics," his comedy collaboration with Jeff Ross comes to Netflix in November. "When I was a kid, that would've been my dream because I was just listening to all these albums, Bill Hicks, Richard Pryor and George Carlin. But to be able to see them consistently … it's a great time to be a fan of comedy."
At the moment, Attell doesn't like to get into politics, and his content is much less raunchy than it used to be.
But nevertheless, "it's an adult show, it's for the fans of comedy," Attell said. "I know one thing about my crowd, they love jokes, they like to drink and they like to tip so usually clubs like when I come by. I'm really happy with (my fans), and I don't take them for granted."
Over the past decade, stand-ups and writers in general have been pressured to adapt as political correctness evolves in social discourse. Attell noted that the popularity of comedy recordings and Netflix specials have dramatically increased the amount of backlash comedians get for jokes.
"Back in the day you'd go up, throw your best stuff and then you'd battle it out with the crowd and then that's it. You're done. Now it seems like the show almost starts again on the web where people are saying 'I had a great time,' 'I didn't like it,' 'How dare you say that' and it becomes this neverending trail on one show that was really just a throw away."
The gray area between funny and offensive is becoming more and more difficult to navigate, and even seasoned pros and old comedy names like Attell have to put extra effort into the writing process.
"You've gotta go with the times," Attell said in an interview with Tony Castleberry in June. "You do end up second-guessing yourself a lot … what is acceptable today maybe next week isn't acceptable. That makes it a little more difficult to write a joke. But … I am trying to adapt."
Most recently, Attell guest-starred in Pete Holmes' HBO series "Crashing" and Amy Schumer's "I Feel Pretty." He is also planning another solo comedy special.
"It's hard for me to pull the trigger on specials," Attell said. "I never think they're good enough, but I'm hoping the show I'm working on now will be an hour down the road and that should be it for me. Then I'll be driving for Uber."
Local journalism is essential.
Give directly to The Spokesman-Review's Northwest Passages community forums series -- which helps to offset the costs of several reporter and editor positions at the newspaper -- by using the easy options below. Gifts processed in this system are not tax deductible, but are predominately used to help meet the local financial requirements needed to receive national matching-grant funds.
Subscribe to the Spokane7 email newsletter
Get the day's top entertainment headlines delivered to your inbox every morning.
---