Sports > EWU football
Eastern Washington, Idaho set to resume gridiron rivalry featuring fresh, familiar faces
Oct. 25, 2018 Updated Thu., Oct. 25, 2018 at 11:07 a.m.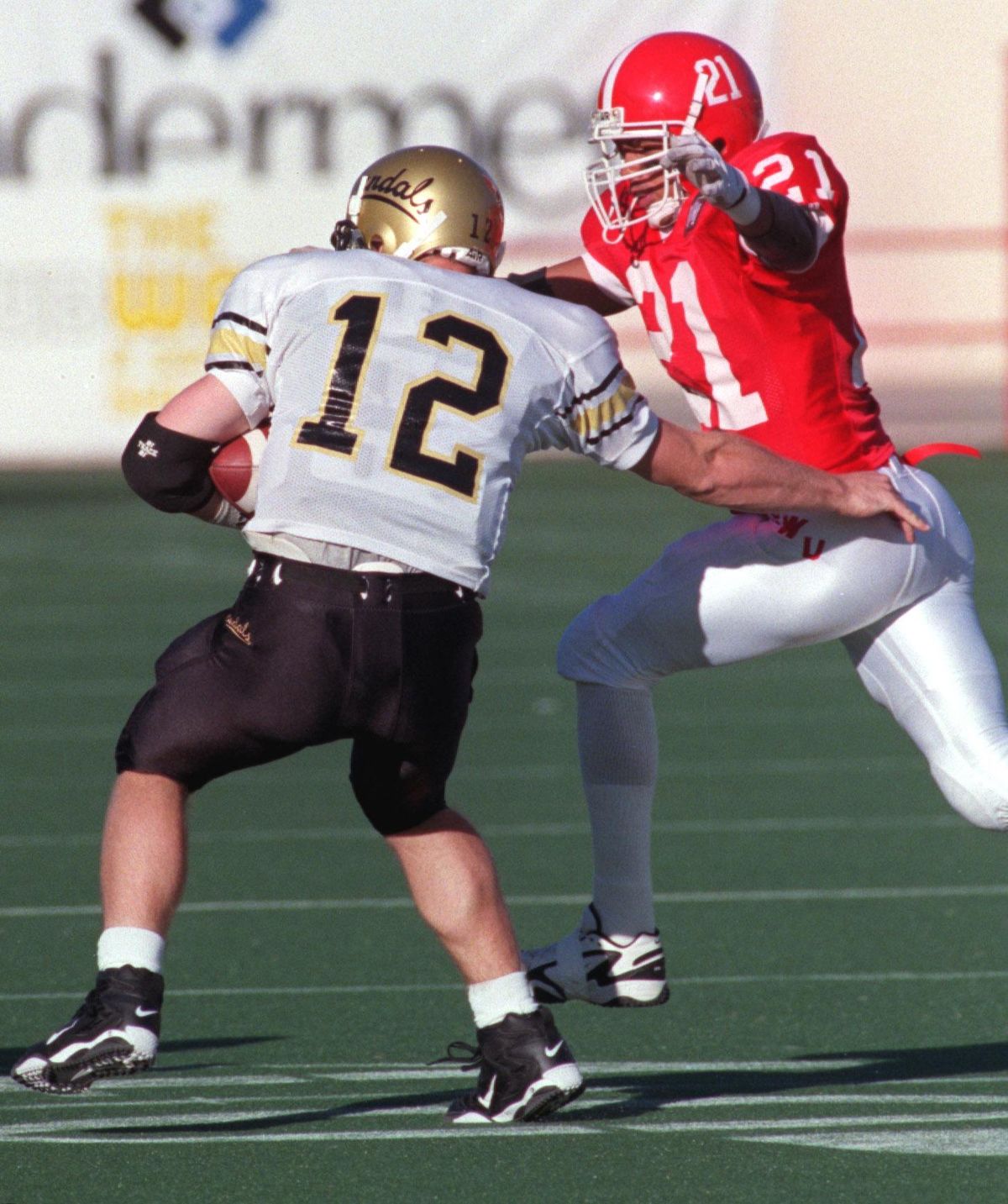 Eastern Washington's Jimmy Lake runs down Idaho quarterback Ed Dean during a 1997 game at Albi Stadium.
Brian Strandley remembers lining up against a behemoth Eastern Washington offensive line when Idaho's annual game with the Eagles was more than just a Big Sky Conference affair.
This was a bona fide rivalry, evoking the sort of emotion that once got Strandley, now EWU's defensive line coach, ejected against the Eagles when he helped anchor the Vandals' front seven in the early 1990s.
Lined up behind Strandley was teammate Josh Fetter, a gritty, self-made linebacker who's now the linebackers coach at EWU.
"They were always battles. Really, really tough games. EWU always had good linemen, and that hasn't changed," Strandley said. "It was a great rivalry."
On their sideline in 1994 – the last time Idaho and EWU locked up in Cheney before the Vandals left the Big Sky for the FBS level in 1996 – was a young Paul Petrino, Idaho's then-assistant and current head coach.
Things were different then. The Vandals were a I-AA (now FCS) postseason team that regularly beat EWU, a relatively young, up-and-down Division I program still finding its footing.
The tables have since turned.
When Idaho makes the 77-mile trek to Roos Field on Saturday at noon, fifth-ranked EWU (5-2, 3-1 Big Sky) will be the tradition-rich outfit. The Vandals (3-4, 2-2), who've already suffered lopsided Big Sky losses to UC Davis and Idaho State, are the ones trying to re-establish themselves in the conference after a 22-year absence.
Idaho and EWU's old rivalry – once dubbed the Governor's Cup from 1984 to 1997, before the EWU and rival Montana continued the rivalry game after Idaho exited the Big Sky – will also take time to be re-established, according to coaches and players
The programs have faced each other twice in the 2000s, both EWU wins in Moscow, the most recent a 20-3 decision in 2012.
An announced sellout crowd in Cheney is a good start for the reboot, though, as it aims to get to the rivalry-driven disdain Idaho has for Boise State and EWU for Montana.
Boise State, regularly in and out of the FBS Top 25, discontinued its series with its in-state rival after the 2010 season in an effort to find better nonconference opposition to boost its resume. EWU and Montana's rivalry is taking a hiatus this year because of conference scheduling, a move that irked Eagles purists.
"It's special to play Idaho again," said Fetter, who sat out with a rib injury the last time the Vandals and Eagles played in Cheney on a then-grass field. "But it's also just another game."
Petrino helped prepare Idaho's offense from 1992-1994, when BSU and EWU were both the Vandals' conference rivals. The Vandals took three games from the Eagles, who won their first Big Sky conference title in 1992, and two from the Broncos over that span.
As much as some fans and others associated with EWU and UI want to elevate into a rivalry what will likely be annual games now that Idaho has rejoined the Big Sky, the heated nature hasn't arrived yet.
Will it ever?
Petrino, for one, isn't likely to make it happen.
"The only two people I know up there (Strandley and Fetter), I like," he said.
"I tried to hire Fetter, but he was loyal to the coaches there."
Vandals freshman strong tackle Logan Floyd, in his first trip through the Big Sky as a starter, doesn't see the stuff of rivalry yet in the matchup with EWU.
"To me personally, no," he said. "Later on. Next year, the year after."
Idaho has a history of poaching Cheney for players, most notably Rick DeMulling, who was a four-year starter and three-time All-Big West first-team selection for the Vandals before playing in the NFL from 2001-2007 and being named to the UI athletics hall of fame. This year, there are three Vandals who grew up in EWU's backyard – junior linebacker Ty Graham, freshman fullback Logan Kendall and redshirt freshman linebacker Chris Fuentes.
Petrino notes that Graham's father, John Graham, was the Eagles' defensive coordinator when Idaho recruited him, and John Graham was Idaho's linebackers coach last spring before moving on to a career in sales.
"It was awkward, to be honest," Ty Graham said of being pursued by the Vandals while being barely courted by the Eagles. His father had limited influence in getting EWU interested in his son, since Cheney was not in his recruiting area.
"I know every square inch of that program. I lived there a good eight years of my life," Graham said. "I grew up watching how football was played."
He missed Idaho's homecoming victory against Southern Utah while he recovered from a head injury suffered against Montana State the week before, but he hopes to play Saturday.
"It's going to be interesting going back to my old stomping grounds," Graham said
He is no more eager than Petrino to take the game to the next level of incandescent rivalry.
"It's tough to say I hate them," Graham said. "I have a lot of good friends there, players and coaches. I have the utmost respect for them. It's going to be a challenge for us to step up."
At least Graham will have family in his corner at Roos Field – he thinks.
"(Dad) is a Vandal now," Graham said. "He has a lot of Idaho gear in the closet. "If he wants to wear Eastern gear, so be it. But I assume he'll be wearing Vandal gear."
Like Kendall, Graham played in Pop Warner or high school on the Roos red turf.
"It was cool, fun," Kendall said.
Unlike Graham, he had a scholarship offer from the Eagles, but Idaho won him over.
"I just love the program here," Kendall said.
That doesn't mean he despises EWU. He and Graham are friends with Eagles defensive end Keenan Williams. As a fullback, Williams might have an opportunity to block him.
"It's going to be fun," Kendall said.
The three of them have exchanged friendly texts this week. Graham admits it surprised him.
"It threw me off," he said. "Keenan's got a little spitfire in him."
A succession of close, hard-fought games might help elevate EWU-UI showdowns, Petrino said.
"That's how you build a rivalry," he said.
Graham can imagine it getting to the point where it's a game "where you circle the calendar."
In the meantime, while the Vandals need the dominoes to fall just right to get into the playoff hunt, the first thing that must happen is they have to beat EWU, Graham said.
"It means a lot," he said. "It's a huge week for us."
EWU took a recruit from Idaho's backyard in recent years in former starting offensive tackle Nick Ellison, a former Moscow High star. Reserve offensive lineman Will Gram, who played 8-man football at Troy High School just outside Moscow, also grew up in Vandal country.
Strandley was recruited by Idaho and EWU, but he picked Idaho because of its success in the late 1980s.
"All Eastern could talk about was how Idaho was going downhill and Eastern was on the rise," Strandley told the Lewiston Tribune as a Idaho senior in 1994. "Then I took my trip to Idaho and basically all they had to do was show me all the (championship) rings on their fingers. I was impressed with the winning tradition and decided to go here."
Now it's EWU with the conference rings – five Big Sky Conferences titles in the last eight years, including its crown achievement of a national title in 2010. Idaho has never won a national title.
EWU tight end Henderson Belk said the Eagles don't see Idaho as a rival – yet.
"They haven't been in the Big Sky in a while, but they are just down the road," Belk said. "But I'm sure it will be a rivalry in the near future. It's just another conference game we have to win."
Eagles safety Calin Criner, whose father, Mark Criner, was Idaho's defensive coordinator from 2007-2012, agreed with Belk.
"I think it'll take some time (before it's a rivalry)," Criner said.
EWU head coach Aaron Best faced the Vandals three times as a Eagles offensive lineman in the late 1990s after the Vandals left the conference, beating his father's alma mater once in 1997, the year EWU won its second conference title.
So did Best grow up a Vandals fan because dad earned his degree in Moscow?
"Absolutely not," Best said.
"It'll take some time (to be a rivalry again)," Best said. "But anytime you have two good football teams within the short distance we are, you've got a chance for a rivalry to blossom."
While Saturday's game falls well short of good, old-fashioned rivalry, it is of consequence. For now, that will have to do.
Correction: An earlier version of this story incorrectly labeled Paul Petrino as Idaho's offensive coordinator in the early 1990s. He was a position coach.
Local journalism is essential.
Give directly to The Spokesman-Review's Northwest Passages community forums series -- which helps to offset the costs of several reporter and editor positions at the newspaper -- by using the easy options below. Gifts processed in this system are not tax deductible, but are predominately used to help meet the local financial requirements needed to receive national matching-grant funds.
Subscribe to the sports newsletter
Get the day's top sports headlines and breaking news delivered to your inbox by subscribing here.
---