News > Spokane
Federal prosecutors file fraud charges against CdA woman also suspected in husband's death
UPDATED: Thu., Oct. 25, 2018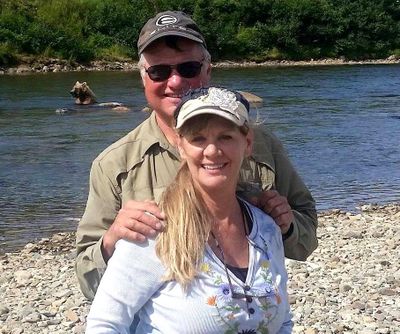 Federal prosecutors have taken over the theft and fraud case against Laurcene "Lori" Isenberg, who remains under investigation for the death of her husband. Larry Isenberg's body was recovered last winter from Lake Coeur d'Alene.
Lori Isenberg, 64, turned herself into authorities on July 25 some two months after she failed to appear for a May 25 hearing on a charge of grand theft. She was charged, as part of that case, with stealing $500,000 from the North Idaho Housing Coalition for which she served as executive director.
However, Kootenai County Prosecutor Barry McHugh confirmed that his office filed to dismiss the grand theft charge after learning Isenberg now faces a four-count indictment alleging wire fraud.
In the five-page indictment filed last week, Assistant U.S. Attorney Traci Whelan alleges in court records that Isenberg made invoices for payment to companies that did not exist and instead funneled federal funds into her personal account. The housing coalition receives funding and grants from the U.S. Department of Housing and Urban Development.
"At the time she submitted these invoices to the Coalition and (Idaho Housing and Finance Association) for payment, the defendant knew the invoices were false and did not represent actual services or expenses that should be paid," the indictment reads.
After directing payments into the accounts of the false companies, Isenberg "caused checks or direct deposits to be made to personal accounts for herself and others," according to the federal charging documents.
The documents do not identify the "others."
The fraud charges make no mention of the ongoing investigation by the Kootenai County Sheriff's Office into the death of Isenberg's 68-year-old husband, Larry.
Lori Isenberg told investigators that he fell out of their boat on Feb. 13 as the two were on a morning boat ride on Lake Coeur d'Alene.
Deputies investigating the case noted that Lori Isenberg had a bloody nose when they responded to the call. She said her husband may have had a medical episode that caused him to fall into the lake and she was injured trying to pull him onto the boat, according to court records.
She told a detective that she waited for two hours to call 911 because she didn't want to leave the area where Larry Isenberg fell into the water. She also said she left her phone in the truck and initially didn't realize that his phone was on the boat.
However, a later autopsy revealed that Larry Isenberg likely died from an overdose of Benadryl and not from drowning.
On the same day Larry Isenberg disappeared, the Coeur d'Alene Press published a story announcing that Lori Isenberg no longer worked at the North Idaho Housing Coalition and the nonprofit organization was conducting an audit.
According to court documents, she emailed the charity's board of directors the next day, asking for more time before turning over her computer. She wrote that she needed time to grieve and asked them to not punish her family for her actions.
"I know you think I am hiding something by not giving you my computer, but I am not," Isenberg wrote on Feb. 14. "Once we get through Larry's memorial, I will meet with you and tell you everything I did."
She later added: "I want to get this over with. I will show you everything I did and I can pay all of it back as soon as I can sell my home."
She also wrote that she had no misconception that she could hide the fraud once the organization began looking into the matter.
"I will pay everything back and accept my punishment without causing you the need for long investigations," Isenberg wrote.
A month before his death, investigators learned there were handwritten alterations to Larry's will, changing it to bequeath 80 percent of his estate to Lori's children and 20 percent of the estate to Larry's children.
As of Thursday afternoon, Lori Isenberg remained in the Kootenai County Jail on the original $500,000 bond and has not been charged in connection with her husband's death.
Isenberg's attorney, Jed Nixon, did not immediately return a phone call Thursday seeking comment.
Local journalism is essential.
Give directly to The Spokesman-Review's Northwest Passages community forums series -- which helps to offset the costs of several reporter and editor positions at the newspaper -- by using the easy options below. Gifts processed in this system are not tax deductible, but are predominately used to help meet the local financial requirements needed to receive national matching-grant funds.
Subscribe to the Coronavirus newsletter
Get the day's latest Coronavirus news delivered to your inbox by subscribing to our newsletter.
---