This column reflects the opinion of the writer. To learn about the differences between a news story and an opinion column, click here.
Opinion > Column
Front Porch: Late bloomer digs into gardening
Thu., Oct. 25, 2018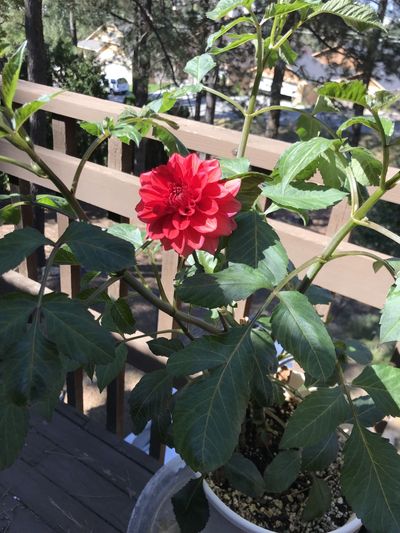 Along with pretty much everybody else in the region, I am putting my garden to bed for the winter.
This is, of course, a multitiered process – from the seemingly endless raking of pine needles to removal of dead flowering annuals. And pruning. I know there's a debate about autumn versus spring pruning, but I'm an autumn pruner (except for my graceful tall Karl Foerster grasses), so I've been busy with my shears, too.
But the flowers are what have been giving me such pleasure this time of year. Those who know me well will be smiling at this. I do love flowers but for so many years, they have been the colorful cut beauties I pick up at the grocery store and bring home. And, frankly, the only flowers I could recognize by sight out in the wild were roses, tulips and sunflowers.
When visiting my mother-in-law's home in Alaska for the first time when I was a young bride, she pointed out into her garden and asked how I liked her shooting stars. Since she wasn't pointing at the heavens, I deduced quickly she was talking flowers. I had no idea which ones were which, so as not to reveal my abysmal ignorance, I allowed as how the colors were beautiful.
Gardening is not in my DNA, and at our first house in Spokane, our tiny lot was populated by 21 ponderosa pine trees. Barely a ray of sunlight struck the ground anywhere. So, no flowers for me. It did not dawn on me for several years that there are actually shade-loving flowers. Yes, I really was that uninformed and incurious.
But eventually I ventured forth into an impatiens or two. When we moved to our second (and current) house, we were still surrounded by ponderosas. Damage and disease, ice storm 1996 and the big wind storm of 2015 have thinned the herd, so to speak, and over time, areas of sunlight have presented themselves on our property. And the thought of flowers began to dance in my head.
I started with a few geraniums, good hardy flowers. Sadly, I did not account for the deer, and I came out one morning to a lovely display of stems where, the night before, had been sweet pink blooms. I learned to make my own deer-repellant potion and became queen of the spray bottle. A master gardener friend alerted me to the fact there are flowers that deer don't care for, so I then added marigolds to the repertoire.
I had a bit of sunlight by the front door, so one year I hung one of those green plastic thingies in which you can grow tomato plants upside-down. It was going gangbusters until the deer came up the front steps and stripped it bare. All tomatoes henceforth are grown in pots on the back deck, made possible once we took down an overhanging and a dying tree, resulting in sunlight getting through to parts of the deck.
For the past several years I've tried different kinds of flowers here and there, with greater or lesser success. The fun has been in the looking for, discovery and intrigue in results. For the first time, this year I put in an anise-scented sage, better known as a hummingbird sage, because it produces delicate blue flowers, attracts hummingbirds and is deer-resistant.
My friend Kris asked what I thought about dahlias. Um, well, I knew about the famous Black Dahlia Murder, but about the flower itself – I pretty much knew nothing. Still somewhat flower-impaired, I couldn't identify one by sight. She gave me a small plant from her own yard, which then went into a pot on my deck (safer there because, apparently, these are lunch for deer), and it produced some beautiful red blooms this fall. Plans are afoot for more dahlias next year.
And now, as everything is winding down, and I'm pulling out dead plants and cutting back the irises, I can still take pleasure in those that remain. My little fuchsia is still hanging in there, and the sage lives on, as do its cheerful blue flowers. And now is the time when the geraniums are exploding with big flowers and vivid colors in their last hurrah of the season.
I know that a hard frost isn't far off, and we'll be done for the year. The colors in the yard will fade to gray and brown – and then, white. The bright colors will rest for a while.
No matter, spring is just five months away, and my newly discovered green thumb will begin itching once again.
---
---