A&E > Food
I tried Starbucks' Witch's Brew so you don't have to
UPDATED: Fri., Oct. 26, 2018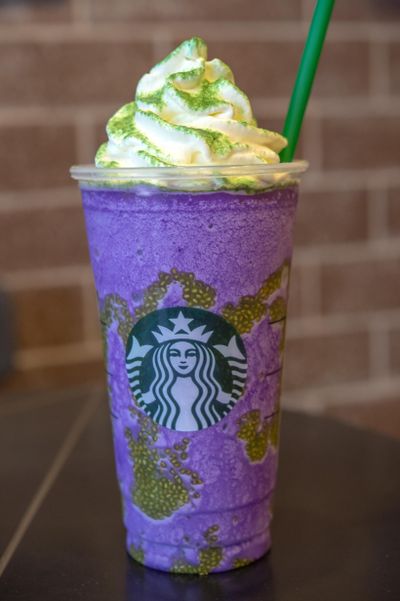 Starbucks unveiled Witch's Brew, its new limited edition Halloween Frappuccino, on Thursday.
I tried one. So you won't have to. It looks striking, but the flavor is no magic spell.
The Frappuccino itself is a vibrant purple (toad's breath, according to a news release). It's topped with a mound of whipped cream and "lizard scales" (green sprinkles). It's also swirled with chia seeds for a "bat warts" vibe. (Although I think "eye of newt" would be more fitting.)
Chia seeds are of course prized for their health benefits – they bring fiber, protein and a host of other nutrients to the party – as well as for their ability to transform into green hair on terra cotta pottery sculptures.
But don't let that trick you into thinking the Witch's Brew is healthy. The grande size with whole milk and whipped cream clocks in at 390 calories, 16 grams of fat and 53 grams of sugar. That's a little more than 1/4 cup of sugar, just so you know.
Oh, and there's no caffeine.
So, how does it taste?
Inexplicably, this purple Witch's Brew is orange flavored. Orange Creamsicle, to be precise. And it does taste Creamsicle-ish. But the flavor is not nearly as punchy as the color. In fact, the one I sampled was rather bland. As for the chia seeds, when they're mixed with liquid they develop a gel-like coating, which makes them look like little eyeballs in the drink. Take a sip, though, and the mouthfeel can be disconcerting, and then you get a gritty crunch with the seed itself. The whole effect is unappealing.
Bottom line, is it worth the calories? To my mind, nope. And at $5.45 for a grande, it's not worth the price, either.
Local journalism is essential.
Give directly to The Spokesman-Review's Northwest Passages community forums series -- which helps to offset the costs of several reporter and editor positions at the newspaper -- by using the easy options below. Gifts processed in this system are not tax deductible, but are predominately used to help meet the local financial requirements needed to receive national matching-grant funds.
Subscribe to the Spokane7 email newsletter
Get the day's top entertainment headlines delivered to your inbox every morning.
---