A&E > Movies
Review: Jonah Hill's 'Mid90s' is a sweet and authentic coming-of-age story, but it feels like he forgot to finish it
Thu., Oct. 25, 2018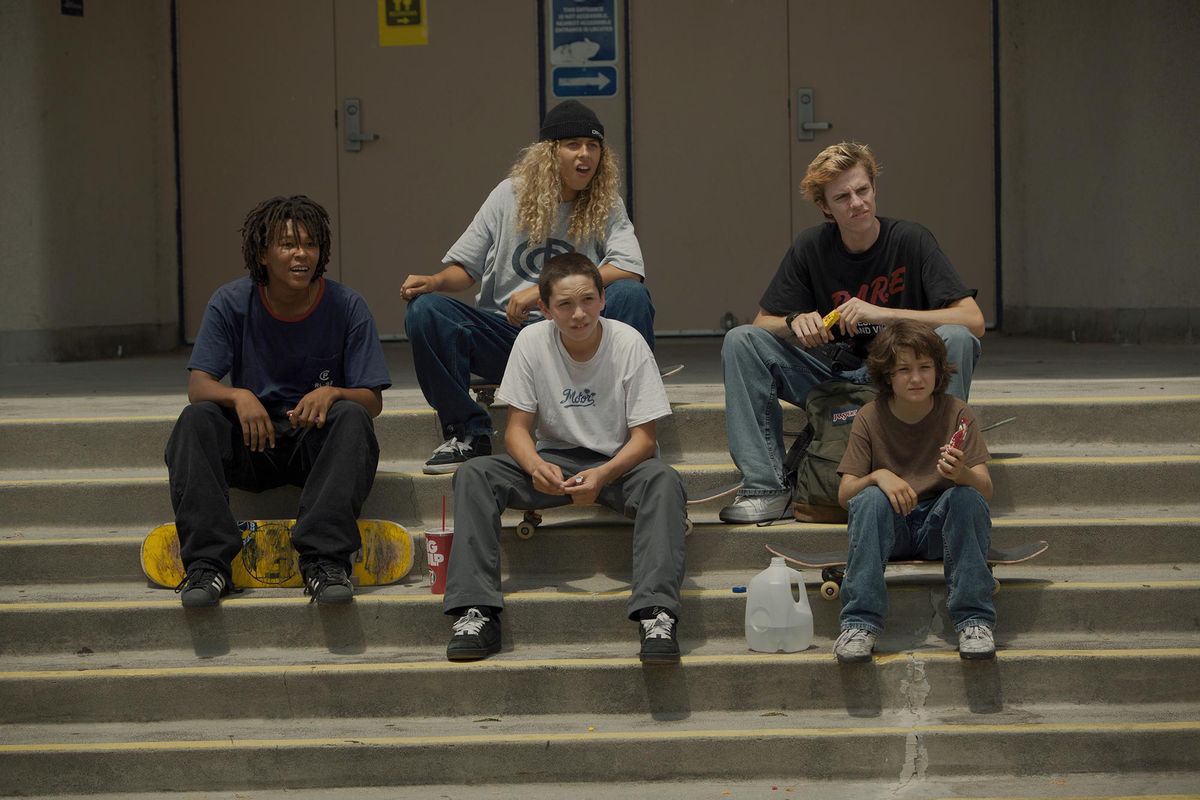 Clockwise from lower right: Sunny Suljic, Gio Galicia, Na-Kel Smith, Olan Prenatt and Ryder McLaughlin in "Mid90s." (Tobin Yelland / A24)
The actor Jonah Hill makes a loose, reassuringly low-key directorial debut with "Mid90s," a tender glance back at adolescence that dodges the kind of generational nostalgia suggested by the title.
Set in a featureless Los Angeles neighborhood where Stevie (Sunny Suljic) is growing up with his bullying older brother, Ian (a glowering, grim-looking Lucas Hedges), and their distracted mom (Katherine Waterston), "Mid90s" possesses some expected signifiers of the time, including Air Jordans, cassette mix tapes, Wu-Tang Clang posters and a soundtrack that features needle drops by everyone from Bad Brains and unplugged Nirvana to Seal and Morrissey.
But Hill is careful to invoke those references subtly, reserving his most careful attention to Stevie and his evolution during a tentative but pivotal move toward adulthood. At 13, he's small for his age, but the constant beat-downs from Ian have made him surprisingly tough. The movie begins with a literal gut punch, one he takes with barely a whimper. Abused by his brother and alienated by his mother's oversharing, Stevie takes refuge in a local skateboard shop, where he falls in with a group of older teenagers who adopt him as their unofficial mascot, introducing him to the unspoken codes of honor, respect, courage and competition (along with weed, Kools and 40s of beer).
As a thoughtful, unfussily authentic coming-of-age story of youthful curiosity, loneliness and self-discovery, "Mid90s" makes a suitably lyrical companion piece to "Skate Kitchen," which came out this year and traced the similar journey of a young woman. Although Suljic is a professional actor, Hill surrounds him with an appealing cast of newcomers and little-knowns, who give the film a welcome dash of warmth and spontaneity. In the naturalistic tradition of such urban teenage fables as "Kids" and "Thirteen," "Mid90s" is often painful to watch as Stevie puts himself through the punishing rituals of proving his street bona fides. But Hill takes even the most treacherous dangers in stride, suffusing his story with as much tenderness as stark terror.
At 84 minutes long, "Mid90s" can't be described as a fully realized film; it's more of a fragment, ending on a cheerfully liberated but not particularly resolved note. But that's in keeping with the modest tonalities of a film that doesn't burst with ambition, but never overreaches either. Ballasted by a sweetly affecting performance by Suljic, aglow with visual textures slightly before its time (Hill photographed the movie on grainy 16mm stock, using a boxy, archaic aspect ratio to frame the action), "Mid90s" captures the vagrant, bittersweet fruits of liberation, as innocence takes its first perilous steps into the big, trashed-out world beckoning just outside the door.
Local journalism is essential.
Give directly to The Spokesman-Review's Northwest Passages community forums series -- which helps to offset the costs of several reporter and editor positions at the newspaper -- by using the easy options below. Gifts processed in this system are not tax deductible, but are predominately used to help meet the local financial requirements needed to receive national matching-grant funds.
Subscribe to the Spokane7 email newsletter
Get the day's top entertainment headlines delivered to your inbox every morning.
---