Sports > WSU football
With historic weekend in rearview mirror, Washington State guarding against letdown versus Stanford
Oct. 26, 2018 Updated Fri., Oct. 26, 2018 at 7:20 p.m.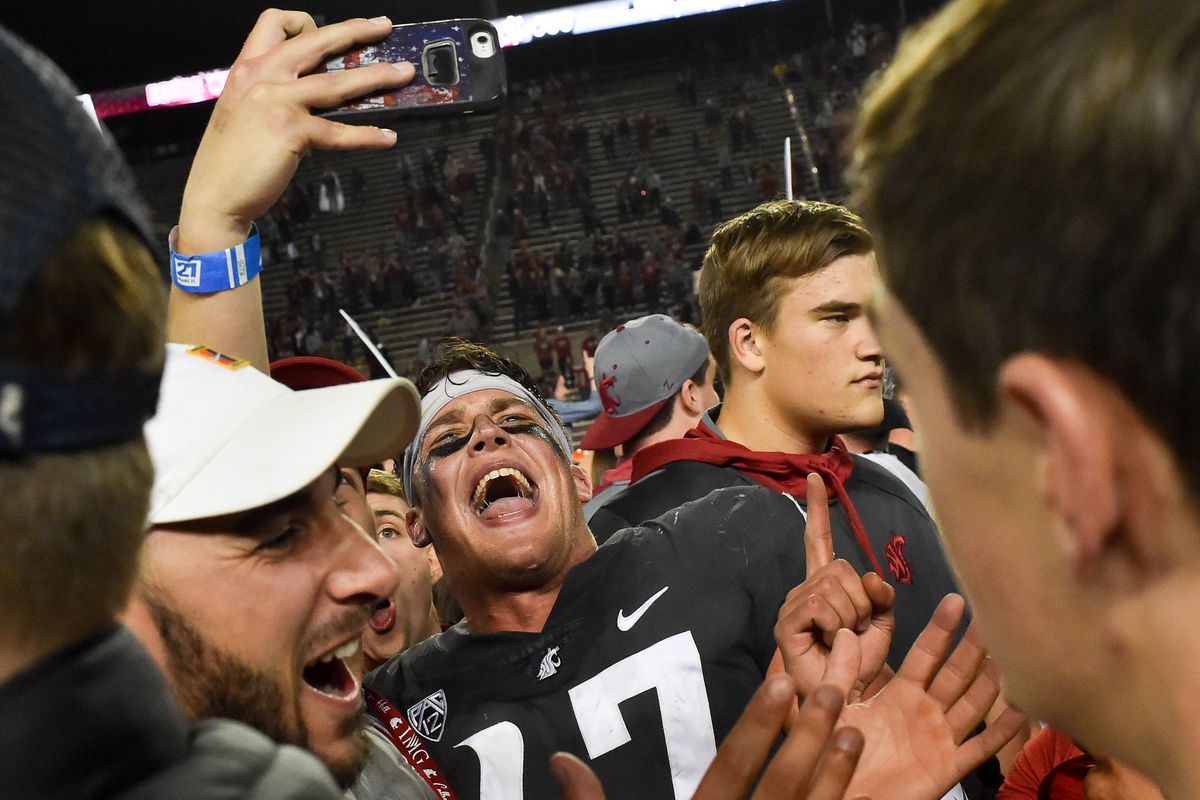 Washington State Cougars linebacker Peyton Pelluer (47) is mobbed by fans after defeating Oregon during the second half of a college football game on Saturday, October 20, 2018, at Martin Stadium in Pullman, Wash. WSU won the game 34-20. (Tyler Tjomsland / The Spokesman-Review)Buy a print of this photo
STANFORD, Calif. – There's been plenty of talk this week about hangovers – not all of it necessarily pertaining to what students may have been feeling the morning after a watershed day for the Washington State campus and the Cougar football program.
By this point, the undergrads have recovered from a rowdy weekend – and more specifically, a rowdy Saturday – on the Palouse. And the football team? That'll be determined at 4 p.m. Saturday when the 14th-ranked Cougars take on 24th-ranked Stanford at Stanford Stadium in a Pac-12 North duel that Washington State should treat every bit as important as the last one.
A four-team divisional race has started to form in the North. Washington (4-1), WSU (3-1) and Stanford (3-1) each have one slip-up in league conference play, while Oregon (2-2) has two. End-of-the-year tiebreakers are extremely valuable. By beating Stanford, WSU would not only knock the Cardinal down one rung in the standings, but the Cougars would also have the head-to-head advantage against two of their top three divisional foes with only UW remaining in their path.
In some ways, the biggest obstacle for WSU this weekend is identical to the one Oregon faced last weekend as it traveled to Pullman. One week prior, the Ducks had snatched their signature win of the season, beating then-No. 7 UW 30-27 in an overtime thriller that sent fans cascading onto the field at Autzen Stadium.
The Ducks wouldn't concede there was any sort of letdown seven days later, but they also didn't come out blazing against the Cougars and gave up 27 points in the first half while scoring zero. Two quarters later, WSU fans were the ones scaling the guard rails and pouring onto the turf.
"That game was fun. To me, I thought that game was more fun than the USC game last year, just because of the hype around it and the crowd," inside receiver Renard Bell said. "If you watched the live footage on TV, you could see us on the sideline dancing before halftime and just hyping the crowd up and things like that. That game was just really fun to play in and the atmosphere of it was just really exciting."
Now the Cougars are the ones trying to guard against the so-called "hangover" that teams are prone to after seismic moments such as the ones UO and WSU recently experienced. It's not about suppressing the excitement and energy they've built by winning their last three games – momentum is always better than no momentum – but rather controlling it and rechanneling it.
"I think one thing coach (Mike) Leach does good is, once you get done with Sunday, that game's gone," WSU defensive coordinator Tracy Claeys said. "And we came off a big loss from USC and our kids prepared well and were ready to go. So it's just the exact opposite of that. Even if you win, you've got to let it go and move on.
"I guess the difference is when you lose, everybody tells you how bad you are, so you get to practice. And all the sudden you win a game and everybody tells you how good you are, but it's about eliminating the noise each week, have respect for your opponent."
The Cougars are a six-win team, bowl eligible for the fourth consecutive season and suddenly the Pac-12's best shot at landing one of its teams in the College Football Playoff. That said, they'd tell you they still haven't played a complete game this year.
WSU's yearlong woes in the third quarter spilled over to Week 7 and the Cougars were outscored 17-0 as the Ducks tried to manufacture a second-half comeback last Saturday in Pullman. The Cougars have won the third quarter in just two of their seven games this season and are being outscored there 50-27.
"We just came out slow, that's our worst quarter of the game so far this season," Bell said. "We've got to work on doing that. We have to work on continuing that momentum, bringing it into the second half. Bringing that fire we brought and continuing that for the rest of the game."
Stanford's been able to whip up some momentum after losing consecutive games to Notre Dame and Utah by 40 combined points. Ranked No. 7 in the country prior to the Notre Dame game, the Cardinal tumbled down the AP Top 25 – and finally out of the rankings – but managed to climb back up to No. 24 after edging Arizona State 20-13 last weekend in Tempe.
That kept Stanford in the one-loss club and near the top of the Pac-12 North.
But coach David Shaw, presumably taking the same approach Leach will, hasn't spent time checking into such things, telling the San Francisco Chronicle this week, "I have no idea what anybody else's record is. That may surprise you. Why should I care? We have one loss in the conference, and typically whoever wins our conference has one loss."
The objective for both teams on Saturday? Keep it that way.
Local journalism is essential.
Give directly to The Spokesman-Review's Northwest Passages community forums series -- which helps to offset the costs of several reporter and editor positions at the newspaper -- by using the easy options below. Gifts processed in this system are not tax deductible, but are predominately used to help meet the local financial requirements needed to receive national matching-grant funds.
Subscribe to the Cougs newsletter
Get the latest Cougs headlines delivered to your inbox as they happen.
---