Sports > WSU football
Analysis: No. 14 Washington State uses second-half surge to claw back, top 24th-ranked Stanford
Oct. 27, 2018 Updated Sat., Oct. 27, 2018 at 11:13 p.m.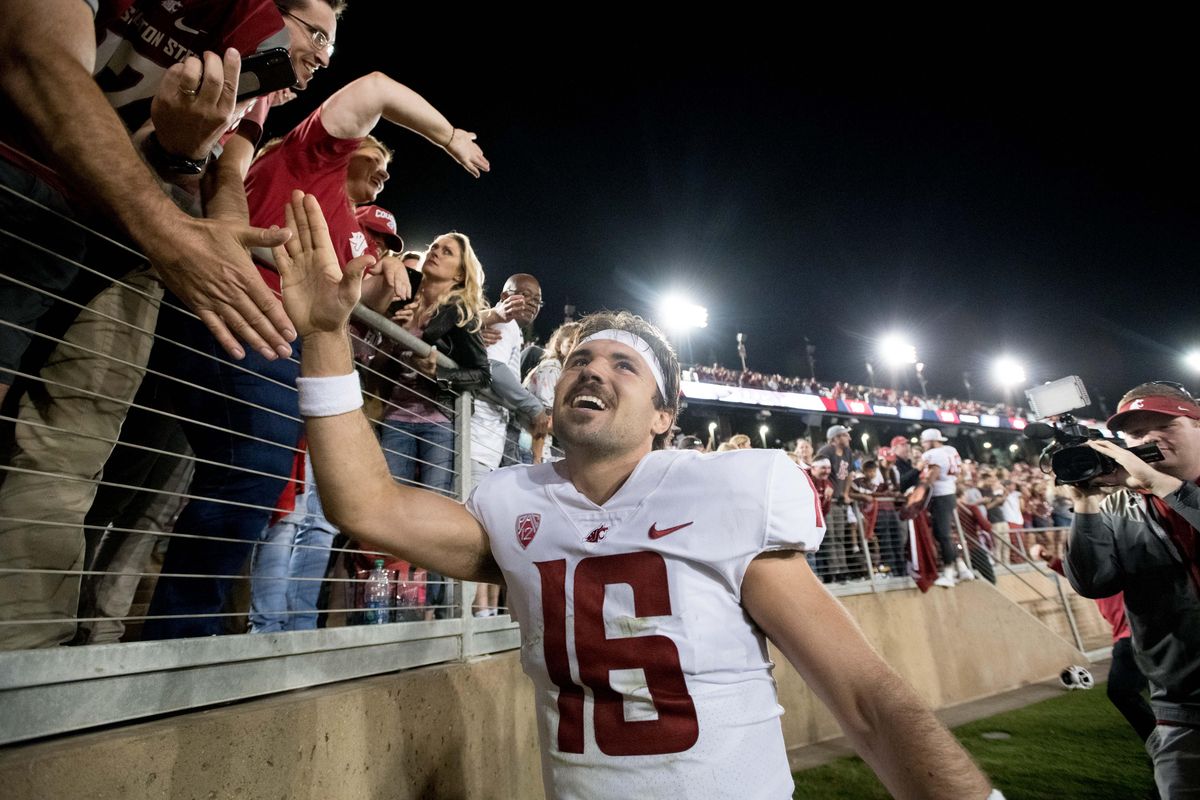 Washington State Cougars quarterback Gardner Minshew (16) celebrates with fans after WSU defeated Stanford during the second half of a college football game on Saturday, October 27, 2018, at Stanford Stadium in Stanford, Calif. WSU won the game 41-38. (Tyler Tjomsland / The Spokesman-Review)
STANFORD, Calif. – Late in the second quarter, as things were starting to unravel for No. 14 Washington State at Stanford Stadium, Mike Leach motioned for a timeout and herded the Cougars before delivering a passionate speech to all 70 of the white jerseys on the visitor's sideline.
Leach doesn't often reveal what's said in these private meetings, but one can assume the dialogue included a few expletives and succinct barking orders.
It probably wasn't as effective as Leach hoped: No. 24 Stanford scored nine plays later to take a two-touchdown lead over WSU in Saturday's duel of Pac-12 North contenders.
Either Leach improved his speech-giving, or the Cougars improved their playmaking, because the visitors came out of the locker room after halftime an entirely different team than the one that entered it.
WSU quite easily could have been the next victim on a bizarre day for the Pac-12 – one that saw Cal upset No. 15 UW, Oregon State stun Colorado for its first road win in four years and USC lose in the Coliseum for the first time in 19 games – but the Cougars, led again by grad transfer quarterback Gardner Minshew, showed their mettle in the second half and Blake Mazza kicked the winning field goal with 19 seconds left for a 41-38 victory in the Bay Area.
"We had them right where we wanted them the whole game," Leach said postgame, offering his genre of dry humor at the end of a game that had to be unnerving for both coaching staffs from start to finish.
The defensive coordinators, especially.
Minshew and his counterpart, junior K.J. Costello, put on a passing clinic and combined to complete 74 passes – and 80 percent of their attempts, impressively – for 761 yards and seven touchdowns. WSU kept Stanford's secondary on its heels, forcing the Cardinal to account for four receivers at a given time, not to mention running backs James Williams and Max Borghi.
When Minshew coolly led WSU downfield with 9:15 minutes to play, the senior QB completed throws to four targets before locating a fifth, Renard Bell, for the 3-yard touchdown that gave the Cougars a 38-31 lead – their first since the first quarter.
"I don't know how many guys caught balls tonight, but I feel like everybody on our team did," Minshew said. "We're two-deep at every spot and there's just as much belief in one of them as the rest of them."
Minshew's estimate was correct. All 10 skill players that saw the field – eight receivers, two tailbacks – finished with at least one catch. Dezmon Patmon led the Cougars on a career night with 10 receptions for 127 yards.
Costello might not have had as many weapons at his disposal, but he didn't need much more than the trio of JJ Arcega-Whiteside, Trenton Irwin and Kaden Smith. Those three accounted for 27 of Costello's 34 completions, 303 of his 323 passing yards and three of his four touchdowns.
Stanford didn't flinch when Minshew's touchdown to Bell gave WSU a seven-point lead with 4:28 left. Costello and the Cardinal moved 73 yards in 10 plays and the QB found an uncovered Arcega-Whiteside in the end zone for a 25-yard touchdown, tying it 38-apiece.
That gave Minshew and his crew 1:25 to score again, or at the least, set up a manageable field goal for Mazza.
"First I looked at the clock, I was like, 'That's too much time,' " Minshew said. "We had three timeouts and I was like, 'Man, this is what we want, we want the ball to come to us, we want to have the chance to make the play to win the game.' Our defense played a heckuva game, made some big stops down there, but we knew if we had the chance again, we could go win it for us."
It didn't look promising at first. After a 9-yard completion to Williams, the running back lost 1 yard on second down, setting up third-and-2 on the Cougars' 33-yard line. But Minshew scanned the field, noticed a shift in Stanford's coverage and stepped into a long pass, completing to Jamire Calvin for 35 yards.
"The safety kind of widened out, the opposite safety came down, the middle of the field was open and he kind of just put it up there and let me go make a play," Calvin said.
One more pass to Patmon reduced the distance of the impending field goal by 7 yards. Two incomplete passes brought Mazza onto the field and the Arkansas transfer left no doubt, splitting the goal posts on a 42-yarder that sent WSU's sideline and a contingent of Cougar fans behind the same end zone into a wild frenzy.
"I thought it was outstanding and I'm really proud of him," Leach said of Mazza. "… What a moment for him and he needs to get used to doing that on a regular basis."
"Hats off to our kicker tonight, man," Minshew said. "Blake, he had a heckuva game and he really truly won it for us, so we're so proud of him."
The Cougars (7-1, 4-1) are the only team in the Pac-12 with one conference loss and continue to control their own destiny in the North Division, while Stanford (5-3, 3-2), UW (6-3, 4-2) and Oregon (5-3, 2-3) all need WSU to slip up at some point in the next month to edge out the Cougars out for a berth in the Pac-12 Championship game.
Local journalism is essential.
Give directly to The Spokesman-Review's Northwest Passages community forums series -- which helps to offset the costs of several reporter and editor positions at the newspaper -- by using the easy options below. Gifts processed in this system are not tax deductible, but are predominately used to help meet the local financial requirements needed to receive national matching-grant funds.
Subscribe to the Cougs newsletter
Get the latest Cougs headlines delivered to your inbox as they happen.
---