News > Home and garden
Curse of the spider woman: Spokane artist finds the beauty in tarantulas and other large arachnids
Sat., Oct. 27, 2018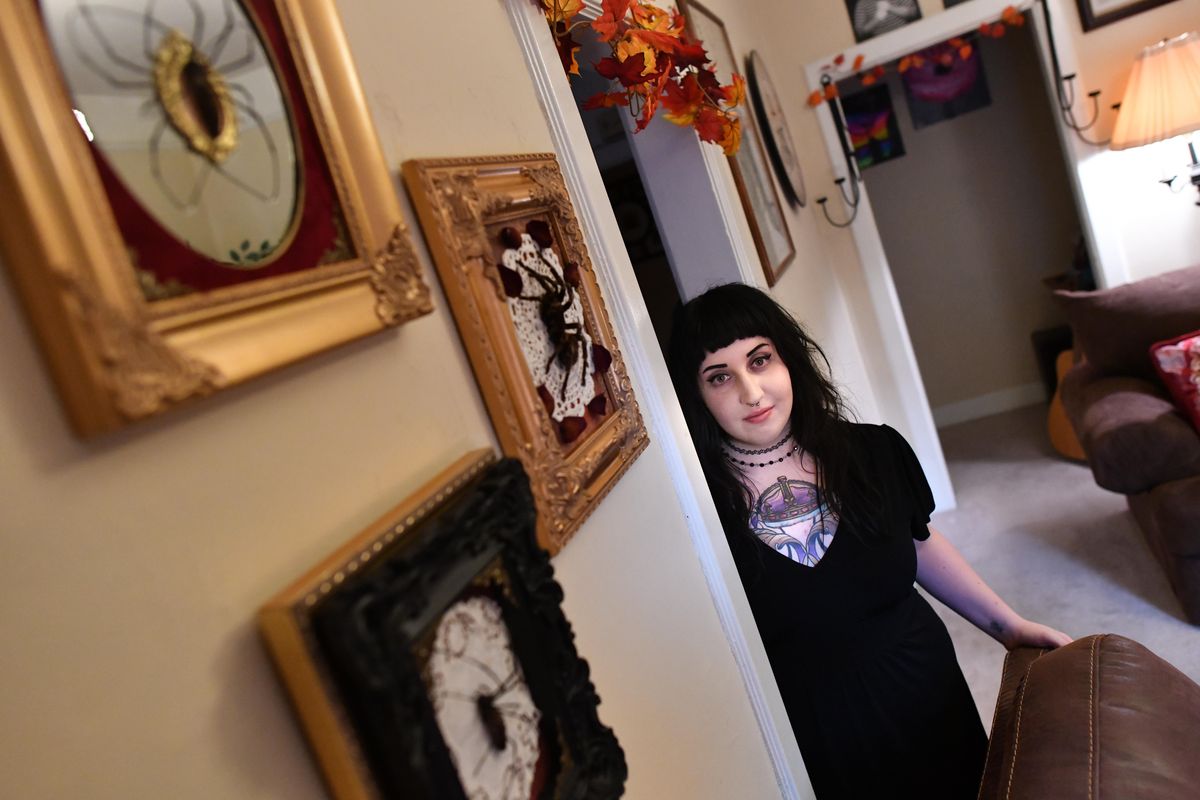 CarLy Haney, 27, poses for a photo with some of her spider-based art on Thursday, Oct. 11, 2018, in her home in Spokane, Wash. (Tyler Tjomsland / The Spokesman-Review)
They're not creepy and crawly when they're dead.
Well, maybe they're still a bit creepy. But they're decidedly no longer crawly.
They are, in fact, much easier to handle once they've expired.
But, even from the Great Beyond, they can still hurt you.
"Only a couple of times I've lost feeling in my fingers," said CarLy Haney, a Spokane artist who works in the medium of taxidermied tarantulas.
Orders pick up around Halloween.
Since she started making her arachnid art four years ago, Haney has completed about 100 works. And, "The crazy thing is," she said, "I've sold almost every one of them. They're good gifts for people who like oddities."
Her specialty: posing tarantulas and other large spiders in ways that convey a regal and royal, Victorian or Baroque vibe – with lots of black and gold and, sometimes, dried rose petals, all encompassed by gilded frames but no glass.
"They are more susceptible to damage without glass," she said. "But they evoke more emotion when you're able to get up close."
She wants people to take a closer look at her large, dead, often hairy spiders and see their exquisiteness – or at least appreciate them.
Let her list their attributes.
They have large fangs. They eat insects. They liquefy their prey. They have eight eyes and eight legs. They can regrow lost limbs. They spin silk.
They are, Haney said, "little gifts."
And when they're dead, she said, it's so much easier to share and show off their beauty.
"I've always thought spiders are fascinating creatures and very misunderstood, and very symbolic in that way," she said. "We are taught from birth not to like them. I'm afraid of them, too. They're so completely different than anything on earth."
It might seem macabre, but she has two mounted on the wall near the head of her bed and another collection in her living room. That's where she keeps her three favorites.
"I keep them around because I think they're beautiful," she said.
They inspire her. And they reminder her. Of her own mortality. To live life to the fullest. And, perhaps most importantly, that "something scary can also be a good thing."
Haney admits she might be a bit – OK, maybe more than a bit – afraid of her tarantulas if they were still alive.
"To be honest, I've never held a live one," she said. "I don't know if I would trust myself to do that."
As a defense mechanism, "they fling hair," she explained. "It's like fiberglass. It makes you itch and swell up."
The rash, albeit temporary, can be painful. But, at least when she's working on them, any short-term discomfort leads to something to behold.
Her mounted spiders are surprisingly elegant.
"I try my best to have (the backdrops) complement the colors of the spiders," said Haney, who searches out materials from thrift shops, particularly when it comes to frames. "Goodwill has the best ones."
There's a pile of frames of all sorts and sizes on the floor of her studio, located in a small room in her downtown apartment. On the desk: a bin stacked with cellophane-wrapped spiders.
Haney unwraps them and poses them and dresses them – with faux pearls and velvet, rose petals, moss and twigs. She frames each piece, sometimes stacking frames and embellishing corners.
"I love to layer," she said.
Haney "dabbled in different mediums" in high school and college, trying "a little bit of everything." After graduating from Lewis and Clark High School in 2009, she attended classes at Spokane Falls Community College for about a year before going to work full time. Her day job: switchboard operator at a surgical clinic.
It wasn't until 2014 that she mounted her first tarantula as a kind of an experiment. She was "freaked out" at first.
"But I was also determined," she said. "I appreciate them so much. We all feel like we're unpopular sometimes. Just because you're unpopular doesn't mean you're not awesome. I love tarantulas because they are so widely hated. I've always been attracted to things that are creepy and different. To me, they represent substance."
Growing up, she found bugs interesting. She would look for roly-pollies under rocks.
Today, her arachnid art sells for anywhere from $50 to $200 per piece, depending on how customized the order is and whether she has to stuff the spider herself. Most run around $100.
"If I have to stuff somebody's pet I charge more," she said. "You have to gut them out and give them a bath in rubbing alcohol or fingernail polish remover, sometimes vodka."
It is, she said, "a dirty job."
Haney takes donations from local pet shops as well as people who are willing to part with their departed pet tarantulas. "I get them any way I can," she said, noting she buys most of her specimens online and double checks with vendors to make sure her purchases are ethically sourced.
Tarantulas primarily live in tropical, subtropical and desert regions of Central and South America as well as Africa, Australia and several spots in the U.S., including the Southwest.
"They're definitely not in Washington," said Haney, who works mostly with tarantulas from the Philippines and Brazil. "A lot of people at art shows ask if I catch them myself."
She doesn't. But she does take great care in arranging their final resting place.
Haney, 27 and self-taught, really likes Rusty Brazilian Birdeaters. Pink Toe Tarantulas, too. "I like how furry they are," she said.
But the Nephila Maculata – it sounds so pretty: Nephila Maculata – is her favorite.
They're giant wood spiders, and "pretty much every other" spider she mounts is a Nephila. "They're skinny, spindly. They are very, very fragile."
This makes shipping them a challenge. But she's mailed her works to Maryland and Maine, Texas and Kentucky – "all over," she said.
They're in demand all year. However, now is the time when her work is most popular. "People get really excited about them around Halloween."
Each one takes about a week to create, including two days to hydrate the corpse. Haney wraps her specimens in damp paper towels to make them malleable. Then, she poses them and pins them to Styrofoam.
"I stretch them and spread them and make them look natural," she said, noting it takes another couple of days for them to set. "That's when I play the hot glue gun game. They don't need much. They're pretty light."
Adult Nephila spiders weigh approximately 4 to 6 grams. Tarantulas are heavier, generally 1 to 3 ounces, or about 28 to 85 grams. But some get up to 6 ounces, or 170 grams.
For Haney, when it comes to spiders, including tarantulas, "the bigger, the better."
She likes to lay them to rest on lace and give them titles that are "two to three syllables long and sound fancy," names such as Lysander, Lazarus, Salvatore, Adelaide and Aurelia.
One time, her order got mixed up and she received 10 bats instead of one spider. So, "I did 10 bats," even one bat-and-spider hybrid she dubbed Amicus Incredulus, "meaning, like, unbelievable friendship."
Really, she said, "I can do any bug."
Haney has attached spiders to mirrors and card stock, the inside of crystal balls and, more often than not, crocheted doilies.
"That's kind of my trademark," she said. "I give them a pedestal. I think about old lady houses or castles. Gold and black are my favorites. I love lace. I'm all about the damask, too. You come to my house and there's damask everywhere."
She describes her personal style and taste in music, movies, art and culture as gothic.
She's a fan of Maynard James Keenan and listens to music by three of his bands: Tool, Puscifer and A Perfect Circle. She describes the sound of her favorite group, Stolen Babies, as "clown metal," like, "if Tim Burton were to make music." She's also drawn to Emilie Autumn's electric and eclectic violin as well as classics such as Vivaldi and Bach. "Six Feet Under," the HBO show about a family who owns and operates a funeral home in Los Angeles, is her favorite.
But don't expect her to be moody or morose when you meet her.
"I'm usually really bubbly," she said. "I love people and life and being an extrovert. I do love gothy things. I love things that remind me of my own mortality. The more you think about death the more you have to hurry living. That really is my philosophy: have fun when you're on earth and let loose."
When she isn't at home creating spider art or hanging out with her rescue pup, a chihauhau mix named Oatmeal, she can be founded at First Friday art shows, dancing with friends at nYne, geochaching and enjoying a cocktail or two in low-lighted drinkeries that she describes as speakeasy-esque: Hogwash Whiskey Den, Gilded Unicorn, Durkin's Liquor Bar.
She would love to teach a class on arachnid and insect art. Maybe to children. Maybe featuring butterflies.
"I do worry about the day I run out of spiders," said Haney, who has seven tattoos, including two honeybees, one on the inside of each wrist. "I don't have any spider tattoos. I should."
She doesn't plan on working with any more bats.
"Bats," she said, "are boring."
That is, they don't take as much time and work and care.
"You just unwrap them," Haney said. With spiders, "I have a little more hand in making them unique because I get to shape them. That's why they're fun."
Here's something she finds especially fun about tarantulas: "Their feet are sticky. It's the coolest feeling I've ever felt before. Tarantuala paws have little hairs if you brush they wrong way – against the grain – they stick to you."
She uses Instagram for inspiration, looking for #baroquestyle, #victorianstyle and #victoriana. She's also inspired from walks through downtown and Browne's Addition, the lobby of the Historic Davenport Hotel and "old libraries with dust and plenty of dark reds and greens."
For the two spiders that hang in her bedroom, she was "thinking of, like, a burlesque dressing room" for one "a witch's house in the forest" for the other. They're for sale.
"I have yet to do somebody's pet and send it back to them," she said.
So that's a goal.
Meantime, "I've been pushing myself to do more experimental things to set myself apart from other insect artists," Haney said. "I'm always working on one."
And, she said, "I always seem to have one living in my bathroom."
She purposely lets it be.
"I'm a lover of life and you tend to appreciate life when you look at darkness," she said. "If you can face things that are scary then nothing can stop you in the world."
Not all folks can. The biggest challenge with her works: "Some people are afraid of them."
Local journalism is essential.
Give directly to The Spokesman-Review's Northwest Passages community forums series -- which helps to offset the costs of several reporter and editor positions at the newspaper -- by using the easy options below. Gifts processed in this system are not tax deductible, but are predominately used to help meet the local financial requirements needed to receive national matching-grant funds.
Subscribe now to get breaking news alerts in your email inbox
Get breaking news delivered to your inbox as it happens.
---