Sports > WSU football
Recap and highlights: No. 14 Washington State rallies in second half to beat No. 24 Stanford
Oct. 27, 2018 Updated Sat., Oct. 27, 2018 at 11:24 p.m.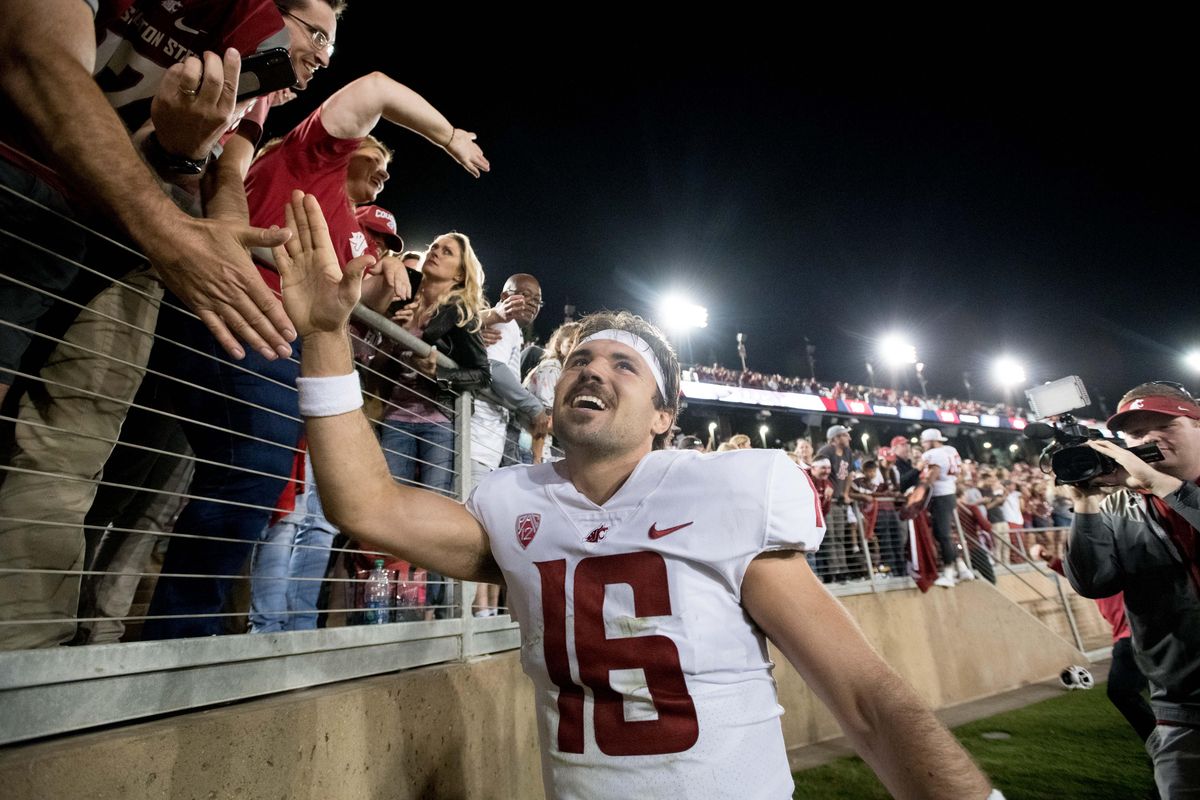 Washington State Cougars quarterback Gardner Minshew (16) celebrates with fans after WSU defeated Stanford during the second half of a college football game on Saturday, October 27, 2018, at Stanford Stadium in Stanford, Calif. WSU won the game 41-38. (Tyler Tjomsland / The Spokesman-Review)
STANFORD, Calif. – The Cougars are on top of the Pac-12 North – all alone now – and control their own destiny in the division after picking up another signature win against a ranked conference opponent.
Washington State graduate transfer quarterback Gardner Minshew was excellent again, completing 40-of-50 passes for 438 yards and four touchdowns, and redshirt freshman kicker Blake Mazza drilled a winning 42-yard field goal to push the 14th-ranked Cougars past No. 24 Stanford 41-38 Saturday night at Stanford Stadium.
The Cougars won their fourth straight and second straight against a ranked opponent, improving to 7-1 on the season and 4-1 in Pac-12 play. Stanford dropped to 5-3 and 3-2 in league play.
WSU can win the Pac-12 North for the first time in program history by winning its last four games. After Washington's loss to Cal, the Cougars are the only team in the division with one loss.
The Cougars took a 38-31 lead with 4:47 to play – their first lead since the first quarter – when Minshew hooked up with Renard Bell for a 3-yard touchdown. Not done yet, Stanford replied with a 10-play, 73-yard drive that culminated with a 25-yard touchdown from KJ Costello to JJ Arcega-Whiteside, the Pac-12's second-leading receiver, to tie it at 38-38.
Minshew and his armory of wide receivers then marched down to the 25-yard line, where Mazza was called on for the potential winner – a 42-yarder that sailed straight through the uprights to propel WSU to a fourth consecutive win.
Stanford went to its revamped passing attack to score the game's first points. Costello led a 10-play, 75-yard drive, completing 7-of-9 passes before throwing a ball up to Arcega-Whiteside and watching his 6-3 receiver easily beat 5-9 WSU corner Marcus Strong for the 17-yard touchdown.
The Cougars' response was swift. James Williams scored his 10 touchdown of the season on a 5-yard run, capping a six-play drive that saw Minshew complete a 17-yard pass to Dezmon Patmon and a 33-yarder to Williams.
WSU's defense salvaged a turnover on the next drive when nose tackle Taylor Comfort pounced on Peyton Pelluer's forced fumble of Costello. The offense got the ball back on the 19-yard line and Minshew hit freshman running back Max Borghi – a one-time Stanford recruiting target – for a 4-yard Cougar touchdown.
But three consecutive Stanford touchdowns followed – two of them scoring darts from Costello – and WSU could only squeeze in a 24-yard field goal from Mazza by the time the halftime clock ran out, cutting the Cardinal lead to 28-17.
The Cougars, who've sputtered in the third quarter all year, opened the period with a fast scoring drive, capped by a 3-yard rushing touchdown from Williams to make it a four-point game. Stanford only managed a 40-yard Jet Toner field goal on the following series.
WSU won the third quarter for just the third time this season, outscoring Stanford 7-3, and the Cougars set up their fourth touchdown of the game near the end of the period, before punching it in 2 1/2 minutes into the fourth quarter.
Minshew completed seven passes – three of them to Patmon – and dialed up a TD on his eighth on the drive, to Tay Martin for a 7-yard score. – Theo Lawson
First quarter
11:09 – Stanford 7, WSU 0: The Cardinal open the game with a 75-yard touchdown drive, capped by K.J. Costello's 18-yard TD pass to J.J. Arcega-Whiteside.
Arcega-Whiteside used his 6-foot-3 size to outjump WSU defensive back Marcus Strong (5-9) for Costello's jump ball in the end zone.
Costello threw for 56 yards and Stanford converted two third downs during the drive.
8:17 – WSU 7, Stanford 7: The Cougars quickly answer Stanford's opening touchdown with a TD of their own on James Williams' 5-yard rush.
WSU went 75 yards in 2:52 with Gardner Minshew throwing for 51 yards and Williams rushing for 21.
5:23 – WSU 14, Stanford 7: Washington State takes the lead on Gardner Minshew's swing pass to Max Borghi on 3rd-and-goal from the 4.
The Cougars capitalized on great field position after recovering Stanford quarterback K.J. Costello's fumble at the Cardinal 23.
Minshew is up to 74 yards passing, going 7 for 8.
1:22 – WSU 14, Stanford 14: Stanford brings the game back even with its second 75-yard touchdown drive of the quarter.
Cameron Scarlett plunged in from 2-yards out to cap the Cardinal's 8-play, 4:01 march.
Quarterback K.J. Costello picked up a big first down with a 3-yard scramble on 3rd-and-2 from the WSU 12.
Second quarter
11:09 – Stanford 21, WSU 14: The Cardinal take the lead as they continue to find success through the air with K.J. Costello finding Kaden Smith open on a broken play for a 10-yard touchdown pass.
Costello completed all four pass he attempted on the 4-play, 66-yard drive. He is up to 145 yards passing in the game.
Smith hauled in three passes on the drive. He now has five receptions for 80 yards.
1:04 – Stanford 28, WSU 14: Stanford stretches its lead to 14 after K.J. Costello hits Houston Heimuli for the 1-yard touchdown pass on 4th-and-goal.
The Cardinal went 80 yards in eight plays, aided by two 15-yard penalties by Washington State.
Costello is up to 192 yards and three touchdowns passing in the game.
0:00 – Stanford 28, WSU 17: Blake Mazza cuts into the Stanford lead with a 23-yard field goal as time expired on the first half.
The Cougars went 69 yards in 1:04 thanks to a 54-yard pass from Gardner Minshew to Jamire Calvin on 3rd-and-2.
The Cougs will get the ball to start the second half.
Third quarter
10:32 – Stanford 28, WSU 24: The Cougars come out of halftime on fire, scoring on James Williams 3-yard run to trim Stanford's lead to 4.
Gardner Minshew completed all five passes he threw on the 75-yard, 4:28 drive, with four going to Dezmon Patmon. Minshew is up to 257 yards passing and Patmon now has 88 yards on six receptions.
6:16 – Stanford 31, WSU 24: Stanford kicker Jet Toner makes a 40-yard field goal to push the Cardinal lead to a touchdown.
Another pass interference on Washington State pushed Stanford deep into WSU territory, but the Cougars defense came up big on 3rd-and-1 from their 22 when they stuffed K.J. Costello's QB keeper.
Fourth quarter
12:26 – WSU 31, Stanford 31: Gardner Minshew fires a bullet to Tay Martin for a 7-yard touchdown pass and the Cougars have tied the game.
Minshew marched the Cougs 82 yards on the drive that bridged the third and fourth quarter. He completed all eight of his pass attempts, throwing for 73 yards.
Dezmon Patmon continues to shine in the second half. He caught the first three passes of the drive and now has career-highs of nine receptions and 120 yards in the game.
9:15 – WSU 31, Stanford 31: The Cougs get a huge stop of Stanford on 4th-and-3 at the WSU 32.
Cardinal QB K.J. Costello checked down to Bryce Love short of the first-down marker and the WSU defense swarmed on the running back, stopping Love for a loss of one.
Stanford had sent out its field goal unit to line up the potential 49-yard attempt, but decided to call time out and go with the short pass play.
4:28 – WSU 38, Stanford 31: Washington State takes the lead back as Gardner Minshew caps a season-swinging drive with a 3-yard touchdown pass to Renard Bell.
Minshew, the Cougars senior quarterback, willed WSU down the field on the 11-play, 67-yard drive. He completed his first threw passes of the drive before making a big play with his legs.
On 4th-and-1 at the Stanford 27, Minshew took the shotgun snap and went straight up the middle, lowering his shoulder to just get the ball past the first down marker.
Minshew is now up to 387 yards passing.
1:25 – WSU 38, Stanford 38: The Cardinal tie it back up with a 25-yard touchdown pass from K.J. Costello to J.J. Arcega-Whiteside.
Stanford converted three 3rd-and-1 situations on the drive.
0:19 – WSU 41, Stanford 38: Blake Mazza drills a 42-yard field goal and the Cougars have the lead back.
Washington drove 50 yards in 1:06 to set up Mazza for the potential winner.
Pregame
Local journalism is essential.
Give directly to The Spokesman-Review's Northwest Passages community forums series -- which helps to offset the costs of several reporter and editor positions at the newspaper -- by using the easy options below. Gifts processed in this system are not tax deductible, but are predominately used to help meet the local financial requirements needed to receive national matching-grant funds.
Subscribe to the Cougs newsletter
Get the latest Cougs headlines delivered to your inbox as they happen.
---