Sports > Outdoors
Balancing act: Jess Roskelley on his hopes of making climbing his life
Sun., Oct. 28, 2018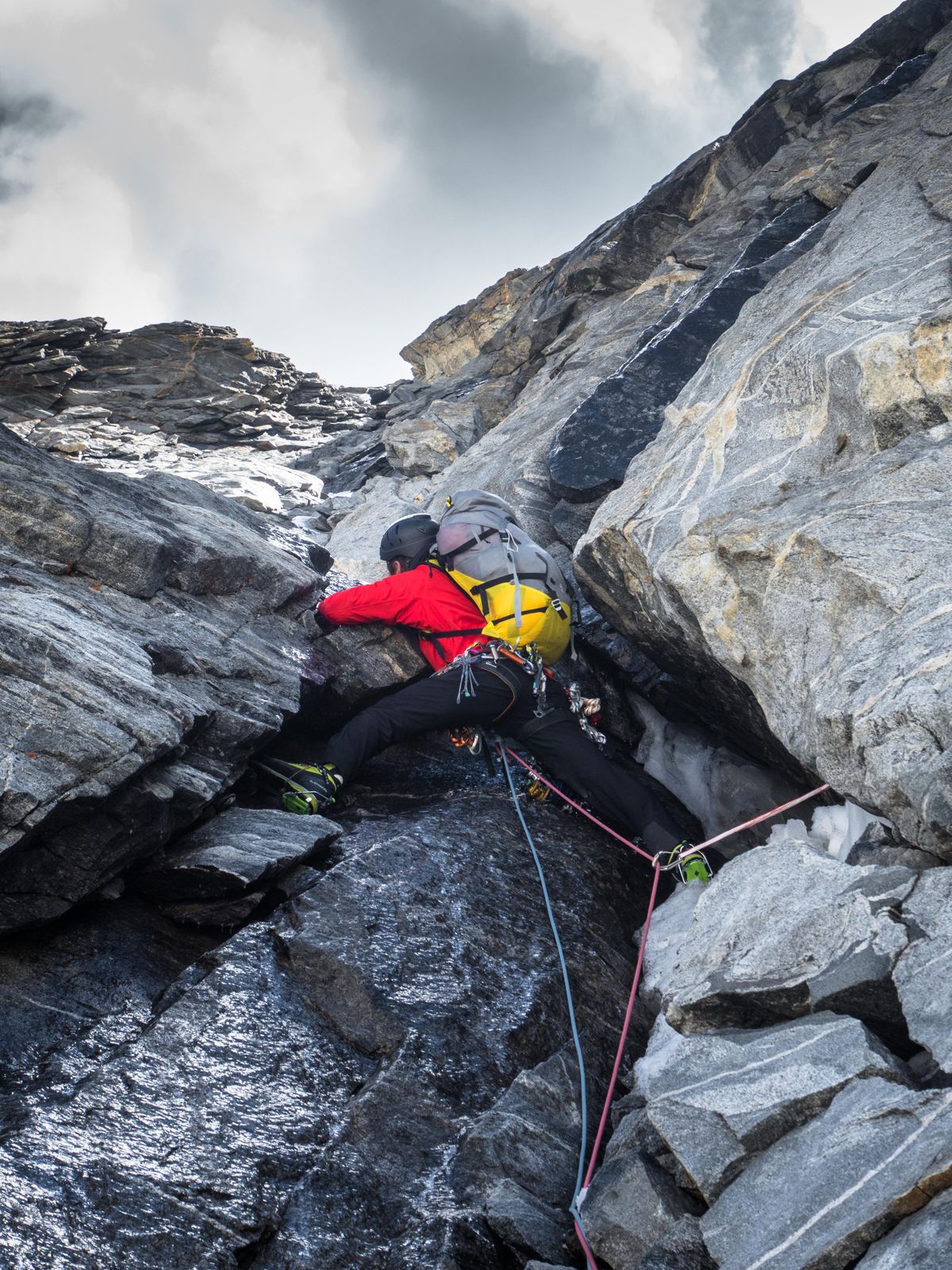 Jess Roskelley climbs a mixed pitch on Changi Tower on Aug. 13 in Pakistan. (Nelson Neirinck. / Courtesy)
In his Spokane garage, Jess Roskelley faced a conundrum.
He had this new treadwall – picture a treadmill, but for climbing – but it was about a foot taller than his ceiling.
His solution was straightforward: Raise a portion of the roof, seal it up and continue assembly.
With his dad's help, the whole project took only a day or two. Wall up. Problem solved.
Now, about that paddleboard his friend left in the garage, and that stack of cherry wood he'd like to use to make a few tables, and the dump run he needs to make. The list of home projects doesn't really end.
"You have to learn to juggle real well to do what I do," Roskelley said during a recent weeklong stint at home. "Thankfully, Allison (his wife) is so great. And I feel for her. She's here taking care of the day-to-day work around the home, plus working a full-time job, taking care of the dogs, things I would normally help with. We both miss out on things that would normally be done together, so we both sacrifice our share so that I can do what I do."
Roskelley's lifestyle is admittedly an unconventional one. At 36, he is a world-class climber and adventurer. He is sponsored by North Face, which defrays costs of his climbing projects that take him across the globe for weeks or sometimes months at at time.
But no matter how much he Instagrams about it, charting a new route up the south face of Alaska's Mount Huntington doesn't pay the bills. Welding does.
That's why Roskelley was in Telluride, Colorado, last month, working 10 hours a day, six days a week. It's why he was recently under a bridge near Harrison, Idaho. And it's why he's just not quite where he wants to be. Not yet.
All so that he can continue to chart new paths up mountains around the world.
"I don't think it's a question of if it's possible," he said of making his sport a career. "It's a question of when it's gonna happen, because in my mind I don't have a choice. I have to try and make that my goal, because its my dream, my passion. So that's the only option I have: to continue going until I make it."
Few have made alpine climbing a career, and arguably no one really does. After about 11 years of seriously climbing, though, Roskelley believes he's getting close.
He doesn't need to look far for an example of how to make it happen. John Roskelley, his dad, was in a similar spot 35 years ago.
"When I first started the Himalayan climbing thing, I would just come back and go back to work," John said. "I decided I needed the flexibility to accept trips once or twice a year if I could get on them, so I would work construction."
He found other ways of making money: presenting slide shows of expeditions to colleges and universities, and, eventually, writing, something he got better at with practice. Even after Jess was born, John found ways to make ends meet so that he could keep climbing.
"I wrote one of my books when Jess was taking a nap," John said. "I would just be really judicious on how I spent my time."
Jess doesn't have children, but he has seen other climbers quit for all sorts of reasons. Some get a good job or have to find one because they don't have a trade like welding to pay the bills. Getting married or having kids makes others step away. Or they just fall out of love with climbing. Or they tire of the risk.
Jess gets it.
"In a lot of people's eyes, I've already made it as a professional climber," he said. "But I'd like to make it my only gig, because it's hard to come home from a trip and then quickly scrounge for a job and train the way I should be.
"If my job was to train and go climbing, how much better would I be? I bet I've only ever been at 70 percent. What could I do if I was at 80 or 90 percent?"
To be sure, Roskelley has had lots of successes. He climbed Mount Everest when he was 20, which at the time made him the youngest to do so. He and friend Clint Helander last year established the southern route up Mount Huntington in Alaska, something deemed all but impossible.
That accomplishment led to him being named the second-most adventurous American by Men's Journal, and it contributed to North Face bringing him onto its team of climbers.
Most recently, he turned his attention to Pakistan, establishing new routes up slopes that have hardly been touched. He plans to go back next summer.
Alpine climbing is demanding. You're at altitude. It's cold and isolated. It demands teamwork, patience, risk-taking and wisdom gained from experience. It is, Roskelley said, the decathlon of climbing sports, because it demands all the skills needed in all the others.
"Just like endurance athletes, unless you're a prodigy, in alpine climbing you're not gonna be at the top of your game at 25," he said, which was the age at which he really got serious about the sport. "You might be strong, but it's experience that makes you better. You're gonna be at the top of your game in your 30s or maybe your 40s."
That's about how old his dad was when he reached, by his own assessment, his prime.
"I felt really fit, I was doing a lot of different things, and I was more financially stable," John said of that time. "When you decide to become a full-time climber, you better have a lot of companies supporting you, and there are very few climbers who can do that."
John was one of them. In the 1970s he established a reputation and companies started to notice. The first was W.L. Gore in 1977. Four years later, DuPont starting sponsoring him. Part of that was a monthly retainer, like a salary, and as he sold more books, it evolved to the point where he could actually make a living as a climber.
Even now, John hasn't so much quit climbing as he has changed his focus to activities that are more appropriate for his age, as he said.
A few years ago, he paddled the entirety of the Columbia River in a kayak (and wrote a book about it). He has been working on doing the same on sections of the Snake River.
"I really do like adventures, and I think Jess is the same way," he said.
Rarely do father and son go on longer trips anymore, like they did on that Everest summit in 2003. John always wanted Jess to make his own path, not just trade on his dad's reputation. John prefers to watch from afar as Jess pursues the same career he did.
But he expects that at some point, Jess will give it up.
"I have all the confidence in the world that he will not hang on like I have," John said. "I think he'll reach a certain point and say, 'I've done everything I wanted to do and I'm gonna move on.' I think he's more pragmatic than I am."
Not yet, though. Jess has reserved March and April for Alaska. And there's more to do in Pakistan next summer.
"I climbed one of those peaks in that valley, and I saw another peak … it really spoke to me, and that's what I'm doing next," he said. "I want it that bad, and by God I'm gonna go do it, and if I don't do it the first time, I'm gonna try it again."
Local journalism is essential.
Give directly to The Spokesman-Review's Northwest Passages community forums series -- which helps to offset the costs of several reporter and editor positions at the newspaper -- by using the easy options below. Gifts processed in this system are not tax deductible, but are predominately used to help meet the local financial requirements needed to receive national matching-grant funds.
Subscribe to the sports newsletter
Get the day's top sports headlines and breaking news delivered to your inbox by subscribing here.
---