A&E > Stage
It's showtime: Spokane-born Sophia Anne Caruso begins her journey in Broadway-bound 'Beetlejuice'
Sun., Oct. 28, 2018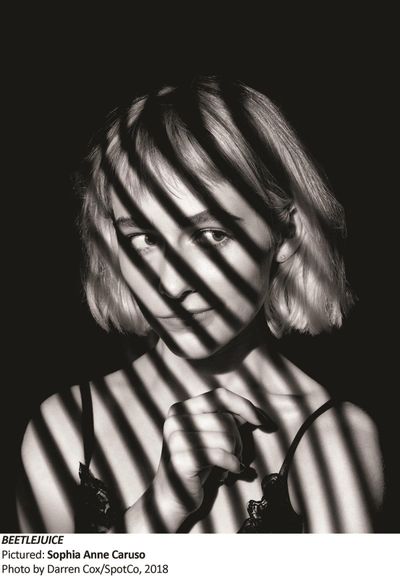 Since leaving Spokane in 2012, actress Sophia Anne Caruso has checked a lot of items off of her professional to-do list.
She's done television, appearing in the series "Smash" and playing one of the von Trapp children in NBC's live production of "The Sound of Music." She was nominated for a Lucille Lortel Award, which honors Off-Broadway work, for her role in the edgy drama "The Nether." She's been on Broadway, too, with a small part in the drama "Blackbird," with Jeff Daniels and Michelle Williams. And she impressed in the Off-Broadway and West End productions of the David Bowie musical "Lazarus." A recent New York Times profile declared her "Sardonic and Ready to Sing in 'Beetlejuice'."
In 2019, she'll check off another box: Playing the female lead in a big new Broadway musical.
In "Beetlejuice: The Musical," Caruso, 17, is playing Lydia, the teenager who encounters ghosts and a nasty spirit in her family's new home. The show is based on the 1988 Tim Burton movie, and Caruso is playing the role made famous by Winona Ryder.
"Beetlejuice," currently getting an out of town tryout in Washington, D.C., at the National Theatre, is set to open at the Winter Garden Theatre in New York in late March. Caruso has been involved with the show for a couple years now, through the work-shopping phase. She is relishing the chance to get it on stage and, as she put it in a phone interview last week, find the "sweet spot" of the show, "nuancing it and fine-tuning before we go back to New York."
The show has been in previews and will conclude its D.C. run on Nov. 18.
"Everything changes every day," Caruso said. "We come in and we have to re-learn a lot of things. Long rehearsal days and then performances at night."
Starring Tony-nominee Alex Brightman ("School of Rock") as Beetlejuice, "Beetlejuice: The Musical" is directed by Alex Timbers, with music and lyrics by Eddie Perfect and a book by Anthony King and Scott Brown.
Burton's movie centered on a recently deceased couple (played by Alec Baldwin and Geena Davis), who summon Beetlejuice (Michael Keaton) to scare away the new owners of their home. In the musical, the new owners' daughter, Lydia, takes center stage as she enlists the devious demon's help in scaring away her parents.
For Caruso, the show was a natural fit for her. She's been playing a edgy teenagers of late, and Lydia fits that description. "It really does line up with the stuff I've been doing, even if it doesn't appear that way," she said.
Caruso's recent theater credits have included a role in the challenging avant garde musical "Lazarus," where she played muse to Michael C. Hall's Earthbound alien. In "The Nether," she played a computer avatar whose purpose is to allow pedophiles to live out their fantasies. In "Blackbird," she was the stepdaughter of Jeff Daniels' Ray, who sexually abused a 12-year-old neighbor girl.
So, roles that are a far cry from "Annie," which Caruso starred in at Spokane Civic Theatre before making the leap to New York. And while "Beetlejuice" is a big, splashy musical, Caruso said she feels at home in it.
"Just because it's a big commercial musical, that doesn't mean it doesn't have the things that attract me, which are authenticity, heart, meaning and that it's moving for people," she said. "Going into a big commercial musical like this, that's a fear. Is it going to be authentic? Is it going to be real? Is it going to be campy? I absolutely would not have signed on if it were something that wasn't on brand for me."
She doesn't want to say too much about how the musical is different from the movie, aside from the inclusion of music and the shift in focus to Lydia. "I can say that the Tim Burton fans, the 'Beetlejuice' movies fans, they'll be satisfied. There are a lot of nods to the movie," she said. "But it really is our own production of it. It's something we've created."
Those nods to the movie specifically include Burton's visual style. As Timbers told the Washington Post, "We've tried to make the story itself as theatrical and emotional as possible. But, visually, we've tried to run toward Burton."
("Beetlejuice" set designer David Korins has some serious credentials, including "Dear Evan Hansen" and "Hamilton.")
Caruso said at its core, the show is about Lydia's journey and dealing with grief.
"That's one thing that I was attracted to about it," she said. "People don't know how to deal with grief. They either wallow in it or they don't deal with their feelings and they shove them down. What drew me to this being able to show somebody who is actually moving through (grief) and working through that and who wants to work through that."
One might think that a 17-year-old might be nervous about playing a lead in a big-budget new musical. Not Caruso.
"I'm happy to go to work every day," she said. "And I'm not psyching myself out about it too much. I'm pretty mellow about it. But it's definitely really thrilling, especially because it was always my dream as a kid to be a leading lady on Broadway."
How mellow is she? On Twitter Friday, she tweeted: "Shoutout to my dresser who got me out of bed at intermission last night by asking if I liked waterfalls and then misted @evianwater all over my face."
Which prompted her co-star Brightman to reply, "Our little comet is so calm, cool, and collected, she falls asleep at intermission. And then crushes act two like it's nothing."
And while "Beetlejuice" will be a big part of her life for the immediate future, she's keeping busy off stage. She writes music and is thinking about releasing an album. When she wraps up in D.C., she'll begin work on a series for Showtime, "City on a Hill," playing Kevin Bacon's daughter. "And I have a couple movie opportunities. We'll see if they pan out. I don't really know yet," Caruso said. "But I have a lot of other things in the works that I've been work-shopping, just like I've been work-shopping ('Beetlejuice').
Local journalism is essential.
Give directly to The Spokesman-Review's Northwest Passages community forums series -- which helps to offset the costs of several reporter and editor positions at the newspaper -- by using the easy options below. Gifts processed in this system are not tax deductible, but are predominately used to help meet the local financial requirements needed to receive national matching-grant funds.
Subscribe to the Spokane7 email newsletter
Get the day's top entertainment headlines delivered to your inbox every morning.
---