News > Spokane
Last push for pumpkins: Families make final journey to Green Bluff ahead of Halloween
Oct. 28, 2018 Updated Sun., Oct. 28, 2018 at 8:37 p.m.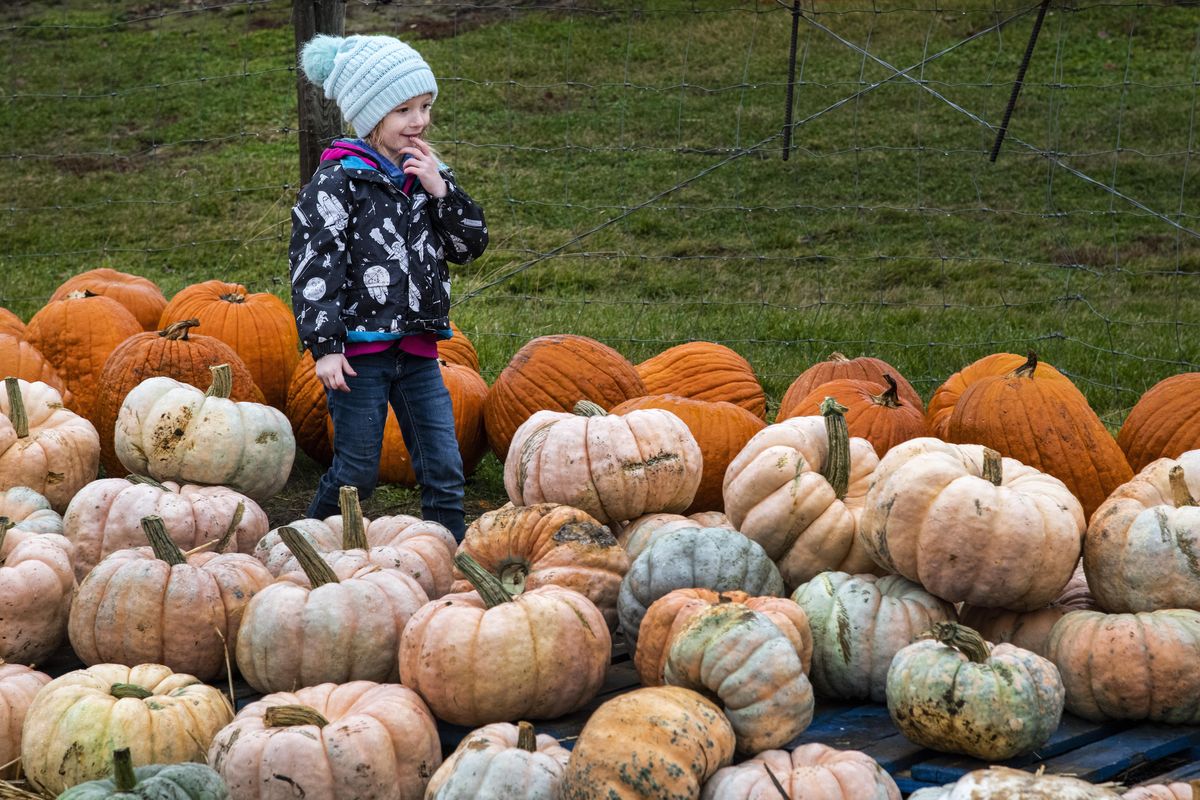 Evelynn Child, 4, tries to make a decision on which pumpkin she wants to take home at Beck's Harvest House in Green Bluff, Sun., Oct. 2018. (Colin Mulvany / The Spokesman-Review)Buy a print of this photo
First trying to pick up the basketball-sized pumpkin by the stem but finding it too heavy, three-year-old Aurora Dillon was forced to wrap her arms around it, struggling across the soggy Green Bluff pumpkin patch with a gourd almost half her size.
Before choosing this one, the three-year-old had already tipped over, briefly carried and examined a dozen others in search of the few, special pumpkins she would eventually take home and carve with her family.
Aurora's mother, Alex Dillon, said taking her daughter to the High Country Orchard farm for Green Bluff's last weekend of fall festivities was a chance to get her outside and teach her about the seasons and Halloween. She said the family tried to get Aurora to participate in Halloween last year, but she was still to young to understand what was going on.
"She never really got the concept of it," Dillon said. "But now she's understanding it."
She said this year, Aurora picked out her own Halloween costume, Snow White, and they plan to let her help scoop out pumpkin seeds when they make jack-o'-lanterns.
Dillon's fiance, Carl Gerdes, said the family was new to the area and he had discovered Green Bluff while doing a lawn care job nearby. He said they would have liked to come earlier in the season, but hadn't been able to make it due to the family's busy work schedule.
While many of the visitors to Green Bluff, a north of Spokane favorite for agrotourism activities like corn mazes, livestock petting zoos and fresh produce, made the trip to buy pumpkins to carve into jack-o'-lanterns, some, like college students Michaela Flerchinger, 20, and Hailey Horist, 20, made the trip to find a perfect Instagram backdrop.
The students said they ended up taking pictures and not buying a pumpkin. By the time they arrived, a rainy Sunday afternoon on the last weekend before Halloween, the patch had already been picked over and there weren't many left that hadn't already started to mold.
Flerchinger, a Gonzaga student who is originally from Coeur d'Alene, said Sunday was her first time coming to Green Bluff, but she knew it was a local Halloween tradition.
Angela Moffat, who lives near Green Bluff, said she prefers to wait until late in the season and for poor weather, so she doesn't have to compete with the crowds while searching for the perfect pumpkin. She said usually, traffic is backed up for miles and the line to her favorite Green Bluff feature, pumpkin donuts, stretches across the clearing at Beck's Harvest House farm. Moffat, who was on an outing with her family, said she loves the lumpy, warty and misshapen pumpkins, but she needed a gourd that was carvable and small enough to carry.
She said each member of the family picks their own pumpkin, which they will carve and assemble on the deck for a photo shoot in the dark, a tradition she calls the "annual pumpkin picture." Once Halloween is over, she said, they feed the jack-o'-lanterns to the deer so that nothing is wasted.
Another visitor at the Beck's Harvest House pumpkin patch, Tailor Child, said Sunday, which was the last day of the Beck's Harvest House Festival, was also her last chance to take her daughters to a Spokane pumpkin patch. Child said her fiance will soon be stationed at a different Air Force base in a few months and they will have to move.
Child, who had picked several pumpkins out of the mud to bring home to carve and paint, said she had been coming to Green Bluff to participate in the fall festivities for three years, and she had also come to the farms as a child.
"Unfortunately, we're leaving Spokane before next fall," she said. "But hopefully, wherever we live, there will have the same fall festivities."
Local journalism is essential.
Give directly to The Spokesman-Review's Northwest Passages community forums series -- which helps to offset the costs of several reporter and editor positions at the newspaper -- by using the easy options below. Gifts processed in this system are not tax deductible, but are predominately used to help meet the local financial requirements needed to receive national matching-grant funds.
Subscribe now to get breaking news alerts in your email inbox
Get breaking news delivered to your inbox as it happens.
---