Sports > EWU football
Eastern Washington star quarterback Gage Gubrud opens up about season-ending injury
Oct. 30, 2018 Updated Tue., Oct. 30, 2018 at 10:05 p.m.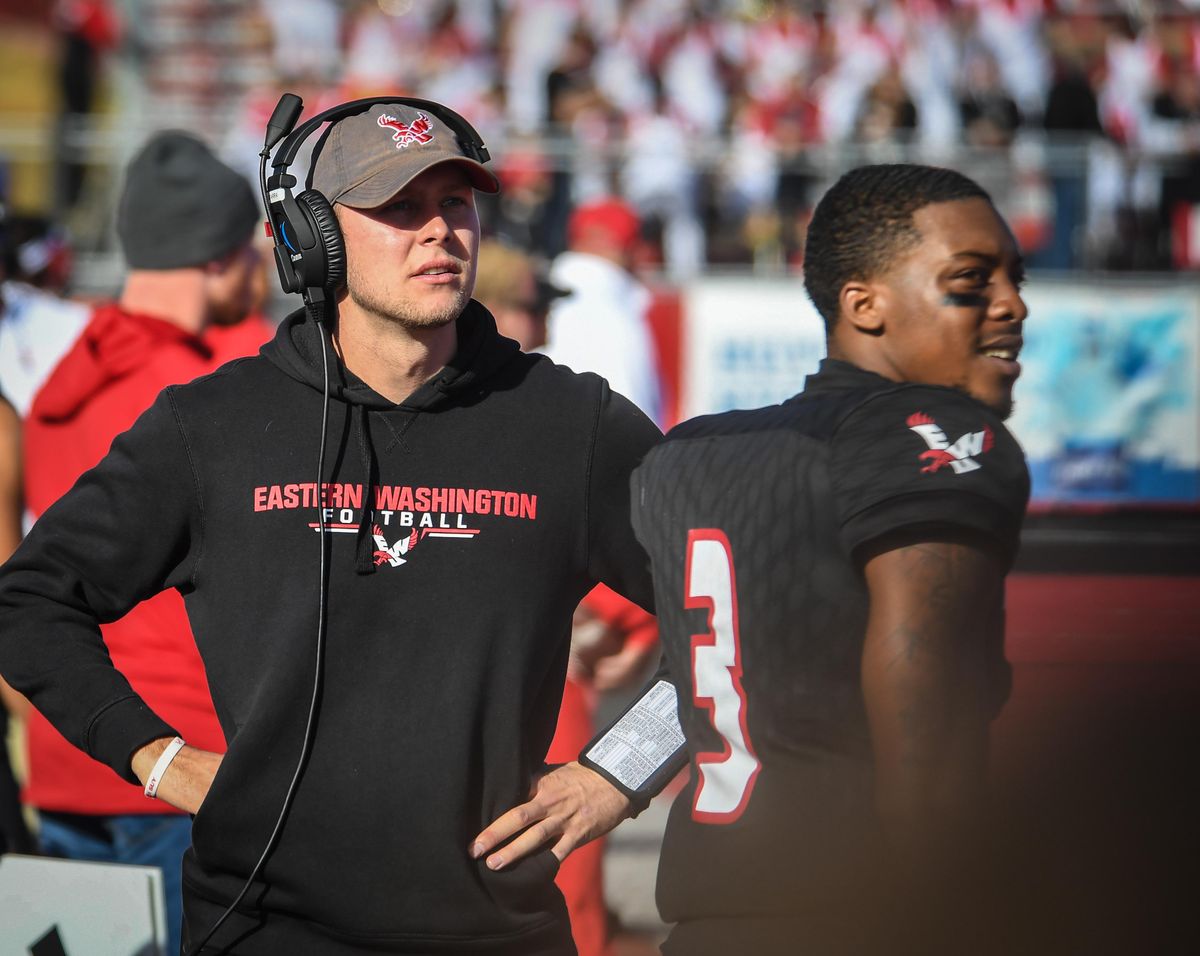 Injured Eastern Washington quarterback Gage Gubrud, left, and starting QB Eric Barriere watch the third-quarter action against Idaho last Saturday in Cheney. (Dan Pelle / The Spokesman-Review)Buy a print of this photo
A month after sustaining a toe injury that ultimately ended his college career, Eastern Washington quarterback Gage Gubrud donned a beanie, sweats and a practice jersey Tuesday as he spoke to reporters at Roos Field, minutes before the Eagles prepped for Saturday's road date at Northern Colorado.
Three days following an announcement that the All-American would undergo season-ending surgery, Gubrud, who sat out the last three games, was given the platform to open up about the sinking experience of having his decorated tenure cut short and not being able to help fifth-ranked EWU (6-2, 4-1 Big Sky) in its late-season push for a conference crown.
Late in the fourth quarter of the Eagles' 34-17 win at Montana State on Sept. 29, Gubrud said a player landed on his foot – he said he doesn't specifically remember the play – an injury he said didn't initially seem serious.
"I didn't even feel it happen, to be honest" said Gubrud, who fractured the big toe on his right foot. "I got up, took a step and thought, 'OK, something's not right. This doesn't feel right.' And then the pain started to kick in after that."
Gubrud passed for 311 yards and had a rushing touchdown. He led the country in touchdown passes (13) going into that game.
He wore a protective boot for nearly three weeks before practicing last Tuesday, wearing pads and getting live reps with the first-team offense – a test to see if he could play, he said – appearing healthy enough to make an eventual return.
Gubrud said the test hurt. When he woke up the following day in more pain, he decided it was time to pull the plug.
"After I talked to a doctor and got my second opinion, I figured that this is something I needed to do," Gubrud said. "It'd be the best for me, and for the team because I'm not going to go out there and … (Barriere) is a great quarterback. I'm not going to go out there and be a 50-percent kind of guy, because that's not helping anyone.
"(Needing surgery) isn't what I wanted to hear, but it's something I felt like I was going to hear, and now I'm progressing and moving on from it."
In 28 career starts, he was 16 yards shy of reaching the 10,000-yard passing mark (9,984). He threw for 87 career touchdowns, ran for 13, and was a three-time Walter Payton Award candidate – twice a finalist for the FCS version of the Heisman trophy.
Gubrud had perhaps the most exciting first career start for a QB in program history when he spearheaded EWU's 45-42 upset at Washington State to open the 2016 season, shredding the Cougars for 474 passing yards and five touchdowns, and a had a late game-deciding touchdown run that silenced the crowd in Pullman.
The walk-on from McMinnville, Oregon, helped EWU earn a Big Sky title and reach the FCS semifinals that season. He finished his career 21-7 as a starter.
Second-year head coach Aaron Best feels for Gubrud.
"It was really tough. Really tough," Best said. "He embodies everything we are on the field, and what we ask him to off the field, and with flying colors.
"At that position, and as decorated as he's been on the field, I can't say enough about him. I know he doesn't want to be talked about in that manner, but he's earned the right to be among the best, not only statistically, but also off the field, during his time here at Eastern."
Barriere said the team announced last Thursday that Gubrud would be shelved and that Barriere would be the starter going forward.
The sophomore from Inglewood, California, said he is happy to have the keys to the Eagles' high-powered offense, but seeing his mentor's career cut short was hard.
"It's kind of sad, because I know how Gage is, and his personality and being with him for a couple years," said Barriere, who is 3-1 as a starter over the last two seasons. "To see all the hard work he put in and for his season to come short … but I know he's got big things ahead of him."
EWU requested that the media not ask about Gubrud's professional prospects until after the season, as he is still a member of the team.
Gubrud, who will still be a team captain, wore a headset on the sideline last week and helped coach Barriere and backup QB Gunner Talkington, something he'll be doing for the rest of the season.
"There's a lot of great memories, and the best thing was the relationships I made here, with the guys on this team and the previous years, lifelong relationships," he said. "But we're not done yet this year. It's going to be a lot of fun to watch this team progress and see what they can do."
Local journalism is essential.
Give directly to The Spokesman-Review's Northwest Passages community forums series -- which helps to offset the costs of several reporter and editor positions at the newspaper -- by using the easy options below. Gifts processed in this system are not tax deductible, but are predominately used to help meet the local financial requirements needed to receive national matching-grant funds.
Subscribe to the sports newsletter
Get the day's top sports headlines and breaking news delivered to your inbox by subscribing here.
---