News > Spokane
Hundreds gather at Spokane temple to remember victims of Pittsburgh synagogue attack
UPDATED: Tue., Oct. 30, 2018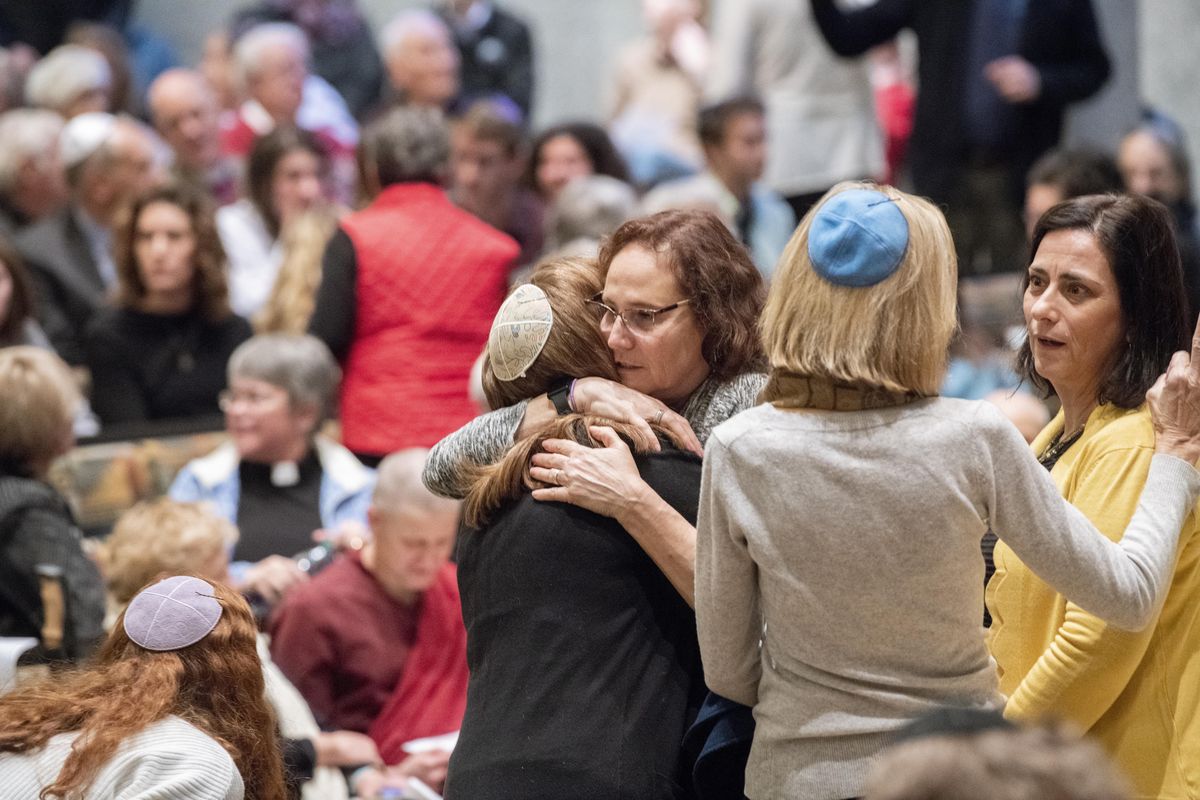 Congregants greet each other before the vigil and remembrance for the slain victims at Tree of Life Synagogue in Pittsburgh, Pennsylvania, Tuesday, Oct. 30, 2018, at Temple Beth Shalom in Spokane. (Jesse Tinsley / The Spokesman-Review)
Hundreds of community members gathered Tuesday evening at Temple Beth Shalom on the South Hill for a candlelight vigil honoring victims of the Tree of Life Synagogue attack in Pittsburgh.
Rabbi Tamar Malino of the Temple Beth Shalom and Congregation Emanu-El led the service, which began with a song in Hebrew.
Afterward, Malino drew parallels between the Tree of Life Synagogue and Temple Beth Shalom.
"The Tree of Life Synagogue, like ours, has multiple congregations that often worship at the same time, and even the building kind of looks like ours. The Tree of Life Synagogue, like ours and like every synagogue in the country, is a place where we gather to be in the company of one another – to connect to the divine to be inspired and to feel safe," she said. "But, this Shabbat, the Tree of Life was attacked, people died and our safety was shattered."
"We are frightened, not just for ourselves, but for everyone living in a world where this kind of anti-Semitism along with so many forms of racism, bigotry and hatred are rampant and have provoked such violence," she added.
Malino said that in a time when anti-Semitism is more visible in the United States than it has been in many decades, it's important for the Jewish community – although frightened – to remain strong.
"Instead, we celebrate our heritage, strengthen our identity and do as much as we can to live rich, joyful and meaningful Jewish lives," she said.
Scott Starbuck, pastor of Manito Presbyterian Church, said his congregation lit a candle Sunday morning for the Jewish community.
"We are with you in solidarity and love," he said. "You are our partners in social justice. You are infinitely important to us."
Spokane Mayor David Condon said his heart is heavy when thinking about the Tree of Life attack Saturday.
"Standing here now, there's nothing that brings peace in these moments, especially to the families and the loved ones of Pittsburgh," he said. "There is no justice that feels just enough. There's no words that feel sincere enough. There is no explanation good enough."
Kristine Hoover, director for the Gonzaga Institute for Hate Studies, said the institute condemns anti-Semitism, bigotry and hate without hesitation.
"Love lives here and it lives in communities all across the world – in our country, region, state and, yes, in our city and our neighborhoods," she said. "I've been awestruck by the strength and the clarity of those of the Tree of Life Synagogue who survived the shooting as witnesses to yet another inconceivable act of violence in a house of worship. They tell their stories, so we will never forget."
Eleven shiva candles were lit to honor victims of the Tree of Life shooting, and the service concluded with a prayer for courage and healing.
Arthur Zack, who lit one of the candles, said it's important for the community to stand up against anti-Semitism and prejudice.
"It's important for people of goodwill to demonstrate that love and unity is more powerful than hate," he said. "It's important for people to come together, show their strength and love and not be afraid."
Local journalism is essential.
Give directly to The Spokesman-Review's Northwest Passages community forums series -- which helps to offset the costs of several reporter and editor positions at the newspaper -- by using the easy options below. Gifts processed in this system are not tax deductible, but are predominately used to help meet the local financial requirements needed to receive national matching-grant funds.
Subscribe now to get breaking news alerts in your email inbox
Get breaking news delivered to your inbox as it happens.
---