Sports > WSU football
Washington State always saw potential in Dezmon Patmon. Now the junior receiver is starting to see it in himself
Oct. 30, 2018 Updated Tue., Oct. 30, 2018 at 10:30 p.m.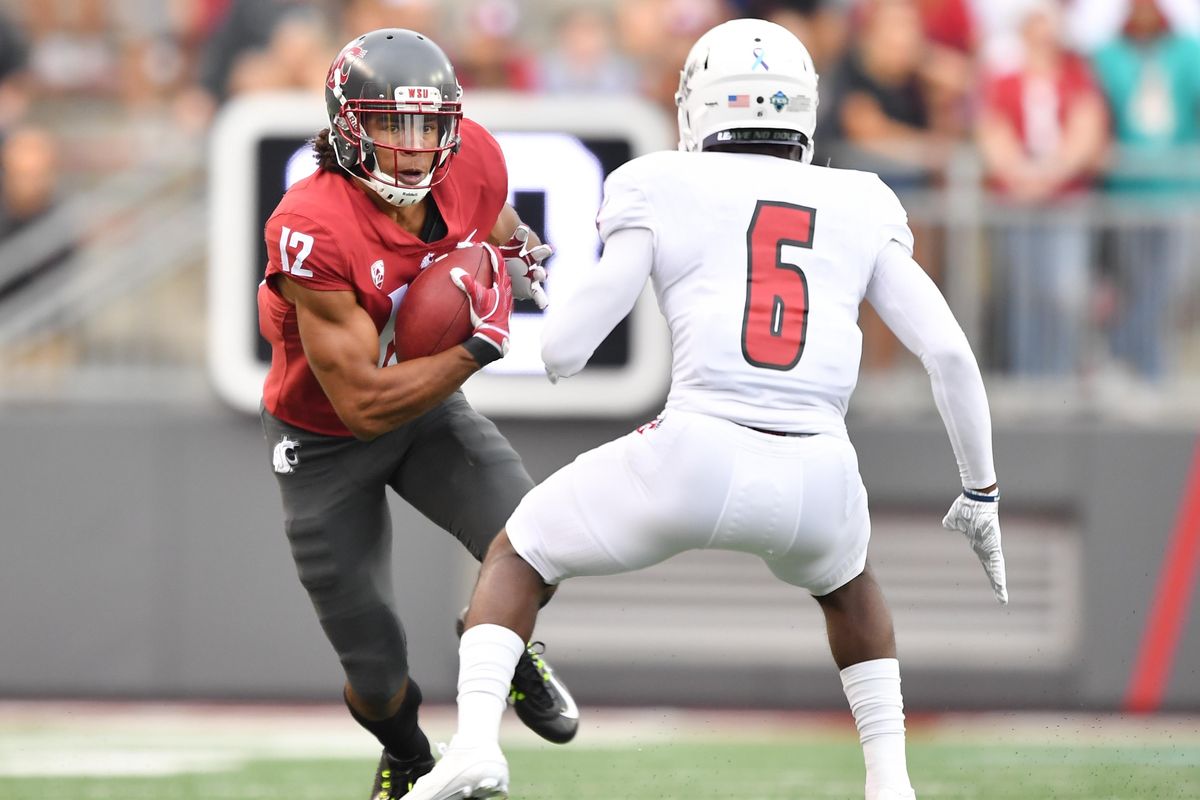 Washington State wide receiver Dezmon Patmon runs the ball against Eastern Washington defensive back Nzuzi Webster during the first half Sept. 15 at Martin Stadium in Pullman. (Tyler Tjomsland / The Spokesman-Review)
PULLMAN – Anybody with two functioning eyes can take one look at Dezmon Patmon and instantly recognize what his top trait as a wide receiver is.
For Washington State, the challenge has been getting Patmon to recognize it, too.
The junior "Z" receiver is finally starting to come into his own and posted career-high numbers Saturday in a 41-38 win over No. 24 Stanford that gave the Cougars their fourth consecutive victory in Pac-12 play and vaulted them to No. 10 in the Associated Press Top 25 rankings.
Patmon's 10 receptions were a career best, smashing his prior high of six, and the San Diego native finished with 127 receiving yards, beating his record of 112, set three games earlier against Utah.
"He has been impressive lately and I think he continues to improve and I think that sometimes what he does physically – because he does have a unique strength to him – I don't think it surprises anyone but him," WSU coach Mike Leach said. "I think everybody looks and says, 'Yeah, well of course,' and then the only guy surprised is Dez."
Patmon's become a more well-rounded player his third season with the Cougars. Like every receiver who's come through Pullman in the last five years, he's benefited from catching thousands of practice balls in Leach's Air Raid offense – from a couple of high-caliber passers, too, such as Luke Falk and Gardner Minshew.
The weight-training/conditioning cycles that Jason Loscalzo and Tyson Brown have put him through have also given Patmon more horsepower. He's stronger and quicker than he was three years ago, despite making a 13-pound jump on the weight scale, from 207 as a freshman to 220 as a junior.
Those things all factor into Patmon's development, but none is the primary reason Patmon's numbers have taken such a major spike in 2018.
It was a matter of finally realizing he was 6-foot-4 – or that everybody else wasn't.
"Truthfully, I think he's always enjoyed football and wanted to be good at it," Leach said. "Sometimes it's hard, but the difficulty of it is part of the reward, and I think as he realizes that he's gotten better and better. I think now he enjoys being a pretty physical guy."
And the Cougars are ecstatic about it.
As a sophomore, Patmon shared reps at the "Z" outside receiver position with Isaiah Johnson-Mack, who left the team for personal reasons prior to the 2017 Holiday Bowl. Patmon played well in certain spots, finishing the year with 35 catches for 379 yards.
The junior graduated from San Diego's Patrick Henry High School – the same school Leach's wife Sharon attended – and has already eclipsed those numbers through eight games in 2018. Patmon's performance at Stanford boosted his catches total to 41 and his receiving yards to 578. He's caught three touchdowns – one each against USC, Utah and Oregon.
"He did some things in the game the other day that I've never seen him do and almost by complete accident," outside receivers coach Steve Spurrier Jr. said. "And he is big and he's learning that playing big is a benefit for him. He's getting better every day and he's a fun guy to coach and he played well and he catches the ball well and he's a good player."
Patmon's breakout season wasn't so predictable, though.
Leach rotates two players at each of the four receiving positions and Johnson-Mack's departure meant Patmon was probably a shoo-in for one of the two "Z" jobs. But the other "Z," Easop Winston, performed at a high level during fall camp and Patmon wasn't as consistent, so the coaching staff made some adjustments.
"It was funny because he had an OK camp. But it was just OK," Leach said. "And I actually took him off some plays because I thought other people were performing better. You know, you want to be the guy we put in on this play, you better be the best at it. And so I actually replaced him on some, and so then he was having an OK camp and then the first week of course he starts elevating and gets to where he plays more physical and plays faster and things like that.
"For his benefit, honestly he'd have more receptions and been in on more stuff if camp was better because then you improve your skills and develop."
His development came eventually, though, and it's been a boon for the nation's top passing attack. Leach categorizes his current "Z" receiver tandem as the best he's had in Pullman. Productive as Patmon may be, Winston has been equally reliable, with 35 catches for 463 yards and six touchdowns. From the "Z" spot, the Cougars have 76 catches, 1,041 yards and nine touchdowns this season.
"(Patmon) and Easop rotate every series, so it's kind of just the luck of the ball on who gets a lot of balls coming to them and he happened to get a lot more coming to him than Easop did in that (Stanford) game," Spurrier Jr. said.
"But he's played well and he's gotten open. I don't necessarily think he did anything terribly unique to get open, but yes, he runs well and he cuts sharp and he attacks the ball. So he's fun to watch."
Local journalism is essential.
Give directly to The Spokesman-Review's Northwest Passages community forums series -- which helps to offset the costs of several reporter and editor positions at the newspaper -- by using the easy options below. Gifts processed in this system are not tax deductible, but are predominately used to help meet the local financial requirements needed to receive national matching-grant funds.
Subscribe to the Cougs newsletter
Get the latest Cougs headlines delivered to your inbox as they happen.
---