News > Nation
Rehnquist once proposed to O'Connor, biographer says
Wed., Oct. 31, 2018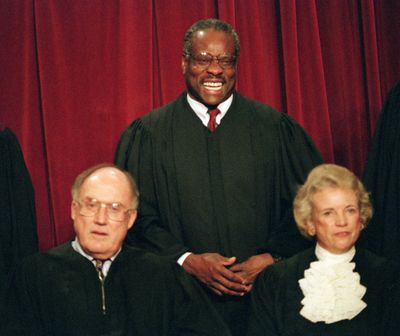 WASHINGTON – A biographer has discovered the future chief justice of the United States once proposed marriage to the woman who would become the first woman to serve on the court.
NPR's "Morning Edition" reports author Evan Thomas found William Rehnquist's letter to Sandra Day O'Connor while researching his upcoming book, "First." The two dated while students at Stanford Law School in the early 1950s. They had broken up but remained friends.
Rehnquist graduated and in a March 29 letter, wrote: "To be specific, Sandy, will you marry me this summer?" She said no.
She was dating another student, John O'Connor. They married in 1952.
O'Connor's son Jay says he and his siblings were "surprised," although they knew they had dated. He says they enjoyed a wonderful working relationship and friendship.
Local journalism is essential.
Give directly to The Spokesman-Review's Northwest Passages community forums series -- which helps to offset the costs of several reporter and editor positions at the newspaper -- by using the easy options below. Gifts processed in this system are not tax deductible, but are predominately used to help meet the local financial requirements needed to receive national matching-grant funds.
Subscribe to the Coronavirus newsletter
Get the day's latest Coronavirus news delivered to your inbox by subscribing to our newsletter.
---