News > Spokane
Summer getaway or full-time residence, a house on the water in Spokane area remains relatively affordable, observers say
Sun., Sept. 2, 2018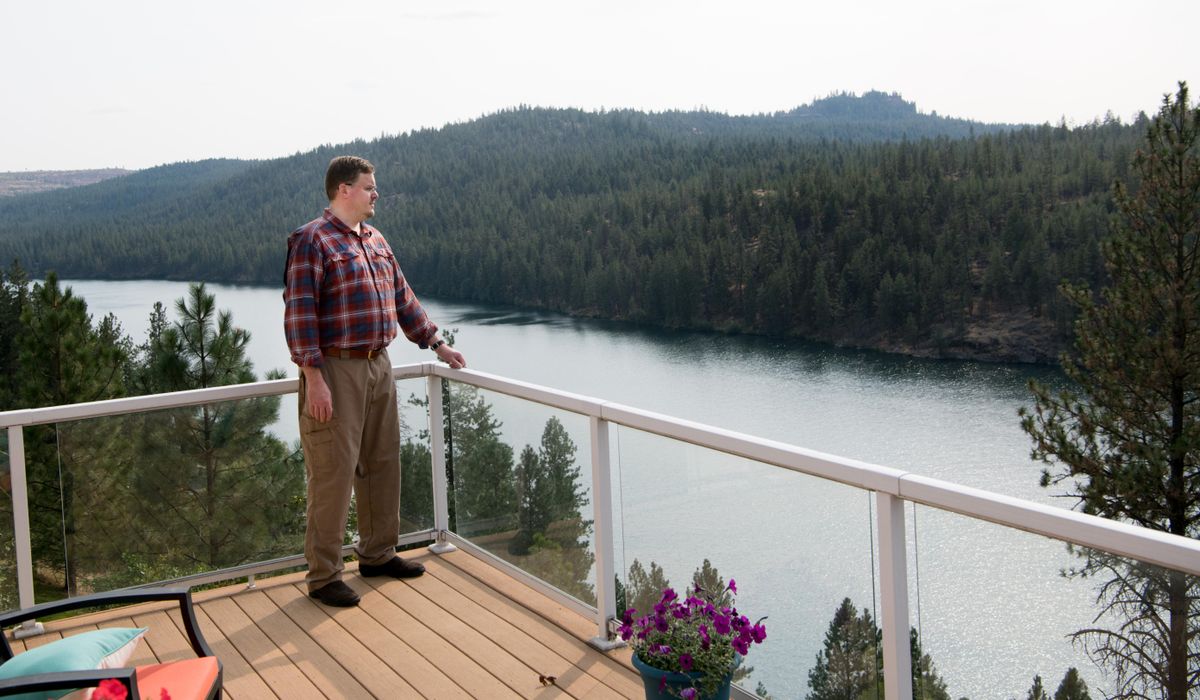 Andrew Dill, poses for a photo on the deck of his waterfront home he's selling to downsize to another waterfront home on Tuesday, Aug. 28, 2018, Nine Mile Falls. (Tyler Tjomsland / The Spokesman-Review)
When Andrew Dill and his family relocated from Tennessee to Spokane, they looked at more than 40 properties, from Post Falls to the South Hill. But once the family came across a waterfront home in Nine Mile Falls, they were sold.
"The draw was being that close to nature and being able to watch it. We have eagles and ravens in the area that fly over our property all the time," Dill said. "It's really fascinating for our kids to watch. You don't get that in Tennessee. The water access is amazing. We do a lot of fishing and kayaking."
Another benefit of the home – which overlooks the Spokane River and is the first waterfront property purchase for the Dill family – was that it was financially obtainable.
As waterfront homes in Seattle sell at a premium with prices starting at more than $1 million, some Spokane real estate agents say homes near the water in the Inland Northwest remain fairly affordable.
"There is an abundant amount of choices around here with 60 lakes within an hour and a half drive," said Bill Fanning, broker for Century 21 Beutler-Waterfront. "I would say anybody could purchase waterfront around here, depending on where they are looking. Generally, people can afford waterfront one way or another."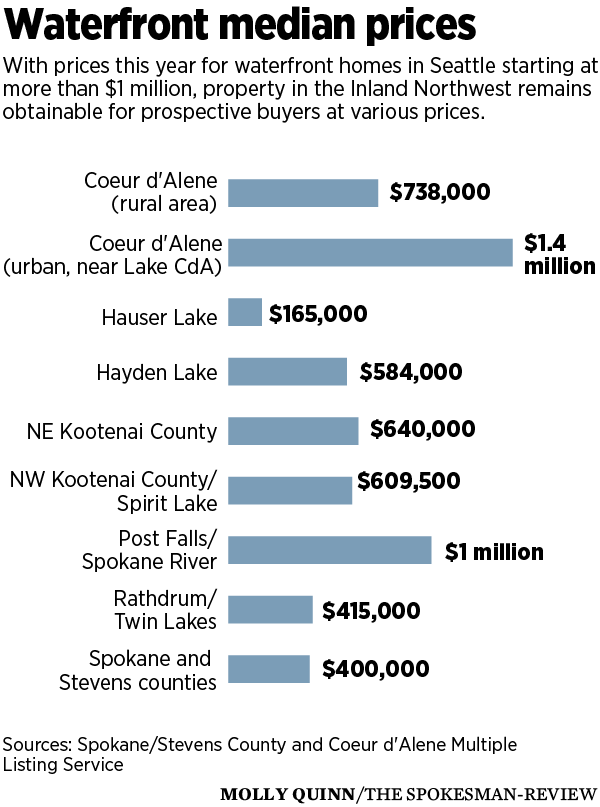 Fanning said prices for waterfront homes vary depending on the area and whether homebuyers choose to purchase vacant land and build, or buy an existing home.
Statistically, buyers from the Tri-Cities, Pullman, Sandpoint and Spokane account for about 70 percent of waterfront sales every year, with the remaining 30 percent of sales from beyond the area, he said.
"For out-of-towners, their markets get hot, they pull equity out and move up to a quality-of-life location," he said. "From a lake property standpoint, we are definitely a quality-of-life location. We have the kinds of things people are looking for."
While the waterfront-home market in Idaho experienced an overall jump in median prices since August 2017 with property values in Coeur d'Alene exceeding $1.4 million, one home near Hauser Lake sold for $165,000 this year, according to the Coeur d'Alene Multiple Listing Service.
Post Falls saw a 66 percent increase in prices, which rose from more than $620,000 to $1 million over the last year, and northwest Kootenai County waterfront home values increased significantly with a 174 percent jump in year-over-year prices from $222,000 to more than $609,000.
"The Spokane River, Post Falls and Coeur d'Alene are probably the hottest lake markets," Fanning said. "Anything that's in an urban waterfront environment is real popular right now."
Waterfront prices in Spokane and Stevens counties are up by more than 12 percent over last year, with an average median price of $400,000, according to the Spokane MLS. A non-waterfront home in Spokane costs more than $235,000, according to a July report from the Spokane Association of Realtors.
But compared with larger metro areas, waterfront is still fairly affordable in the area, said Ken Sax, president of the Spokane Association of Realtors and designated broker for Keller Williams Realty.
"There's a lot of people coming in from Western Washington because, when you look at Seattle or Los Angeles, are you going to pay $5 million for waterfront or $650,000?" he said.
The local waterfront market has been stable over the past six years. But this year there's been some inflation, with new listings priced on the high end, Fanning said.
"It will be interesting to see if the inflation is sustainable," Fanning said. "On the upper end of the market, with homes priced $800,000 and above, there's a little bit more of an inventory shortage."
The total estimated value of waterfront homes in June was $134 billion nationally, with a sale price premium of 36 percent, down from 54 percent in 2012. A price premium is the additional amount people pay to live near a body of water. Nationally, the median value of a waterfront home is $426,300, according to a report by Zillow.
Because prices for waterfront homes grew faster than regular homes during the housing boom, they weren't affected as strongly by the economic downturn, resulting in premiums remaining roughly the same in the years following the economic collapse, according to the report.
As the housing market bounced back, the price gap between non-waterfront and waterfront homes has narrowed in the past few years.
Sax said that while waterfront home prices are up in the local market, movement is not necessarily brisk, which could be attributed to sellers overpricing their properties. Also, there tend to be fewer buyers and a lower inventory for waterfront properties, especially in a higher price bracket.
"It's a smaller market for waterfront, just like it is for horse properties and golf course properties," he said.
Sax advises prospective buyers to work with a Realtor, have financing in place and know whether they want a waterfront property for the view, fishing or watersports to help determine the best location.
The Dills, who have resided in their waterfront home for three years, are now selling it to downsize. They've already had prospective buyers from California and Seattle look at their property, which is priced around $450,000.
"We would love to have a smaller lakefront property," Dill said. "I'm never going to get another home without a view."
Local journalism is essential.
Give directly to The Spokesman-Review's Northwest Passages community forums series -- which helps to offset the costs of several reporter and editor positions at the newspaper -- by using the easy options below. Gifts processed in this system are not tax deductible, but are predominately used to help meet the local financial requirements needed to receive national matching-grant funds.
Subscribe now to get breaking news alerts in your email inbox
Get breaking news delivered to your inbox as it happens.
---