News > Education
WSU anticipates revenue boost from partnership with international student recruiter
Sun., Sept. 2, 2018
When he received a so-so score on an English proficiency exam, Mustafa Akgun thought he had missed his chance to leave Turkey for an American university.
But recruiters from a private company called INTO University Partnerships saw potential in Akgun after he graduated from a top school in Ankara, and now, after two semesters of intensive English courses, the 28-year-old is pursuing a master's degree in agricultural economics at Washington State University.
"I couldn't get acceptance directly from universities, and INTO helped me to get that," said Akgun, who was among the first cohort of students to benefit from WSU's partnership with the international student recruiting company.
WSU administrators say that partnership will eventually bring in thousands more students from other countries, making the university more culturally diverse, boosting tuition revenue and improving the school's international reputation. They say the partnership will not only help WSU climb out of a spending deficit, but also put the university on track to become one of the nation's top public research institutions – in part by supplying WSU laboratories with talented young academics from around the world.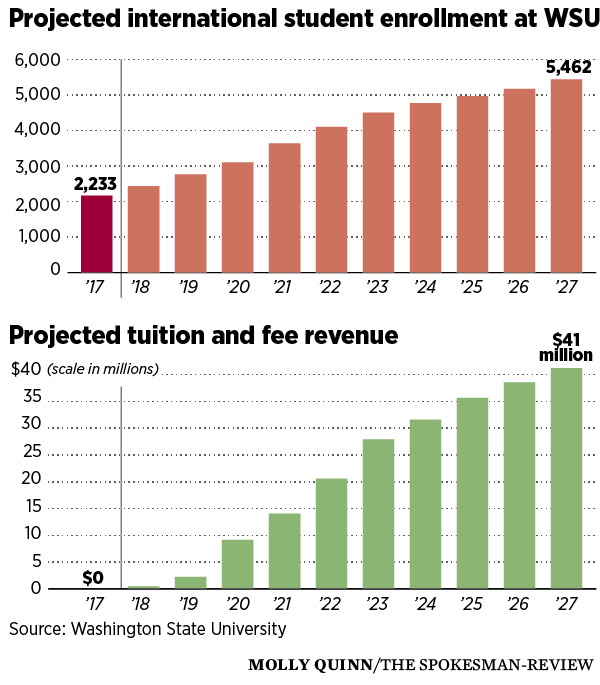 "In this day and age, we believe that any university that is not looking at global issues, or working with the rest of the world, is really going to be left behind because of such an interconnected world," said Asif Chaudhry, a former U.S. ambassador to Moldova who is now WSU's vice president for international programs. "The more diversity in terms of international students and others, the better."
In recent years, Chaudhry said, WSU has had around 2,000 international students representing 7 to 8 percent of enrollment. The university's goal is raise that proportion significantly; Chaudhry said international students account for up to 19 percent of enrollment at many top-ranked universities in the United States.
Chaudhry said that change is intended to grow the university, not displace any students who grew up in-state. And he said it serves WSU's mission as a land-grant institution: By exposing all students to a wealth of ideas, methods and experiences, the university can better prepare them to work in an increasingly globalized world.
"We want them to be global citizens," Chaudhry said. "The only way to do that is, either we expose them to the world, take them all over for study abroad programs, or somehow we bring the world to them."
How it works
INTO has contracts with 11 universities in the United States, 14 in the United Kingdom and one in China, according to the company's website. Those schools include Oregon State University and Colorado State University.
Chaudhry said the company has around 250 employees and offices in more than 30 countries, giving it unique reach and expertise. WSU, he said, has four or five employees who travel the world to spread word about the university, but they're also responsible for processing applications back in Pullman. Building a network like INTO's would be vastly expensive, he said.
"You have to put in a lot of resources to go out and find students, especially at a time when there is strong competition from all over the world, good institutions all over," Chaudhry said. INTO's year-round presence in other countries, he said, "gives you much better access to those markets."
At WSU, the INTO program primarily serves graduate students but also a small number of undergraduates. Among other application requirements, students are required to take one of two English proficiency exams: the TOEFL, which is commonly used in the United States, or the IELTS, which is more widely accepted in the United Kingdom and Australia.
Some of the students recruited by INTO meet or exceed WSU's admission requirements, meaning they can jump right into their graduate programs as soon as they arrive in Pullman or at one of the university's other campuses. But other students, like Akgun, may fall just short of the requirements because of a language barrier or differences in countries' grading systems.
Chaudhry said it can be unfair to automatically reject students with less than, say, a 3.0 grade-point average, because that number doesn't represent the same level of performance in every country.
"Perhaps the student who gets the 2.9 in South Korea is really a 3.8 student in our system," he said.
Those students may be recruited to study at WSU, but they are expected to prove themselves before enrolling in the graduate school. They do so through a so-called "pathway" program that is administered jointly by WSU and INTO.
The pathway program can last one or two semesters, depending on a student's performance. For some, it involves intensive English-learning courses. Students in the pathway program can also take regular WSU classes and begin earning credits toward their advanced degrees. But those credits effectively won't count if a student completes two semesters in the pathway program and still does not meet graduate admission requirements.
In that sense, the pathway program is like a probationary period for international students who might otherwise miss any chance of attending WSU.
"Once that is done, then they matriculate and become degree-seeking students in the regular student population at Washington State University," Chaudhry said.
Tuition for in-state students is currently $10,268 per year. WSU's international students, including those recruited by INTO, pay the higher, out-of-state tuition rate, which is currently $24,504 per year. Those figures don't include housing, meal plans, books or mandatory fees.
The business model
President Kirk Schulz announced the INTO partnership in December 2016, but details of the business model have not been widely reported. It's a complicated arrangement that has drawn scrutiny from some faculty members and at least one state lawmaker.
"There are a number of really disturbing things about this from a state legislator's viewpoint," said Rep. Gerry Pollet, a Seattle Democrat who serves as vice chairman of the House Higher Education Committee. "There are some really big issues here – none of which have ever been presented to the Legislature."
Among other things, Pollet, who also teaches at the University of Washington, said he worries that WSU faculty have a diminished role in the admissions process for INTO students. Unlike most students who are selected by academic departments, INTO students take a special path through the university's international programs office.
"It appears to me they have really cut out the faculty departmental role in admissions with a separate, fast-tracked admission guarantee in this contract," Pollet said. "There appears to be no meaningful role left for departmental faculty."
Pollet also questioned why WSU chose to establish "a privatized English program" for international students. UW has something similar, he said. "But it's not a privatized entity. It's UW faculty. It's a UW program."
Through a public records request, The Spokesman-Review obtained a copy of the contract as well as financial projections and target enrollment numbers. WSU initially redacted various dollar figures in the documents, citing a state law that protects "trade secrets," but after an appeal by the newspaper, the university provided the records with no redactions.
INTO and WSU actually created a third entity, INTO WSU LLC, the board of which includes leaders from both organizations. That company, which Chaudhry referred to as the "joint venture," receives students' tuition while they are in the pathway program, but it reimburses the university for any educational expenses, including rented classrooms, office space, utilities and student housing. INTO's recruiters also get a commission for each student they bring in.
INTO and WSU evenly split whatever funds are left in the joint venture at the end of each fiscal year. Once students leave the pathway program and get accepted into graduate school, their tuition money is paid directly to WSU – but about 6 percent of that goes back to INTO. The contract incentivizes INTO to recruit qualified students, Chaudhry said, "because if the student does not progress, they don't get that 6 percent."
Because WSU does not immediately receive tuition from each INTO student, it's not expected to turn a significant profit for a few years. But financial estimates show the university raking in about $207 million in new tuition revenue, plus more than $8 million from the joint venture, during the first 10 years of the contract. INTO is expected to make about $15 million during the same period. By 2027, the number of international students at WSU will have grown to 5,462, the projections show.
In an October interview with the Daily Evergreen, the student newspaper, Schulz cited the INTO partnership as a main source of new revenue when asked about potential solutions to the university's deficit, which totaled about $30 million at the time. During a back-to-school meeting with reporters this month, Schulz said money is still a significant consideration, but he also emphasized the role of the program in "preparing our students to work in a global marketplace."
Greg Crouch, a chemistry professor who is chairman-elect of WSU's faculty senate, said he had heard concerns from colleagues when the INTO contract was being negotiated.
"There was a huge concern that this was some sort of unmonitored pipeline into the university that was just a cash cow," Crouch said.
But before the contract was signed, he said, a committee of faculty members visited Oregon State University and consulted other schools that had worked with INTO, and they generally had high hopes for the program.
"It's been a financially viable thing for those schools," Crouch said. "They get good students and they make money."
Crouch said it's too early to judge how the partnership has worked out for WSU, though he said a fellow professor in engineering had raised concerns about the qualifications of some INTO students.
But there's no question the university has needed to improve its recruiting strategy, Crouch said, because some professors have struggled to find qualified research assistants.
"I think that the general consensus is we don't know enough yet," he said. "I think that the faculty senate was pretty convinced that we'll improve it as we go, because this was so new to us all."
Local journalism is essential.
Give directly to The Spokesman-Review's Northwest Passages community forums series -- which helps to offset the costs of several reporter and editor positions at the newspaper -- by using the easy options below. Gifts processed in this system are not tax deductible, but are predominately used to help meet the local financial requirements needed to receive national matching-grant funds.
Subscribe to the Coronavirus newsletter
Get the day's latest Coronavirus news delivered to your inbox by subscribing to our newsletter.
---