Sports > National sports
Former Gonzaga standout Courtney Vandersloot reflects on record-breaking WNBA season
Wed., Sept. 5, 2018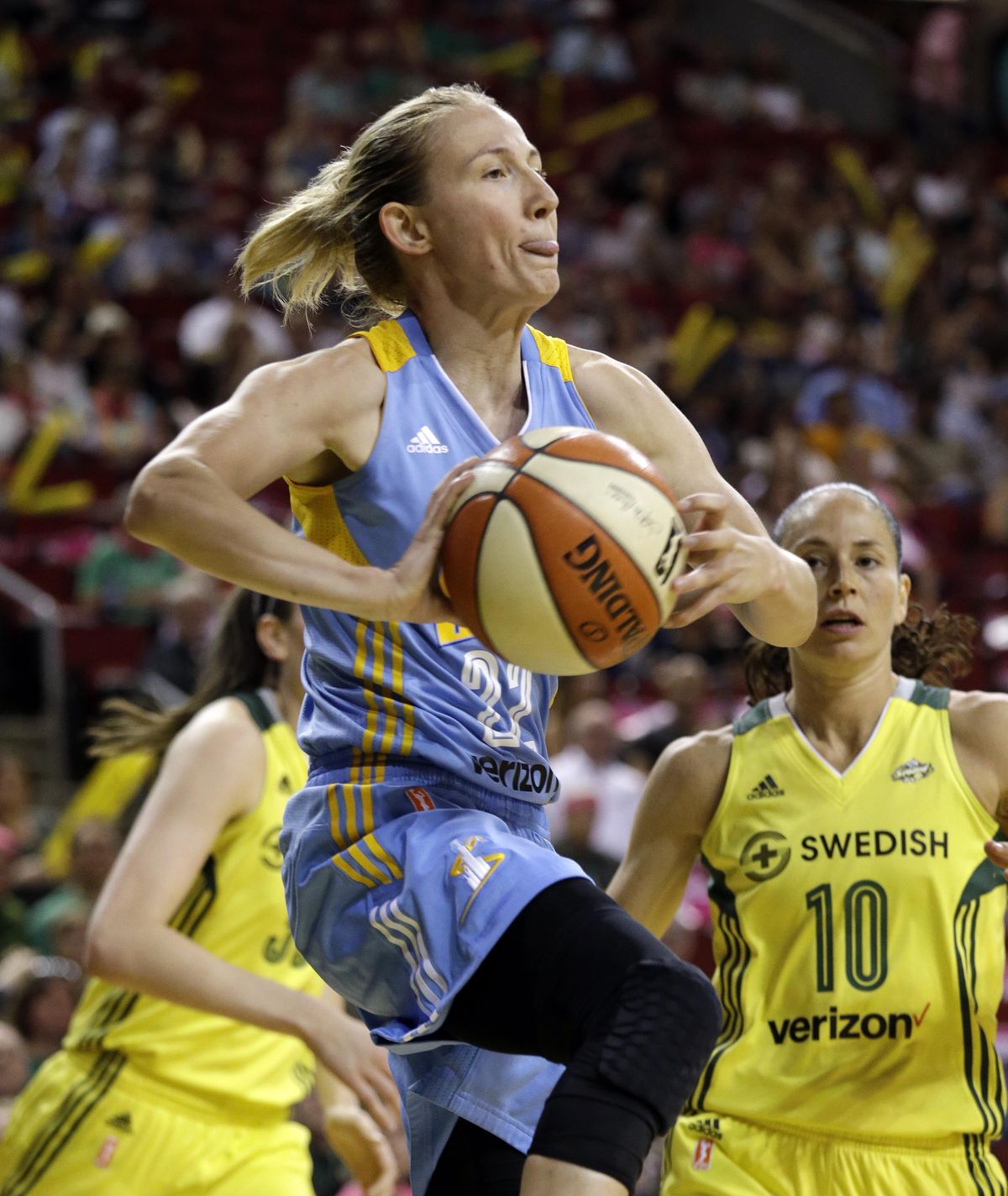 Chicago Sky's Courtney Vandersloot, left, leaps in front of Seattle Storm's Sue Bird to pass under the basket in the first half of a WNBA basketball game Tuesday, July 18, 2017, in Seattle. (Elaine Thompson / AP)
With a one-handed, no-look bounce pass for a transition layup, another Gonzaga alum had the single-season record for assists in a professional league.
Courtney Vandersloot set the WNBA single-season assists record as the 2018 season wound down last month, just as John Stockton did in the NBA in 1991.
The Chicago Sky point guard surpassed Ticha Penicheiro's 236 assists in 2000 for the Sacramento Monarchs, finishing with 251 in 29 games, an average of 8.7 per game, which broke her own record of 8.1.
"I was surprised," the 2011 Gonzaga grad said of setting the record. "But that's just kind of the pace we play at. The offense plays into that. I have a lot of good players around me who play fast. I get a lot of those kinds of assists in transition."
Like Stockton, whom Vandersloot leaned on during her playing days at The Kennel, the 29-year old could also end up with the career record, having moved into the WNBA's top 10 in her eighth season.
"It doesn't feel like it's been eight years," she said. "It's been a fun eight years. I hope can play eight more."
Despite leading the league in assists three times, Vandersloot has not been a WNBA All-Star since her rookie season of 2011.
"If I'm being completely honest, of course I wish it had resulted in more All-Star teams," she said. "But I realize how hard it is. …That's not why I play, that's not what motivates me."
Her focus is on team success and self improvement. The Sky have made the playoffs four times in their 13 seasons, all after Vandersloot became the starting point guard. They reached the WNBA finals in 2014 but have missed the playoffs the past two seasons.
"Over the years we've had really good players, really good pieces, but they haven't been the right pieces. There's always been some type of issue," Vandersloot explained.
"Really good teams have pieces that fit perfectly. … That's been the process since I've been here. It's not just having good pieces, it's having the right pieces."
The Sky have lost All-Star players like Sylvia Fowles and Elena Delle Donne, who wanted to play elsewhere.
Another change is coming in the front office after the Sky fired second-year general manager/coach Amber Stocks last Friday. Vandersloot played for Pokey Chatman her first six seasons.
"Yeah, we've had really good players that left, and in a perfect world that doesn't happen," she said. "But we're well on our way to finding those perfect pieces."
On an individual level, Vandersloot wants to add a floater to her skill set because "a lot of times I get in the lane and a floater would be perfect, but I just don't have it in my repertoire now."
In the world of women's basketball, the assist record might not be the most significant accomplishment this season for the only player in Division I history with 2,000 points and 1,000 assists.
Vandersloot has signed with UMMC Ekaterinburg of the Russian Premier League, the reigning Euro League champion. Russia, which boasts 18 Euro League titles, four by UMMC, is the competitive and financial pinnacle for women's basketball players. UMMC, whose recent rosters have been dotted with the best players in the world, has won 10 straight Premier League titles.
"I love playing in Europe," she said. "I hate being away from my family that long, but I enjoy seeing the country."
Vandersloot has played overseas in six different countries: Turkey, Croatia, Slovakia, Hungry, Italy and Poland. The latter was her favorite, because it was based in the university city of Krakow.
One of the cool things about breaking the assist record is that Penicheiro (who once had current GU assistant Stacy Clinesmith as a backup) is Vandersloot's agent, the result of a relationship that developed when they played together early in Vandersloot's career.
"That makes it special, too," Vandersloot said. "She wants me to break those records. At least that's what she tells me."
Vandersloot only has a small window to rest before she heads overseas, which doesn't leave her much time for savoring her accomplishment.
"It's a cool thing," she said. "I've kind of been like a broken record, saying this over and over, it's one of one of those things I'll appreciate after my career. Records are made to be broken. I'm sure this record won't last very long."
Don't bet against Vandersloot being the one to break it.
Local journalism is essential.
Give directly to The Spokesman-Review's Northwest Passages community forums series -- which helps to offset the costs of several reporter and editor positions at the newspaper -- by using the easy options below. Gifts processed in this system are not tax deductible, but are predominately used to help meet the local financial requirements needed to receive national matching-grant funds.
Subscribe to the sports newsletter
Get the day's top sports headlines and breaking news delivered to your inbox by subscribing here.
---