Sports > Area sports
Washington State volleyball standout Taylor Mims living the dream
Sept. 6, 2018 Updated Thu., Sept. 6, 2018 at 5:55 p.m.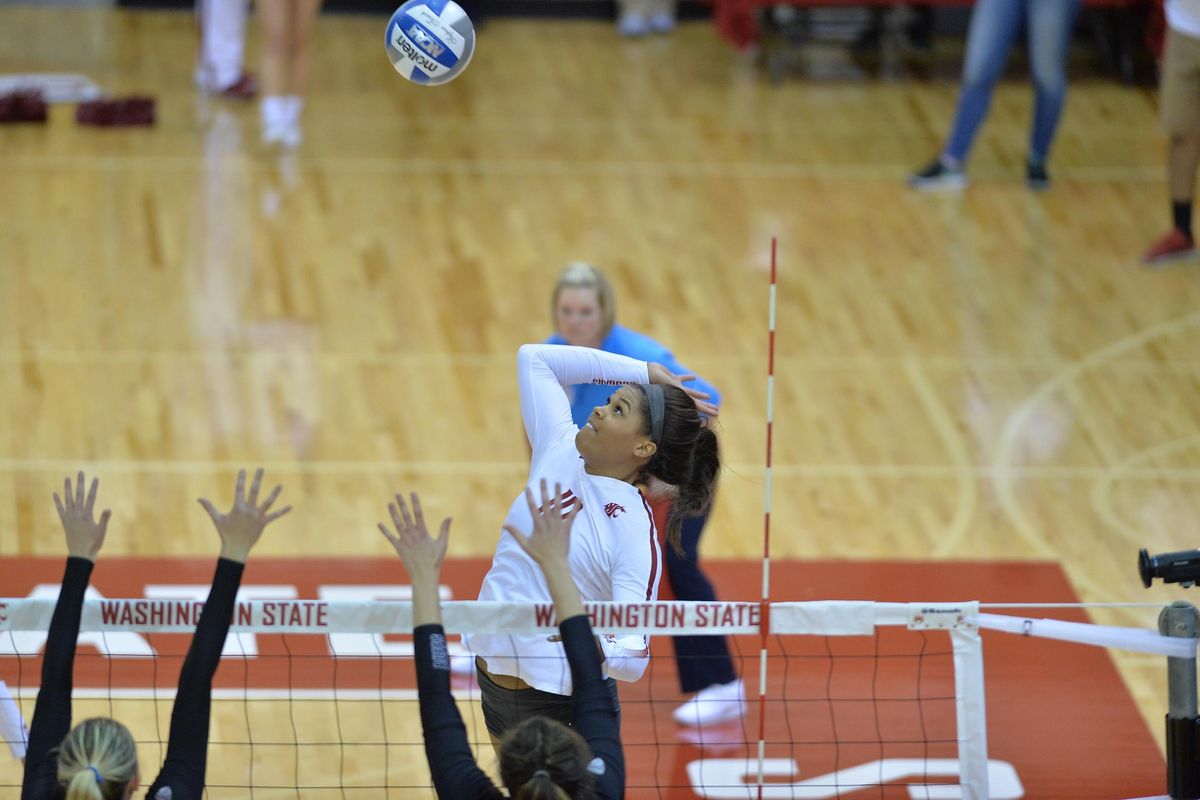 WSU's Taylor Mims rises for a swing in a 3-1 win over Colorado last season. (Dean Hare / WSU Photo Services)
Jeff Carroll first met Taylor Mims when she was a seventh-grader attending his volleyball camp.
Carroll, who retired two years ago after a 31-year coaching career at Billings Senior High, asked Taylor what her dreams were.
"I remember having a brief conversation with her and her mom, Nicole, who played for me back in the day for a season or two," said Carroll, who sent 85 players to college programs. "Taylor said one of her dreams was to someday maybe have a chance to play on the national team. I've never forgotten that. I'm definitely all about dreams and trying to make them come true."
The first time Washington State coach Jen Greeny saw Mims, she was with the Montana Juniors club team at a tournament in Spokane. The coach quickly realized she was watching "a hidden gem."
"A friend of ours saw her playing and shot us a text, and over to her court we went," Greeny said. "We thought she could be somebody, just with her athleticism."
Mims, now a senior standout for the 23rd-ranked Cougars, is making her dreams come true, with a lot of help along the way. The 6-foot-3 outside hitter is a success story on so many levels, it's hard to pick out what ranks as the most impressive.
It's roughly 600 miles from the Crow Indian Reservation near Billings, where Mims grew up, to Pullman. Her parents split up and Mims lived with her grandparents about 40 miles outside of Billings. She moved in with her mom prior to her senior year of high school.
College and college sports were the furthest things from Mims' mind as a youngster. Academics weren't a high priority and served as a constant struggle. Athletics entered the picture initially as a social activity, even though her physical gifts – Mims now touches 10 feet, 8 inches, and has dunked with a dodgeball on a basketball hoop – were apparent at an early age.
"It's crazy, I really didn't know anything about anything outside the reservation," Mims said. "Coming here, I was just learning every day. It was eye-opening. My grandparents played a huge role in my life."
As did Carroll, a taskmaster who saw Mims' enormous potential but knew she needed guidance on and off the volleyball court.
"It was hard to develop the discipline necessary in the classroom because she had never done it," Carroll said. "Luckily, she found the support she needed. A lot of great families took her under their wing. She was so talented physically she never really had to work that hard, but you didn't play in my program if you didn't come to work."
The two butted heads at times, but Mims made strides in school, developed a strong work ethic and emerged as a team leader. Carroll became a father figure in addition to being Mims' coach. Mims said her father Jason "wasn't very much in the picture. It's not a bad thing, we're just not as close."
Mims was a state all-tournament basketball player, a two-time state high jump champion and she helped Billings Senior capture three state volleyball titles. Mims was at her best in the biggest matches, Carroll said, noting her 28-kill, 14-block performance in the state championship in her senior year.
Recruiting letters poured in, but Mims still wasn't convinced that college was in her future. She brought stacks of letters to Carroll, who helped narrow down her options. She probably would have received more interest, but she played on a smaller club team that didn't participate in the major tournaments that attract college coaches.
Mims' next life-changing moment came on her recruiting trip to Pullman, which got off to a shaky start. It was Mims' first time flying and she showed up at the airport five minutes before departure.
She missed her flight but eventually made it to Pullman, along with her mom and grandmother.
"They were in tears with how amazing an opportunity this was," Mims said. "They said, 'Taylor, you cannot miss this opportunity. If you don't say yes, we'll say yes.' "
Traveling is old hat these days for Mims. She's played in venues all over the country and has made three trips overseas, twice as a member of the U.S. Collegiate National Team's European tour.
Along the way, she checked off several more firsts. She was blown away by her first glimpse at high-rise buildings in Seattle and Los Angeles.
"Even the simple things, girl things, shopping," Mims said. "I had no idea what Lululemon was, Nordstrom. I'd asked the girls, 'Where are you getting these clothes?' and they'd say online. We went to L.A. and it was like a whole new world. They'd catch me just watching, starting at people."
The Cougars were in Long Beach and most of her teammates wanted to go shopping during their down time. Mims wanted to see the ocean for the first time, getting so caught up in the moment that she forgot her phone was tucked away in her leggings.
"Did Jen tell you I lost my phone?" asks Mims, laughing. "I went into the water and the ocean swept my phone away. It was worth it."
Mims stepped into the starting lineup as a middle blocker as a freshman. She earned honorable mention All-Pac-12 as a sophomore. She moved to outside hitter as a junior and responded with a huge season. Mims was named All-Pac-12 and honorable mention All-America.
"It takes a special person to do that," Greeny said of moving from middle to a six-rotation outside hitter.
The coach readily points out that Mims is special in other walks of life.
"She gets along with everyone, not only on our team but other athletes, people on campus, boosters, season ticket holders, young kids that we do clinics for," Greeny said. "Just an all-around fantastic person and great leader."
Carroll watches WSU matches on TV and notices Mims' leadership skills and the positive way she interacts with teammates.
"We planted the seeds, but Jen and Burdette (Greeny's husband and assistant coach) have done a wonderful job of watering the seeds," Carroll said. "I'm so thrilled she's become the volleyball player she's become, but that really means very little to me in comparison to the person she's become."
Local journalism is essential.
Give directly to The Spokesman-Review's Northwest Passages community forums series -- which helps to offset the costs of several reporter and editor positions at the newspaper -- by using the easy options below. Gifts processed in this system are not tax deductible, but are predominately used to help meet the local financial requirements needed to receive national matching-grant funds.
Subscribe to the sports newsletter
Get the day's top sports headlines and breaking news delivered to your inbox by subscribing here.
---