Whitworth grad Kayla Leland makes next round for NCAA Woman of the Year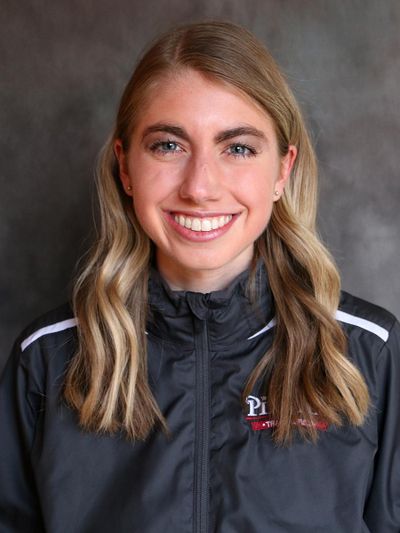 She's known for a week, but the NCAA made it official on Thursday: Whitworth graduate Kayla Leland has been selected as one of 30 finalists for NCAA Woman of the Year.
Leland, a Gonzaga Prep graduate, moved to Pullman, where she is attending graduate school at Washington State University to become a pharmacist. But she made her mark at Whitworth as a seven-time NCAA Division III All-American in cross country and indoor and outdoor track and field.
"I'm very honored and excited to be among the top NCAA women finalists," Leland said. "I'm looking forward to meeting the other athletes from Division I, II and III as well."
Leland is the first Pirate to be selected for the competition since all-everything athlete KC McConnell was selected among the finalists for the Woman of the Year award following her senior campaign in 2016. But Leland is the first Whitworth athlete to advance this far in the selection process, Whitworth sports information director Steve Flegel said.
Leland began as one of 153 nominees for the award based on academics, athletics, service and leadership. Leland is the daughter of Patricia and Spokane County District Court Judge Richard Leland. She carried a 3.94 GPA into her final semester before graduating with a double major in health science and Spanish.
"I loved the feel of Whitworth," said Leland, who played basketball her freshman year in addition to the distance running sports. "I loved the small community and how everyone seemed to be so supportive of both my spiritual and academic endeavors."
But one does not become an All-American without some serious roadwork.
"A lot of people don't realize how much time and dedication it takes to run at the level we were running at," she said. "Not only do you have to train for it physically but also mentally, especially for the longer races.
"You have to push through the pain and plug through the end."
Leland plugged her way to 19th place at the NCAA Division III Cross Country Championships. She also finished fifth in the 5,000 meters at the 2018 NCAA Division III Indoor Track and Field Championships and second place in the 3,000 steeplechase at the 2018 NCAA Division III Outdoor Track and Field Championships.
In addition to the national races, she was named the 2018 Northwest Conference women's track Athlete of the Year after winning the 1,500, 5,000 and 10,000 meters in less than 24 hours, Flegel wrote.
Organizers will hold a banquet in October in Indianapolis for Leland and the other finalists, which includes 10 student-athletes from each NCAA division. At that banquet, the finalists will be pared down to nine, she said. Then a single finalist will be named from that smaller group.
"I didn't know too much about this awards program until earlier this summer when one of the athletic leaders at Whitworth told me they had nominated me," she said. "I was surprised and honored when I found out the news. I'm just grateful."
---