A hazy future: Smoky summers may taint Washington wine, but this WSU researcher is shedding light on the problem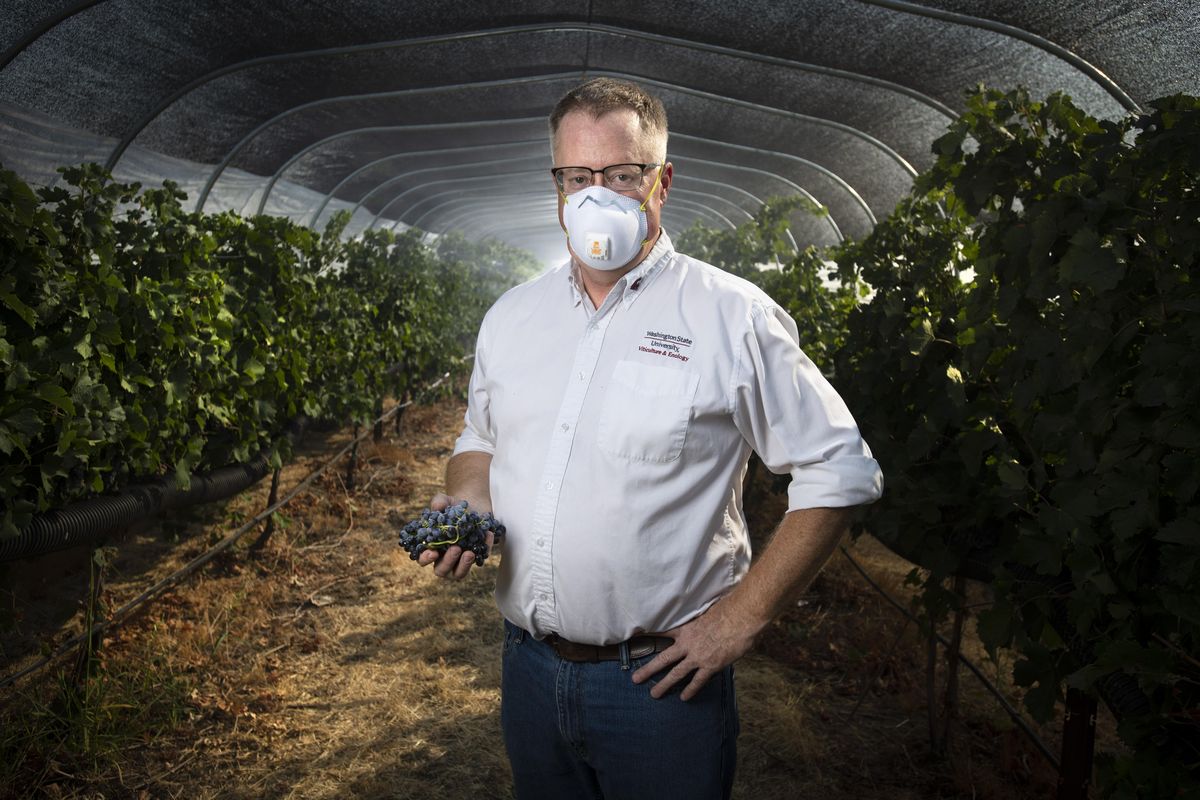 Tom Collins opens the flap to the black canvas tent and the smoke starts seeping out. He steps inside and pulls a mask over his mouth and nose.
Two rows of grapevines stretch beyond him, each holding a tube with holes that spew the smoke from a metal smoker outside the tent.
The smoke envelops the Merlot grapes, simulating an increasing problem in Washington: The new normal of summer wildfires is causing smoke to slip into wine. It's a phenomenon called "smoke taint," and Collins is researching when it makes wine taste like somebody spilled an ashtray into the bottle.
Collins, a wine chemist based at Washington State University Tri-Cities, grows his grapes on an experimental farm in Prosser, Washington. The hills around the farm are a patchwork of blackened remnants of brush fires.
Inside the tent, he looks at the grapes through the haze. "We're simulating what happens with wildfire in the Cascades or Sierra Nevada," he said through the white face mask. "We'll move this in two days."
The experiment is uncovering the details of smoke taint. It's supported by the Washington State Wine Commission, which oversees his three-year project and commits 25 percent of its budget to fund research and support WSU's Wine Science Center, said Heather Bradshaw, spokesperson for the commission. About $180,000 of that money is going to Collins' study.
Smoke taint is a bigger issue in wine grapes compared to other fruit, because the grape skins stew in the juice after being crushed, and the smoke particles sink into the wine, Collins said.
Although most grapes aren't affected if exposed to small amounts of smoke, there's no general agreement in the industry on when smoke taint will appear and when it won't.
Collins is aiming to fix that.
Bad for business
Dick Boushey, owner of Boushey Vineyard, is a winegrower in the Yakima Valley who's grown grapes for award-winning wines. He said the problem of smoke taint is compounded by vineyard owners who don't want to talk about it.
It may be bad for marketing, Boushey said, "but you can't ignore the reality."
Vineyards can send samples to Collins for analyzing, but he keeps their names confidential.
Boushey, who was awarded Grower of the Year in 2007 by Wine & Spirits magazine, has been keeping a close eye on Collins' research since it began three years ago.
"When we first started research, a lot of wineries were questioning the need for it," Boushey said. "Now it's becoming quite relevant."
Some wines will taste "like you had an ashtray dumped into your wine," Boushey said. Sometimes it's subtle and it becomes more prevalent as the wine ages. He's noticed, while drinking tainted wine, that he can tell something's off, but it's hard to pin down exactly what it is.
Sometimes it's only when the glass is empty and he smells the glass that the smokiness is obvious, he said.
Is smoke taint going to be bad this year?
They don't know for sure, but generally, experts are saying this year won't be bad for smoke taint.
Bradshaw said this year's smoke isn't concerning the commission because much of the smoke originated too far away to cause concern.
Last year's wildfire season was bad, Boushey said, and he knows of wineries that had to discard wine or blend it to dilute the smoky taste.
"Last year it smelled like you were in a barbecue pit. The color last year was more yellow, dark smoke," Boushey said. "But this year, the smoke has traveled a long distance."
Grape growers in Spokane who were hit with thick smoke aren't concerned with this year either.
Grape growers
in Spokane area
A 20-minute drive south of downtown Spokane, the Regal Road Winery sits in a little valley surrounded by trees. Owner Steve Schaub grows grapes on 1.5 acres, and makes a pinot noir, a rosé and a sparkling.
"I'm always concerned when there's smoky skies," Schaub said.
Schaub is one of the few growers near Spokane who experienced the worst air quality in the country in mid-August. But he's not concerned with smoke taint this year.
That's because 2017 was arguably as bad a wildfire season, and he couldn't taste any smoke taint from wines harvested that year, he said. Schaub said he thinks that, in general, if vineyards are close to the wildfires, then it becomes a problem.
He isn't ruling out the possibility that his wine might have smoke taint, he said, but he won't know until he bottles the wine.
"If this continued for weeks and weeks, I'd probably be a lot more concerned than I am," he said.
Davide Trezzi, owner of Trezzi Farm Winery, grows grapes in Green Bluff. Like Schaub, he said he's not worried about smoke taint this year. He said smoke has never caused problems for him.
Traits of the taint
Collins' work aims to equip growers like Trezzi and Schaub with the knowledge to determine – with confidence – if their grapes will be tainted.
Collins' work may help with establishing parameters for insurance for the crops and protecting wineries' assets.
The study aims to determine how much smoke exposure will affect the fruit and wine.
"We're trying to find out the difference in the smoke itself," he said.
He's testing bark mulch, which is more akin to forest fire smoke, compared to smoke from rangeland plants, like sage and rabbit brush, typical of Eastern Washington landscapes.
"But when you start looking into it, there's more to the story," he said. "The nature of smoke, is it close to a fire or does it come from a long distance? Do heavier particles fall out?"
Collins is researching intensity of smoke, duration of exposure, range from wildfire and the state of development of grapes when exposed to smoke.
"We're learning a lot more because of (Collins') work," Boushey said.
He said he'll be conducting tests for the next two to three years.
A hazy future
Boushey said that besides the smoky taste, wildfire smoke's haze makes diseases like mildew more likely to form on grapes because it's more humid.
On the other hand, smoke might help the grapes "because the plants shut down in those temperatures," he said.
That may be the only upside to the smoke: a shield against high temperatures.
Boushey attributes the smoke to climate change, and said hotter temperatures are causing the wine industry to adapt. Growers are picking earlier and covering their crops with massive canopies to hide them from the sun.
With Collins' research, growers would be able to know immediately if the grapes are tainted rather than waiting years to taste it.
If they knew sooner, growers would be able to minimize smoke taint by cleaning smoke from the skins, spraying them with clay or not using heavy machinery to harvest, which smashes grapes more.
But there are too many unknowns now to bother taking those steps if a winery suspects smoke taint, Collins said.
"In the long run, (smoke taint) might be a common occurrence," said Boushey. "I hate to say that. We just need to get a handle on it and speak intelligently about it."
Editor's note: This story was corrected on Wednesday, Sept. 12, 2018 to accurately state the amount of money the Washington Wine Commission donated to Collins' study, which is about $180,000 of a $2.2-million-a-year total that goes to the WSU's Wine Science Center.
---