Escalation in Spokane County home prices shows signs of slowing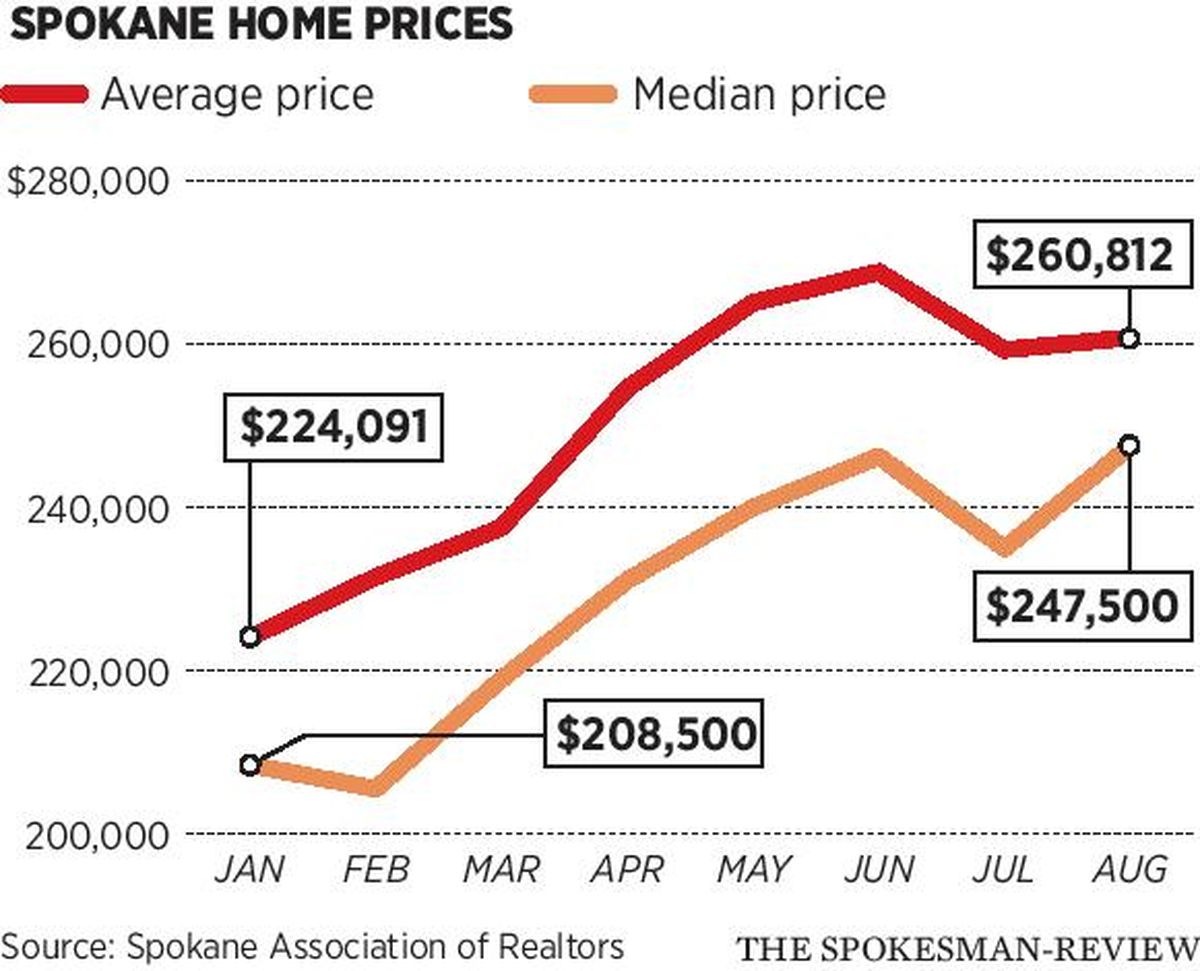 After climbing steadily for most of the year, homes sale prices in Spokane County appear to be leveling off.
The average price for homes with sales closing in August was $260,800 – nearly unchanged from $259,300 in July, and down from a peak of $268,830 in June, according to the Spokane Association of Realtors.
Autumn's approach often leads to a tempering in home prices. But the same conditions that triggered a nearly $40,000 increase of the average sales price in Spokane County since January are expected to linger into 2019, local agents say.
Interest rates, inventory levels and growth in the Spokane-area job market have contributed to an extremely competitive residential real estate market.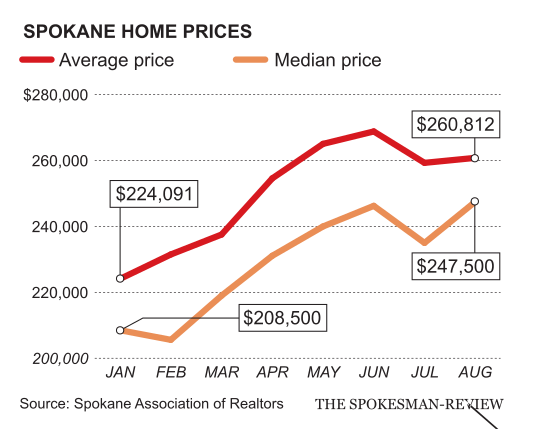 "People are trying to get into homes before interest rates rise," said Cindy Carrigan, lead real estate agent with Five Star Real Estate Group in Spokane. "Inventory levels remain low, and we don't foresee a lot more homes coming on the market."
For homes priced at $400,000 and under, the local market remains particularly strong, she said.
"The best houses are selling in under a week, often with multiple offers," Carrigan said.
That's created a quandary for Spokane-area homeowners who want to downsize or upsize. They can sell their houses quickly, but then they become prospective home buyers in the hot market.
Bruce Turner and his wife, Raeleen, are retired and wanted to downsize from their northwest Spokane home where they had lived for 32 years. But knowing how competitive the local market is, the couple decided to find their next house before listing their existing one.
"The apprehension was that we didn't want to move twice," Bruce Turner said. "We didn't want to have to move into a rental while we looked for a new place."
The Turners eventually found a house in the Five Mile Prairie area that fit their criteria – a one-level residence priced under $350,000 with an open kitchen-living room floor plan. They made an offer on the house and got the inspection done before they put their existing house up for sale.
"We were well down the road to being in possession of the new place," Bruce Turner said. "We didn't feel desperate or pushed."
Their old house was listed on a Friday afternoon. The following Monday morning, they accepted an offer and negotiated a move-out time with the buyer that suited both parties.
When Diana Humphrey and her husband decided to sell their house and buy a bigger one, the Spokane couple also thought strategically about the market. With two teenagers at home, they wanted a little more room and a larger garage to store recreational equipment.
"Houses were going so quick," Diana Humphrey said. "We got the new listings every morning. By the time we got out to look at them in the evening, about half of the inventory had disappeared."
After about two months of searching, they bought a 1921 Craftsman-style house in the Logan neighborhood, with additional space and a shop. They had noticed the house – priced at $196,000 – had been on the market for a while, which allowed them to negotiate a lower price with the owners.
The Humphreys owned two homes – their family home and a rental. Like the Turners, the couple waited until they had purchased a new home before putting their rental on the market.
"We weren't being forced to move," Diana Humphrey said. That took some of the pressure out of house-hunting in a competitive market, she said.
The Spokane-area housing market typically remains strong through Thanksgiving – December is actually the fifth-highest month for closing sales, said Doc Nicholson, Five Star Real Estate's managing broker.
Although sales taper off in January and February because fewer prospective buyers are looking, it can be a good time to list a house, he said. With fewer homes on the market early in the year, the ones that are listed tend to get higher exposure, Nicholson said.
Besides local residents looking for homes, purchases by investors are picking up and starting to influence the market, Carrigan said. Amazon's plan to open a $181 million fulfillment center near the Spokane International Airport late next year has led to an increased interest in home purchases for rentals, she said. The fulfillment center is expected to employ 1,500 people when it opens.
Carrigan's office also is fielding calls from investors priced out of the Seattle market. They're interested in cities with affordable home prices, and Spokane is on their radar, she said.
---