News > Spokane
Rally draws activists, relatives of inmates who died in Spokane County Jail
Sept. 11, 2018 Updated Tue., Sept. 11, 2018 at 10:24 p.m.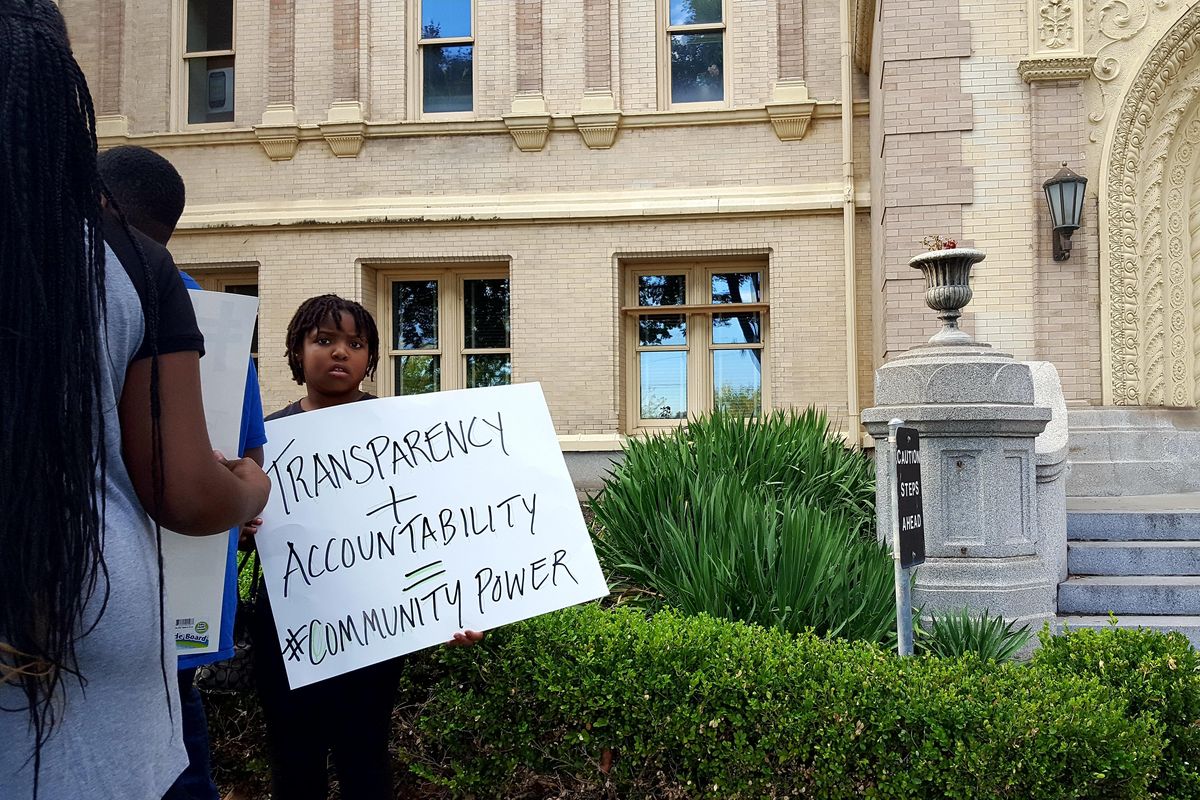 A young relative of Lorenzo Hayes, who died in the Spokane County Jail in 2015, takes part in a demonstration outside the Spokane County Courthouse on Tuesday, Sept. 11, 2018. (Chad Sokol / The Spokesman-Review)
"My cousin died three years ago in Spokane County Jail, and I wish that it had stopped with him."
That's how Monica Moore introduced herself to a throng of demonstrators Tuesday evening. Her cousin, Lorenzo Hayes, choked on his vomit while corrections officers restrained him in the jail's booking area in May 2015, prompting lawsuits against the city and county. The 37-year-old was one of five people to die that year in Spokane County's custody.
Three years later, following another spate of inmate deaths – eight in about 14 months – Moore stood with relatives on the steps of the county courthouse to keep attention on the issue. They held posters reading "Justice For Lorenzo," "Great Father," "Taken From Us" and "Not One More!"
"There have been too many lives lost – not just black lives, not just white lives, just too many lives," Moore, who is black, told the crowd. "These are people. These are human beings who are not being treated accordingly."
The demonstration was sponsored by several local organizations, including the Center for Justice, the Spokane County Human Rights Task Force, the Spokane Human Rights Commission, the Ministerial Fellowship of Spokane and Planned Parenthood's Raíz program.
Dozens of participants gathered at Salem Lutheran Church before marching a few blocks east to the courthouse.
Walter Kendricks, a pastor at Morning Star Baptist Church who leads a group called Spokane Community Against Racism, said the goal of the demonstration was not to point blame at police or those who run the jail, but to push for answers and solutions.
"We're here because everybody understands: Eight deaths in 14 months while in police custody is unacceptable," Kendricks said while leading the march.
Others who took part in the rally included relatives of Patrick Flynn, who was reportedly suffering from heroin withdrawal when he hanged himself with a bed sheet in his jail cell in May.
The 32-year-old's death was one of several that prompted jail officials to call in a suicide-prevention expert and stop issuing bedsheets to inmates. Now they each get two wool blankets, which are thicker, harder to tear and harder to tie around one's neck without drawing attention from jail staff.
Flynn's mother, Darla Saywers, a former corrections officer at the state prison in Airway Heights, said she believes the county jail needs to better supervise its inmates.
"They just need to pay attention," Saywers said.
Luissa Largent also attended with her and Flynn's 10-year-old son, Jackson. In memory of his father, who was rarely seen without a flat-billed baseball cap, Jackson wore a Boston Red Sox cap with the time and date of Flynn's death embroidered on the back.
"It's been pretty heartbreaking," Largent said. "We're just angry, I guess. The worst is reading people's comments online about people that have died in jail. It's been really hard."
Moore said she and her cousin, Hayes, who was a day her senior, were raised together in the same house in Spokane from the time they were 12 to the time they were about 17.
"He was the only boy in a house full of women or girls," she said. "Our whole family was full of girls, so he was very protective. Very protective, very loving."
"He was a provider," she continued. "He kind of had to grow up at an early age, so he was like the go-to person. He would literally give you the shirt off his back."
Moore said Hayes died about a month after the birth of his seventh child, a daughter, and about a month after his 37th birthday. He had been arrested in the early hours of May 13, 2015, on suspicion of violating a no-contact order and unlawful possession of a firearm after he was found outside the home of a woman he was not allowed to have contact with.
According to investigators, Hayes acted erratically during the patrol car ride to the jail and refused to enter the booking area. Officers put him on the floor to search him. When they sat him up in a restraint chair for a medical evaluation, he became unresponsive and was taken to the hospital, where he was pronounced dead later that day.
An autopsy later showed Hayes had methamphetamine in his system, and the medical examiner's office deemed his death a homicide. Moore said the family believes police should have recognized he was in bad condition when they arrested him.
"He literally lived three blocks from Holy Family Hospital, and when the police came, they had the choice of taking him to get medical treatment or taking him to jail," she said. "And they made that choice for him that cost him his life."
Local journalism is essential.
Give directly to The Spokesman-Review's Northwest Passages community forums series -- which helps to offset the costs of several reporter and editor positions at the newspaper -- by using the easy options below. Gifts processed in this system are not tax deductible, but are predominately used to help meet the local financial requirements needed to receive national matching-grant funds.
Subscribe now to get breaking news alerts in your email inbox
Get breaking news delivered to your inbox as it happens.
---