High-end camouflage apparel produced in Spokane for company of special forces veteran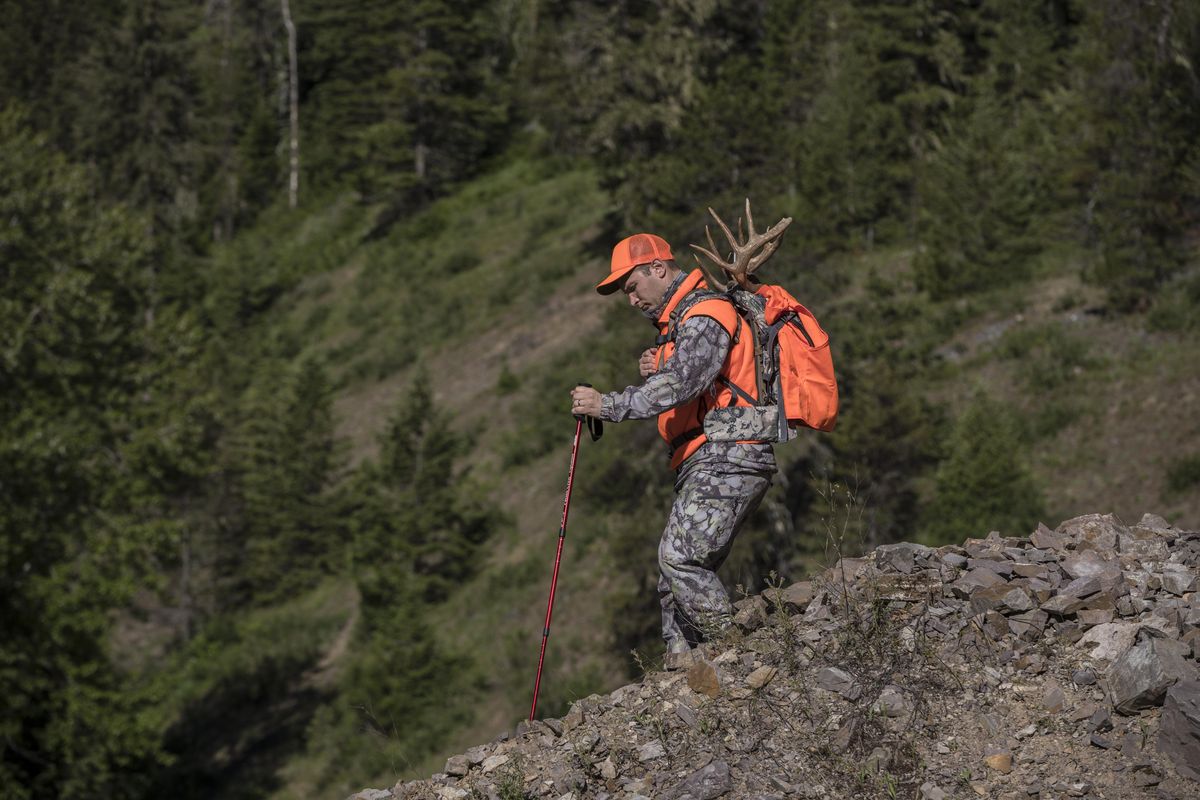 Blending into the industrial landscape of Spokane's North Ruby Street is a company producing state-of-the-art camouflage created for hunters by a Navy SEAL.
SIXSITE Gear founder Stephen Holley said that after doing missions around the world he came home with an new idea for camouflage in the civilian market and a commitment to build it in the USA.
Going offshore is easier and less expensive – "that's why most apparel companies do it," he said from his Texas headquarters. "But from a quality perspective and from a heritage perspective, I did not want to manufacture overseas."
After trying facilities in three cities, Holley finally found a match to his quality commitment in Spokane at K-L Mfg. Co., where production of uniquely patterned jackets, pants, pullovers, vests, packs, softshells, base layers and rain gear has been in full swing this summer.
Hunters are putting it to use as deer and elk seasons open this month.
The name SIXSITE emerged from a branding session that started with Holley's recognition that good hunters have a sixth sense. The products are sold online at SIXSITEgear.com.
Before he was a SEAL, and even prior to being a quarterback for the Naval Academy's Midshipmen, Holley was an archer with a love of stalking big game.
His perspective of concealment originated as a hunter. It became deadly serious in special forces missions in which he sometimes was the hunted.
"I've served overseas in a number of different camo patterns," he said in a telephone interview. "I liked the aspects of digital patterns, but didn't like the looks of being spit out by a computer. We've combined natural and digital patterns, sourcing from a repeatable frog skin image for the dark pattern and overlayering other digital and organic elements."
SIXSITE's "RANA Camo" has more depth and dimension than military patterns, he said, noting that pattern and tones are critical to successful camouflage clothing – they must avoid the attention of game while catching the eye of potential customers.
SIXSITE's "RANA Camo" design comes in gray or brown hues, but shading is a more critical factor in fooling colorblind game, Holley says.
"It's less about color and more about how six elements of shading are stacked," he said.
"The pattern itself needs contrast and you can't have dark elements without having light elements," he said, responding to a question about the light tones in "RANA Camo" design. "As you move farther away, its depth and feel works effectively in breaking up the human outline. A lot of dark colors (in traditional camouflage) become a blob at a distance in the field."
The materials SIXSITE uses are high quality – a long shot from the gear given to the military years ago when the average mountain climber was outfitted with garments superior to those worn by soldiers.
That's changed, and Holley has put the best to the test.
"I was in the SEAL training pipeline when 9/11 happened," he said. "On Nov. 1 of 2001 I showed up to my first SEAL team. Given the times and the circumstances, we lacked for nothing in terms of gear. We had the ability to go out to buy the latest and greatest things we needed."
He and many other SEALS would use their sewing skills to make modifications in pockets or other features to boost the efficiency of their gear, he said.
"We had the best the commercial market had to offer. That experience and access had a great effect, allowing me to see how much high tech materials increased performance in different environments."
Some of SIXSITE's features are born strictly from hunting. Holley tells the story of finally drawing his bow after days of hunting only to send the arrow just under the bull elk that finally gave him an opportunity for a shot. Without easy access to his rangefinder, he misjudged the distance and paid the price.
"My gear has a D-ring and breast pocket for a rangefinder on tether, so that won't happen again to me or other hunters," he said.
SIXSITE hunting clothing is built for athletic fit and function. "As a hunter, I want to be unencumbered when moving through the woods," he said.
SITKA Gear, founded in Bozeman in 2006, offers a similar commitment to high-tech camouflage design and functional active performance, but its apparel is manufactured in multiple countries overseas, a representative said.
Holley is banking that sportsmen and photographers will notice the Made in USA label on his gear, a rare sight in many big-box sport stores.
The Spokane connection was the bottom line in pulling all of Holley's ideas together.
K-L Mfg. Co opened in 1932 and was taken over as a family business in 1968. Joe Doohan, second-generation co-owner, offered a tour of the facilities that revealed the company contracts for custom apparel with major college sports teams, Olympians and major athletic companies from the skiing industry to Castelli cycling garments.
K-L is a domestic star, Holley said, noting that about 97 percent of apparel sold in the United States is made in factories overseas.
"We're the United States alternative for companies seeking domestic, high-end manufacturing of high-quality garments in a timely manner," Doohan said. "We work with people who are price sensitive but desire high-quality product that differs from others."
An inside peek at SIXSITE garment production exposes modern processes for in-house printing on high-end fabrics, including waterproof-breathable garments, and even waders for fishing companies.
"We're unique," Doohan said, overlooking some of his 150 sewers and operators at their stations. "We're accountable for everything here from start to finish."
The plant is on the cutting edge of technology with lasers and computerized embroidery. Sewing on the SIXSITE camo hoody, for example, is overlapped, making it twice as strong and durable as a flat seam.
Durable, quiet, quick-dry fabrics and styles are functional in the field – made for a sportsman-style workout – yet they look smart on the street.
Holley's taking the calculated risk that this recipe for home-grown camouflage will stand out from the competition.
"Everything we produce today is made in the United States with a money-back lifetime guarantee," he said, noting he couldn't make that guarantee if there were any weak links in the materials or manufacturing.
"In online sales of apparel, return rates run 30 to 35 percent," he said. "We're in the midst of our third full season of selling and our return rates are 4 to 6 percent. That speaks to the quality of our manufacturing partners."
Although the SIXSITE line has started with hunting, Holley plans to expand to tactical and fishing markets and more.
"To stay in business, we have to be choosey on who we take on," Doohan said. "A special forces guy is someone dependable. I appreciate what he's done and what he's out to do."
---