Sports > High school sports
Connor Halonen accounts for six touchdowns to lead Gonzaga Prep past University
Fri., Sept. 14, 2018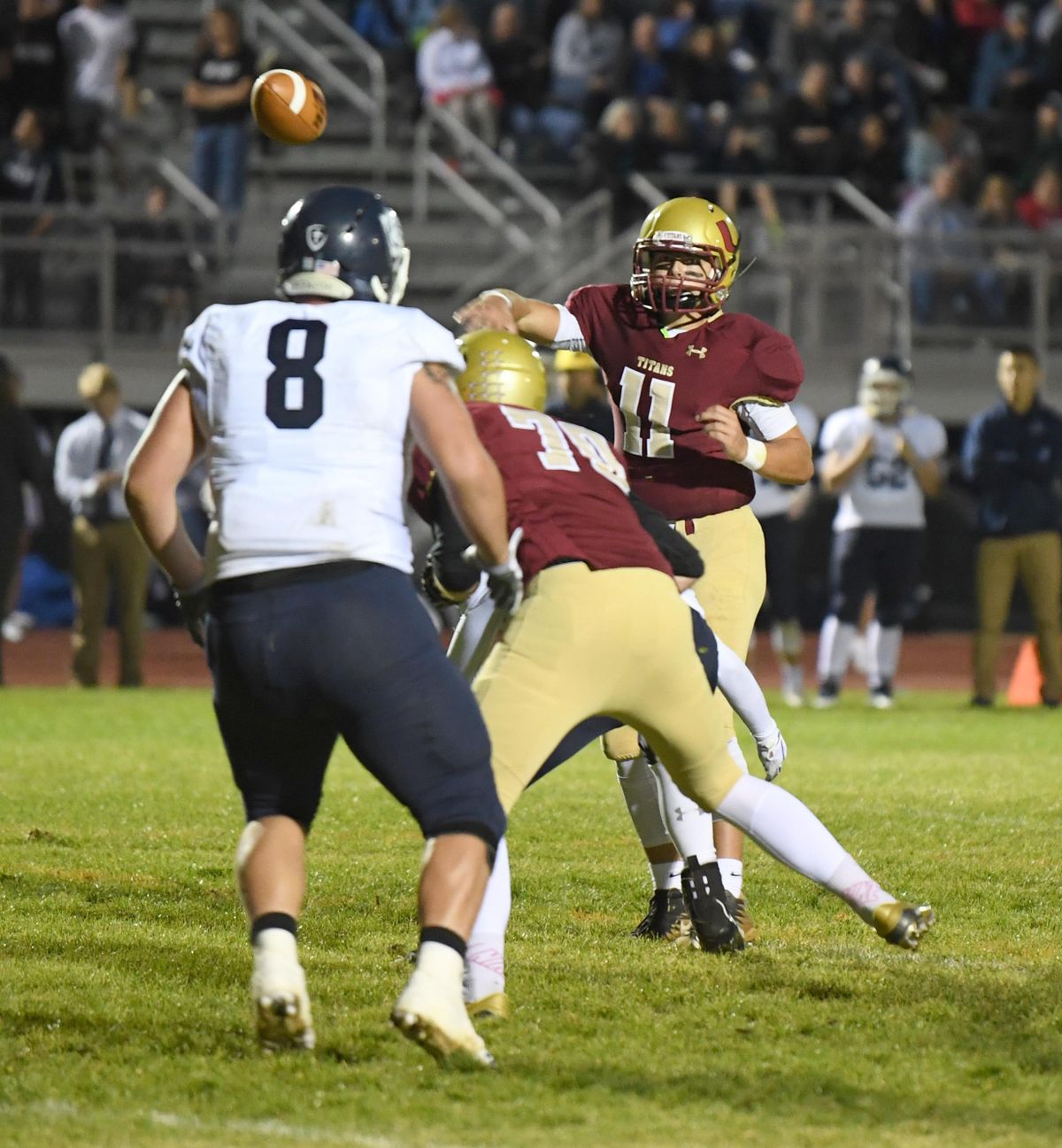 University High School quarterback Gavin Wolcott releases a short pass before he's overrun run down Friday, Sept. 14, 2018 at University High during a game against Gonzaga Prep. (Jesse Tinsley / The Spokesman-Review)
When Gonzaga Prep quarterback Connor Halonen wasn't bulling through University High defenders Friday night, he was running around them.
And when the 5-foot-10 senior wanted to give his receivers some action, he did that, too.
Halonen rushed for 270 yards and two touchdowns on 25 carries and completed 5 of 7 passes for 138 yards and four touchdowns in the Bullpups' 46-33 win at University High, a physical, run-heavy Greater Spokane League game that got away from the Titans quickly in the fourth quarter.
A broken play fueled G-Prep.
University trailed 34-26 to start the fourth quarter and appeared to have forced the G-Prep into a punt. But Halonen, also the Bullpups' punter, bobbled the snap, picked it up and got around the edge, picking up a first down.
The next play, he ran through U-Hi's defense on a 66-yard keeper. After holding the Titans on the next series, Halonen connected on a 44-yard touchdown pass to Eric Floyd to put the Titans away.
U-Hi, which led 14-7 after the first quarter, was also plagued by three late turnovers.
"Those fourth-down conversions were huge, led to some big scoring drives," said Halonen, who two touchdown passes to Travis Hojnacki in the first half. "University was a good team, and they weren't afraid to hit you. But we kept doing what we've been doing in being a physical team. It came down to who wanted it more."
Running back Zane Melzer also rushed for 116 yards and a touchdown for G-Prep
U-Hi quarterback Gavin Wolcott spearheaded the Titans early, scoring on a short touchdown run on the game's opening drive. His second touchdown run of the game gave his team its final lead, 14-7, in the second quarter.
Wolcott finished 7-for-17 passing for 112 yards and a touchdown, the bulk of the yards coming in the second quarter. He was intercepted twice.
The Titans, who trailed 22-20 at halftime, had a pair of scoring runs from running back Isaac Matt, who rushed for 100 yards.
"We got tired, but at the end of the day, we need to make plays," Matt said. "We missed some tackles, but we're going to come back strong. We made a few mistakes and need to clean some things up."
Local journalism is essential.
Give directly to The Spokesman-Review's Northwest Passages community forums series -- which helps to offset the costs of several reporter and editor positions at the newspaper -- by using the easy options below. Gifts processed in this system are not tax deductible, but are predominately used to help meet the local financial requirements needed to receive national matching-grant funds.
Subscribe to the sports newsletter
Get the day's top sports headlines and breaking news delivered to your inbox by subscribing here.
---