News > Crime/Public Safety
Driver flees troopers at 115 mph, crashes at downtown Spokane exit
UPDATED: Fri., Sept. 14, 2018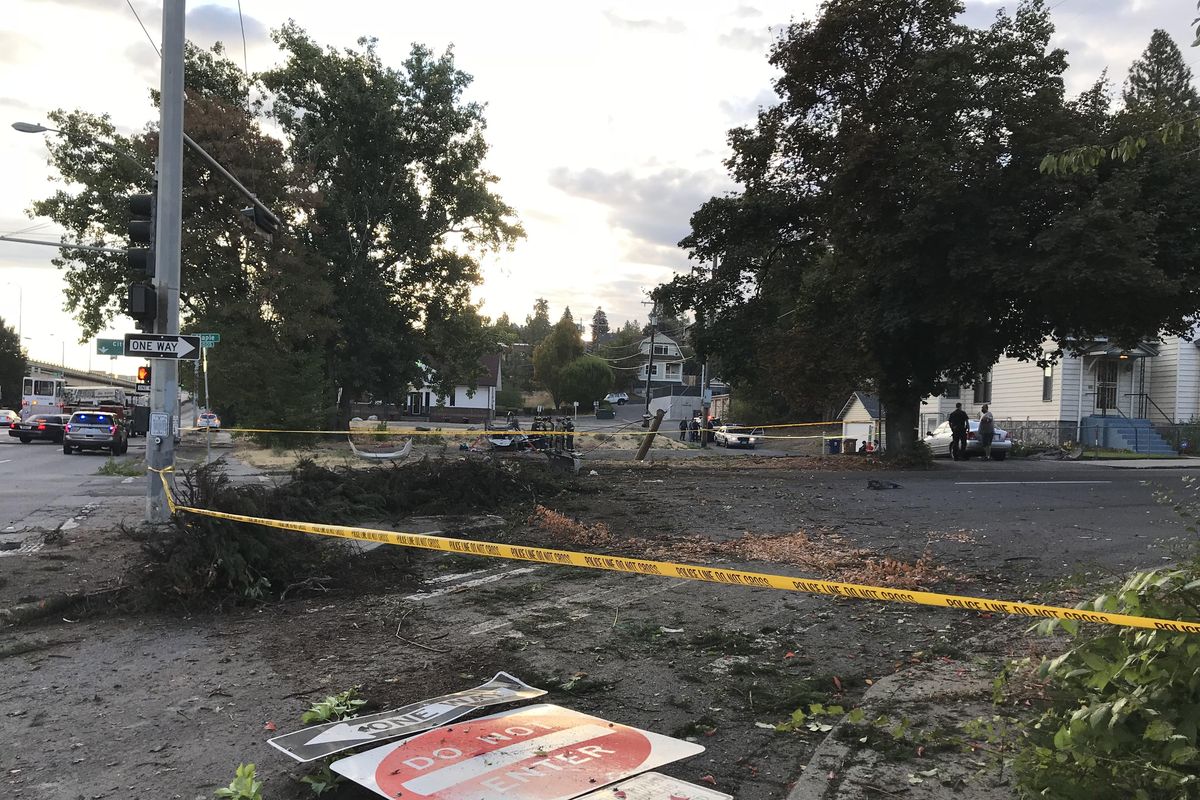 A man was taken into custody Friday, Sept. 14, 2018 after leading Washington State Patrol troopers on a high-speed chase that ended with him crashing at Maple Street and Fifth Avenue. (Jonathan Glover / The Spokesman-Review)
A freeway traffic stop turned into a Hollywood-style vehicle crash Friday morning when a car took out a tree, traffic sign and power pole before jumping several feet into the air and skidding to a stop on its roof.
Washington State Patrol Sgt. Scott Lasher said a trooper attempted to stop the silver sedan, driven by 30-year-old Athos Turner, while it was eastbound on Interstate 90 at about 6:30 a.m. near its merger with U.S. Highway 2 when Turner suddenly sped away at 115 mph.
Lasher said Turner, still speeding, took the Maple Street exit. When he got near the traffic light on Maple Street, he apparently swerved to avoid a slower-moving vehicle. His car left the roadway to the side.
"He hit the tree. He hit the barriers," said Lasher. "Witnesses said he jumped 15 feet in the air."
The car landed upside down in a vacant lot near Fifth Avenue and Maple.
Witnesses at the scene told a Spokesman-Review photographer that passersby had rushed to help Turner, but Turner told them there was a child in the car, possibly as a distraction. When they went to help the child, Turner ran away. He was later caught by police, witnesses said.
Turner, who suffered only minor injuries, was transported to MultiCare Deaconess Hospital. There were no passengers.
He was later booked into Spokane County Jail on recommended charges of DUI, hit and run, and attempting to elude a police vehicle.
Troopers closed the exit soon after the crash. It, along with Maple Street, reopened about 10:15 a.m.
Traffic on Maple Street was affected and moving slowly. A line of cars was backed up far north past the Maple Street Bridge.
Avista Utilities was on site about 7:30 a.m. to replace the downed power pole. According to its online outage map, nine customers were affected. Traffic lights still were working.
At about 8 a.m., above the crash site on Interstate 90, a semitruck driver crashed into the back of another semitruck. Trooper Jeff Sevigney said it appeared the driver wasn't paying attention to the slowing of traffic near the exit.
The crash was cleaned up about 11:30 a.m., Sevigney said. It led to further traffic backup on the freeway.
Lasher said it was fortunate Turner's erratic driving didn't result in more injuries or destruction of property.
"It could have been a lot worse," he said. "Everybody really lucked out today."
Local journalism is essential.
Give directly to The Spokesman-Review's Northwest Passages community forums series -- which helps to offset the costs of several reporter and editor positions at the newspaper -- by using the easy options below. Gifts processed in this system are not tax deductible, but are predominately used to help meet the local financial requirements needed to receive national matching-grant funds.
Subscribe now to get breaking news alerts in your email inbox
Get breaking news delivered to your inbox as it happens.
---