Sports > High school sports
Lewis and Clark holds off Central Valley for wild win in Greater Spokane League opener
UPDATED: Fri., Sept. 14, 2018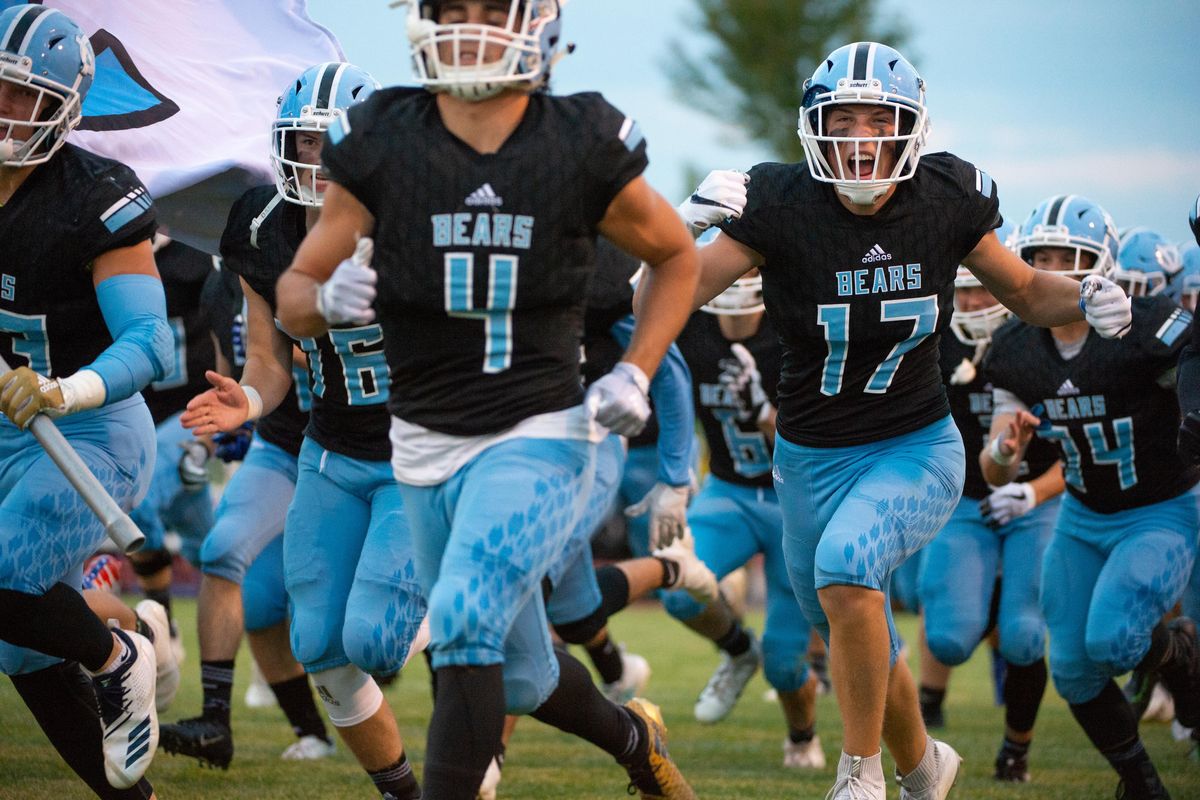 The Central Valley Bears charge the field preceding a home game against Lewis and Clark High School on Sept. 14, 2018 at Central Valley High School in Spokane Valley, Wash. The LC Tigers took the game 41-39. (Libby Kamrowski / The Spokesman-Review)
When Central Valley's Landon Rehkow lined up a 34-yard field-goal attempt with time winding down, you could feel the tension on the Bears' home field.
CV had come back from a 15-point deficit and just recovered an onside kick and was lining up what was surely going to be the winning kick with the Bears down two points.
Rehkow's kick had plenty of boot but was wide left, giving the visiting Lewis and Clark Tigers a 41-39 win in a wild game that ended with the LC student section celebrating at midfield.
As for the Tigers, the upset proves they are a team to watch in the Greater Spokane League as they move to 3-0 on the season.
"I thought we played really hard tonight and I was very proud of our effort," LC coach Dave Hughes said. "We had some kids really step up and do a good job."
One of those kids was quarterback Michael Flaherty, the dual-threat senior. Flaherty finished 10-of-15 passing for 240 yards and three touchdowns. He also ran for 165 yards and two touchdowns.
Hughes said the coaching staff gives Flaherty the freedom to take off running, depending on what the defense gives him.
"He's a very good quarterback and he has a lot of reads that he can do different things in the offensive sets," Hughes said.
Flaherty scored LC's first touchdown on a 52-yard scamper to give the Tigers and early 7-6 lead. He also scored in the first quarter on a 3-yard run.
The Tigers and Bears went toe-to-toe throughout the first half with each team ending their drives with touchdowns in the first quarter.
CV quarterback Matt Gabbert finished 17 of 26 for 227 yards and two touchdowns to go with one interception. Zack Jongeward led the way for CV on the ground with 197 yards on 23 carries. Jongeward finished with three touchdowns.
Hunter Chodorowski had 111 yards on 18 carries and one touchdown for the Bears.
It looked like LC would run away with the game after Flaherty connected with Keani Guthmueller for a 70-yard touchdown pass toward the end of the third quarter. Those 70 yards were nearly half of Guthmueller's receiving total for the night. He finished with 142 yards receiving and one touchdown, as well as 69 yards rushing and one score.
"We were hoping that his speed would be a positive for us tonight," Hughes said.
CV answered Guthmueller's touchdown with a 13-play drive that ended with Jongeward scoring from 1 yard out. After an LC punt, the Bears needed just three plays to score, but an unsportsmanlike conduct penalty moved the 2-point conversion to the 17-yard line. CV was unable to convert.
LC's Xavier Guillory hauled in a nice 23-yard touchdown pass to give the Tigers some breathing room at 41-32. Chodorowski then answered by scoring from 1 yard out, setting up the Bears' onside kick.
After recovering the onside kick, CV moved the ball well, but a holding penalty pushed CV back and set up Rehkow's failed kick.
CV came into the game ranked No. 10 in the 4A Associated Press poll. LC's win proved the GSL 4A race is wide open.
"We continued to battle the whole game and we were fortunate to come out on the positive side," Hughes said. "Central Valley did a heck of a job. It was a great high school football game."
Local journalism is essential.
Give directly to The Spokesman-Review's Northwest Passages community forums series -- which helps to offset the costs of several reporter and editor positions at the newspaper -- by using the easy options below. Gifts processed in this system are not tax deductible, but are predominately used to help meet the local financial requirements needed to receive national matching-grant funds.
Subscribe to the sports newsletter
Get the day's top sports headlines and breaking news delivered to your inbox by subscribing here.
---