Sports
Grip on Sports: Let's just say goodbye to summer a bit early
Sat., Sept. 15, 2018 A GRIP ON SPORTS • A Pac-12 showdown in Salt Lake City. A big local showdown in Pullman. Intersectional games on the television. Yep, fall Saturdays are here, even if they are early. Read on.
••••••••••
• Yes, this is the last full weekend of summer. As if that matters. School has been going for weeks. So has football and volleyball and all the other sports we associate with leaves falling and the temperatures dropping.
In other wards, we are knee-deep – metaphorically – into autumn already. And it won't be long until we are knee-deep – actually – in leaves.
Before the latter happenstance, however, we can still enjoy our football Saturday's without the dread of having to fill 73 plastic bags with dead leaves and pine needles. 
So what's on tap?
• There have been a lot of pixels produced this week on Eastern Washington's 2016 upset of Washington State in Pullman. Eastern fans still are basking in the glow of Gage Gubrud's coming-out extravaganza. Washington State fans point to the missing defenders, NFL guys Shalom Luani and Robert Barber among them, as they defend their squad. And then there was the little nugget contained in Theo Lawson and Ryan Collingwood's story yesterday about the Cougar defense wearing the wrong wristbands in the first half. That mistake is easy to point at except it was in the second half, when WSU had reportedly fixed the problem, when Eastern's offense came alive.
No matter.
What does matter, today, is the noise. Mike Leach likes to ask how a game two years ago can affect today's. Easy. Hear about it enough and the Cougar players should be a little, well, we will use "ticked off" because this is a family friendly website. The only way to shut up the talk is to win, and win convincingly. 
The difference between the Cougars then and the Cougars now? Tracy Claeys. The new defensive coordinator reminds me of, in a football sense, of Bill Doba. It's something I intend to delve into at some point, but for those of you who remember when Doba was in his heyday as Mike Price's d-coordinator, then you will understand. 
Alex Grinch changed the mindset around the Washington State defense the past few years. Now Claeys, with a veteran crew, is fine-tuning the group and expanding its repertoire. That's why I don't expect a 45-42 game this evening. And I also don't expect another upset, though of all the Big Sky teams, Eastern is the most capable of it. It should be fun.
• The Pac-12 schedule opened last week with a rather boring 17-3 Stanford win over USC. It continues tonight with conference favorite Washington heading to Salt Lake to take on Utah.
The favorite pastime thus far in Seattle has been to point out all the thinks the Huskies are not doing as well as expected. And they are numerous, since they were expected to be nearly perfect. But that's nonconference for you. At least for coaches like Chris Petersen and Kyle Whittingham. Neither has seen their teams play at their best, but both have probably laid down the foundation for the season. 
Today, we find out which team is further along.
• The TV listings of college football games are one of the reasons I still receive the newspaper at home. As you open the sports section and see game after game from Fox to ABC, from ESPN to ESPNU, from Pac-12 to Root, it makes my heart soar. And my fingers itch to pilot the remote.
Look at these can't-miss matchups from today: 
Rutgers at Kansas – The battle of the least-successful programs in the Big Ten and the Big 12.
Hawaii at Army – Talk about a battle of cultures. "From Here to Eternity" in a football uniform.
Duke at Baylor – A matchup of two schools with some sordid baggage in the their past.
Lehigh at Navy – Engineers versus guys who will some day try to sink the ships those engineers design.
Houston at Texas Tech – Has there ever been a six-hour game?
It's like this just about every Saturday, especially in September. It's also quite possible there isn't a five-minute window until late tonight that will be without a college football game – if you can switch away from the commercials fast enough.
•••
WSU: It's game day. Theo has a preview of tonight's battle as well as his, and Ryan's, predictions of the outcome. There are also the keys to the game, courtesy of Theo. I'll be watching from home. As a public service announcement, the game will probably start on Pac-12 Washington before moving over the Pac-12's national channel after the Oregon rout of San Jose State is finished. … Jason Gesser wrote a letter to the Daily Evergreen with his thoughts on the investigation into allegations of inappropriate sexual relations. Tom Clouse has more in this piece. … The soccer and volleyball teams remain undefeated after Friday's action.
Elsewhere in the Pac-12, the late games are the best ones today. … One of those is in Utah, where the Utes host the nation's 10th-ranked team, Washington. The Huskies have to keep winning to stay in the national title hunt. … Oregon has to stay focused against overmatched San Jose State. … Oregon State is trying to end a long road losing streak today in Reno. … California wants to improve on special teams. … There is no Bryce Love today for Stanford. … Colorado may have the easiest game today. … Before we get to USC's matchup with Texas, circa 2018, let's indulge in a history lesson. The Trojans need better quarterback play. … UCLA just needs to play better, period. And run the ball more. … Arizona State should receive a challenge from host San Diego State. … Arizona needs to turn its season around right now.
Gonzaga: The men's soccer team lost to Oral Roberts. … A cross country runner picked up a victory.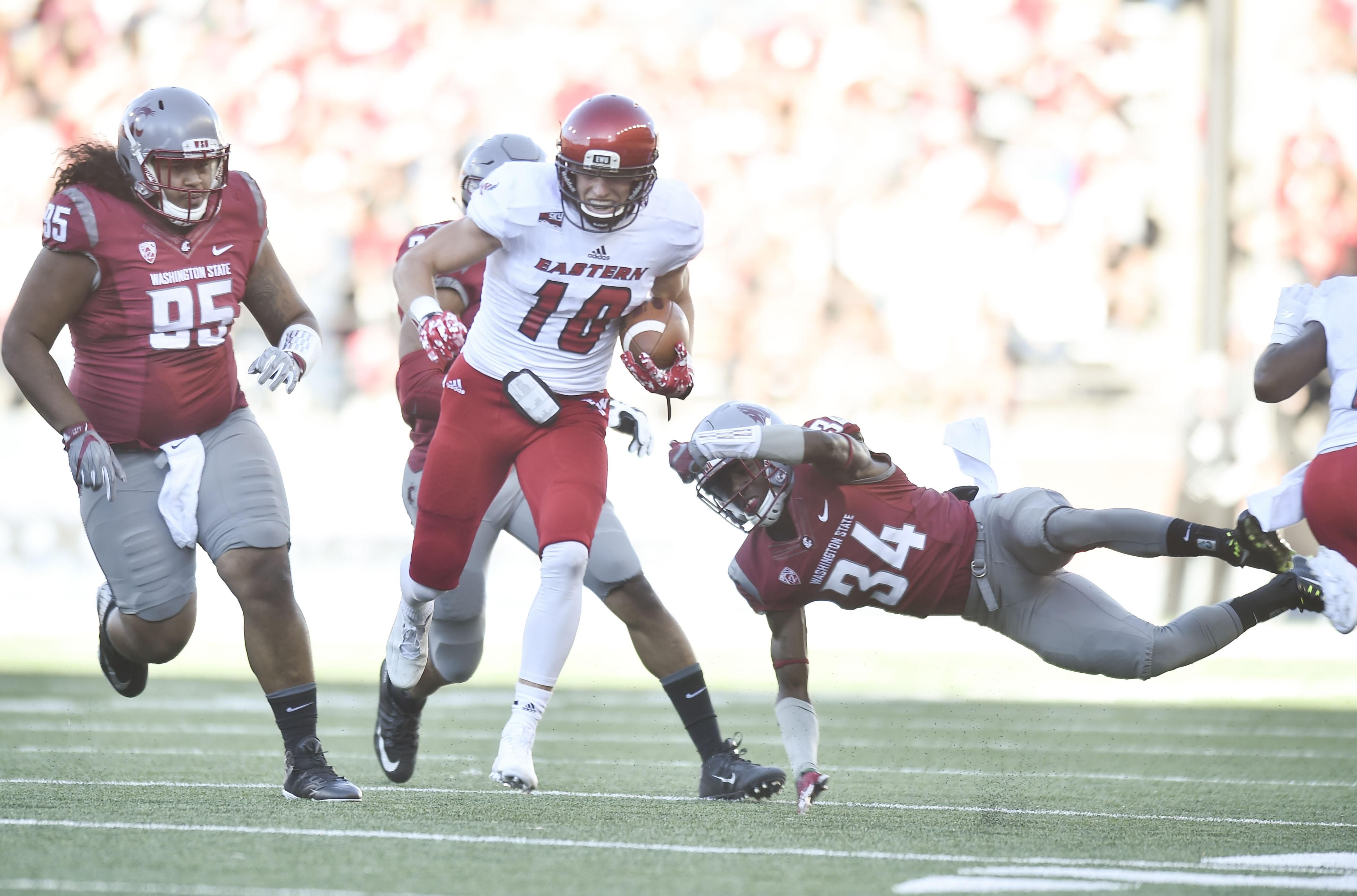 EWU: The Eagles have not won every football game against Pac-12 Conference opponents, but they have given each of them a battle. Ryan has a story this morning looking at the results of those recent games. … Around the Big Sky, Northern Colorado is in danger of starting the season 0-3. … So is Southern Utah. … Weber State has a tough home opener. … Montana is on the road for the first time. … Montana State will have to plug a bunch of holes today. … UC Davis and Stanford may both be ranked, but that's where the similarities end. … Idaho State travels to California.
Whitworth: The Pirates will welcome Chapman to the Pine Bowl this afternoon. Dan Thompson has a preview of the game.
Lewis-Clark State: The NAIA World Series will stay in Lewiston through the 2024 season thanks to a new agreement reached Friday.
Chiefs: Spokane released a goaltender yesterday.
Preps: It was a typical football Friday night, though Coeur d'Alene's win over visiting Eisenhower was cut short by lightning. Jim Meehan was there and has this game story. … Lewis and Clark survived a late field goal attempt to defeat Central Valley 41-39 in the GSL opener for both. Kevin Dudley has the story and Libby Kamrowski has a bunch of photographs. … Ryan was at U-Hi and covered Gonzaga Prep's 46-33 win over the Titans. … We also can pass along a roundup of the rest of the action. 
Seahawks: Luckily the Hawks don't play until Monday night. That will give them another 24 hours to heal. They need it. … The Mychal Kendricks signing is official. I wonder if it includes some Microsoft stock tips from Paul Allen. Sorry, couldn't resist. 
Mariners: One more win. That's all the M's need to ensure a winning season. That's great, right? No? You're disappointed? Darn spoiled fans. … Mitch Haniger, power-hitting leadoff hitter. … Don't expect the Mariners to push Edwin Diaz to set a saves record.
Sounders: The Cascadia Cup is on the line today in Vancouver. … The Sounders are streaking.
•••        
• In case you're interested, and I'm sure you're not, I got some work around the house done yesterday. I built a couple of boxes to protect part of my patio (it's a long story). It wasn't until I attached one of them did I notice I put it together incorrectly. On today's agenda: fixing my fix. After more than 35 years of home ownership my ineptitude around the house still amazes me. As my father-in-law once said to me concerning home repairs, a statement delivered in his kind, loving way, "if I had known Kim was going to marry someone like you, I would have taught her more." Until later … 
Local journalism is essential.
Give directly to The Spokesman-Review's Northwest Passages community forums series -- which helps to offset the costs of several reporter and editor positions at the newspaper -- by using the easy options below. Gifts processed in this system are not tax deductible, but are predominately used to help meet the local financial requirements needed to receive national matching-grant funds.
Subscribe to the sports newsletter
Get the day's top sports headlines and breaking news delivered to your inbox by subscribing here.
---