Recap and highlights: Washington State Cougars fire on all cylinders in 59-24 victory over Eastern Washington Eagles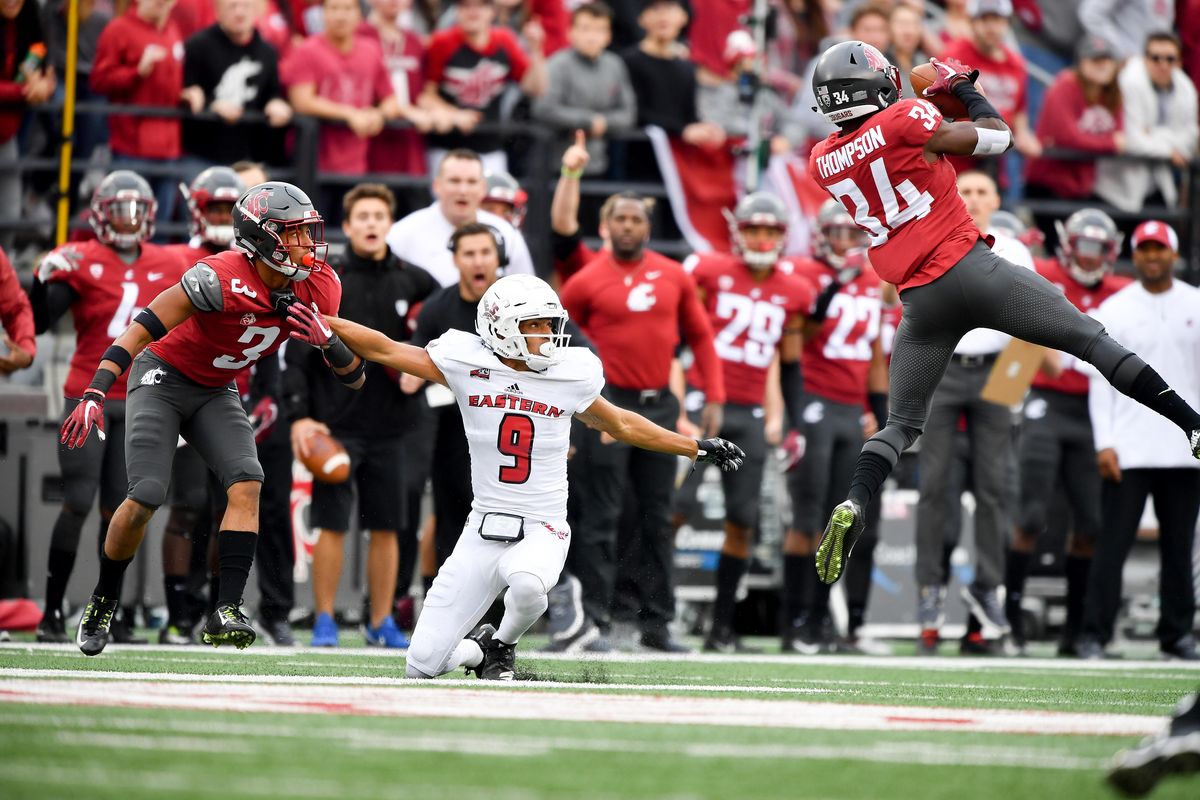 PULLMAN – In seven years under Mike Leach, the Cougars have built a potent offense, strengthened their defense and, a more recent development, have gradually transformed Martin Stadium into a considerably difficult place to win a football game if you aren't wearing crimson and grey.
Eastern Washington visited and won here in 2016, but the Pullman venue and its primary tenant aren't quite as vulnerable as they were two years ago and on Saturday the Eagles became the ninth straight visiting team to walk out of Martin Stadium with a loss after WSU dominated its FCS visitor 59-24 in front of a sellout crowd.
The Cougars (3-0) bring their unbeaten record to No. 16 USC on Friday for their Pac-12 opener in Los Angeles while the Eagles (2-1) host Cal Poly on Saturday in Cheney.
WSU's offense didn't have trouble getting off the ground Saturday and, unlike in the previous game against San Jose State, the Cougars were able to put points on the board in each of the four quarters, with 14 in the first, 14 in the second, 7 in the third and 17 in the fourth.
Cougar quarterback Gardner Minshew passed for a career-high 470 yards, beating his previous best of 463 set last season while playing at East Carolina, and threw two touchdown passes while completing 45-of-57 (78 percent) throws.
His preferred target, sophomore receiver Tay Martin, also had a career night, catching 13 passes for 149 yards and a touchdown.
On only six carries, junior running back James Williams managed to get into the end zone for three rushing touchdowns and his freshman counterpart, Max Borghi, added another midway through the fourth quarter.
The Cougars never trailed in the game, but EWU posted its biggest threat in the third quarter, twice closing the gap to 11 points. The Eagles could've cut WSU's lead to one possession on a 44-yard field goal from Roldan Alcobendas, but a holding penalty negated the kick and forced EWU to punt.
Minshew led an important eight-play, 99-yard touchdown drive with 4:37 left in the third quarter to reestablish an 18-point WSU lead and Jahad Woods came up with a key interception later in the period, giving the Cougar offense the ball back on EWU's 27-yard line with :35 to go in the third. – Theo Lawson
First quarter
Q1 9:27 – WSU 7, EWU 0: The Cougs strike first. After Gardner Minshew finds Tay Martin up the seam for a 22-yard gain to the EWU 1-yard line, James Williams pounds it in for 6 for the Cougs. Minshew threw for 59 yards on the drive, with Jamire Calvin his favorite target. Calvin had 38 yards on the 7-play, 68-yard drive.
The drive was set up by Jalen Thompson's interception of EWU QB Gage Gubrud. Peyton Pelluer applied the pressure as Gubrud threw.
Q1 6:09 – WSU 7, EWU 0: The defenses are trading punches.
Q1 1:45 – WSU 14, EWU 0: Gardner Minshew caps an 8-play drive with a 14-yard TD pass to Easop Winston. Minshew is up to 181 yards passing for the game. He threw for all 83 yards on the drive.
Second quarter
Q2 12:11 – WSU 14, EWU 3: Roldan Alcobendas is good on a 37-yard field goal. EWU QB Gage Gubrud threw for 50 yards on the 60-yard drive. Gubrud is up to 59 yards passing.
Q2 12:11 – WSU 21, EWU 3: Cougars returner Travell Harris takes the EWU kickoff 100 yards for the score. It was the redshirt freshman's first career touchdown.
Q2 10:24 – WSU 21, EWU 3: The Cougars get their second interception of the game, this time it's Darrien Molton with the pick of Gage Gubrud's long pass.
Q2 2:17 – WSU 28, EWU 3: James Williams finishes WSU's 98-yard drive with authority, powering in on a 2-yard run to push the Cougs advantage to 25. A tough pass interference call on the Eagles on WSU's 3rd-and-goal attempt set up Williams' score.
Q2 0:39 – WSU 28, EWU 10: Gage Gubrud finds Andrew Boston for the 26-yard touchdown as the Eagles chip away at the Cougs' lead. Tamarick Pierce picked up 34 yards on the ground for EWU on the drive. Gubrud is up to 98 yards passing for the game.
Halftime reads
Third quarter
Q3 11:41 – WSU 28, EWU 17: The Eagles open the second half with a 9-play, 75-yard touchdown drive. Gage Gubrud, who threw for 50 yards and ran for 4 more on the drive, found Zach Eagle wide open on the sideline for the 34-yard touchdown pass.
Q3 8:58 – WSU 28, EWU 17: EWU's Roldan Alcobendas sees his 44-yard field goal taken off the board for a holding penalty on the Eagles. After the 5-yard setback the Eagles decided to punt. Alcobendas, who also handles the Eags' punting, saw his punt downed at the WSU 1-yard line.
Q3 3:54 – WSU 35, EWU 17: James Williams gets his third touchdown of the game, this one an 8-yard carry, as Washington State completes an 8-play, 99-yard drive. WSU QB Gardner Minshew threw for 91 yards on the drive. He is up to 354 yards through the air.
Q3 4:37 – WSU 35, EWU 24: The Eagles respond to WSU's long TD drive with 6 of their own. A Gage Gubrud 44-yard touchdown pass to Dennis Merritt cuts the the Cougars lead back down to 11.
Q3 1:05 – WSU 35, EWU 24: Jahad Woods makes the defensive play of the game, so far. The WSU linebacker hauls in an acrobatic interception of Gage Gubruds short pass to give the Cougs the ball deep in EWU territory.
Fourth quarter
Q4 14:05 – WSU 38, EWU 24: WSU kicker Blake Mazza makes a 44-yard field goal to push the Cougs' lead to two touchdowns.
Q4 9:47 – WSU 45, EWU 24: Gardner Minshew throws his second touchdown of the game, this one to Tay Martin on a 21-yard jumpball up the sideline.
Q4 8:24 – WSU 52, EWU 24: Max Borghi scampers in for a 6-yard touchdown run. The Cougars benifited from a EWU fumble on their kick return. WSU has 24 points off of EWU turnovers in this one.
Q4 1:21 – WSU 59, EWU 24: Trey Tinsley hits Robert Lewis for the 6-yard touchdown pass. East Valley High-alum Rodrick Fisher caught his first pass on the drive.
Pregame
WSU O-Line: The big boys up front for the Cougs are looking to keep a clean pocket for QB Gardner Minshew again tonight. Theo Lawson with more on WSU's sackless streak:
UPDATE: The Cougars gave up a sack. Two, in fact, during their third drive of the game.
A nice tribute: A bouquet of flowers was placed on the 3-yard line at Martin Stadium before the game. Late WSU QB Tyler Hilinski wore No. 3. He was honored before last week's game against San Jose State.
The teams are on the field:
WSU announces a sellout:
WSU uniforms: Cougars will be in their crimson tops with anthracite helmets and pants:
EWU uniforms: Eagles going with the all-white look:
---