Sports > WSU football
Pac-12 power rankings: South Division continues to nosedive after another forgettable week
UPDATED: Tue., Sept. 18, 2018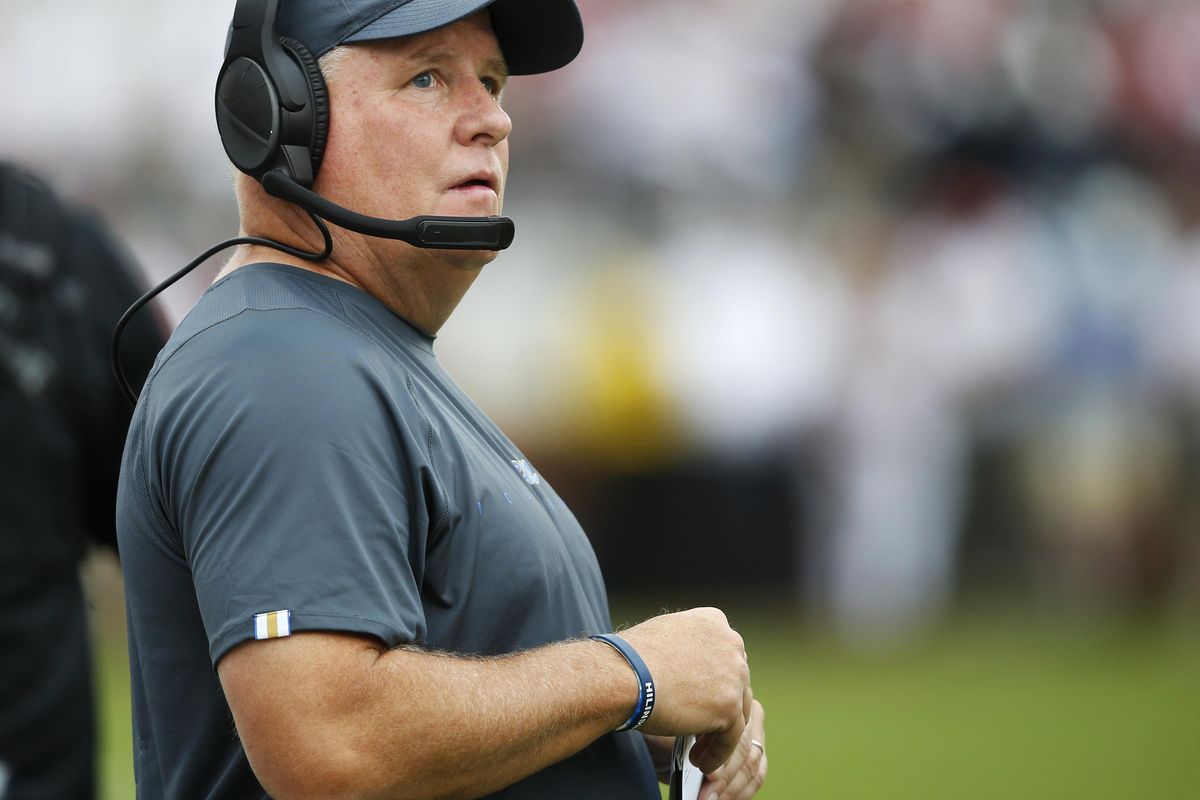 In this Sept. 8, 2018, file photo, UCLA head coach Chip Kelly stands during a game between his Bruins and Oklahoma in Norman, Okla. Kelly is among the first-year head coaches who are struggling to start the season. The Bruins dropped to 0-3 with their 38-14 home loss to Fresno State. (Sue Ogrocki / AP)
It was tempting to just stack the six teams in the Pac-12 North atop the six in the South and call this week's edition of the power rankings good. After some shuffling, they look enough like that as is.
1. Washington (2-1; last week: No. 1) – Nitpick UW all you want, but as long as Jake Browning or Myles Gaskin are playing well, the Huskies are likely to win. And even if neither are, the Huskies still have a pretty good shot with that ferocious defense.
2. Stanford (3-0; last week: No. 2) – Stanford's defense has given up two touchdowns and 23 points in three games. The Cardinal may not maintain those kinds of numbers in upcoming games against Oregon and Notre Dame, but for now we think they're pretty darn impressive.
3. Oregon (3-0; last week: No. 3) – Oregon probably – OK, definitely – should have rolled past San Jose State by more than 13 points and now it's easy to wonder who the Ducks are, or what they're actually capable of.
4. Colorado (3-0; last week: No. 5) – The Buffaloes get a bye in week four. Their first bye came last week in a rout of New Hampshire. Colorado does look like it could be something, but the opposition hasn't been stellar to this point.
5. Cal (3-0; last week: No. 8) – Under second-year coach Justin Wilcox, the Golden Bears are remarkably 6-0 in nonconference games. They'll have two weeks to prepare new quarterback Chase Garbers for his toughest test yet, a Sept. 29 game against Oregon.
6. Washington State (3-0; last week: No. 9) – If you were to form an all-star team of players from WSU's first three opponents, it probably still wouldn't beat the Cougars. But nonetheless, Mike Leach and company are 3-0 – and a resounding 3-0 at that.
7. Utah (2-1; last week: No. 7) – Still possibly the best team in the Pac-12 South, the Utes showed last weekend with a 21-3 home loss to the Huskies they probably aren't capable of beating the best team in the North.
8. Arizona State (2-1; last week: No. 4) – Manny Wilkins is usually good enough to win games for the Sun Devils, and the defense was good enough in the first two, but it finally broke against San Diego State and could have a rough go of things in the next game versus Washington.
9. USC (1-2; last week: No. 6) – Turning so much of the offense over to true freshman quarterback JT Daniels and his young arm doesn't sound like such a great idea – until you're rushing for minus-5 yards, in which case it's the only idea.
10. Arizona (1-2; last week: No. 10) – Kevin Sumlin and Khalil Tate could have beaten Southern Utah or Tucson High School and it still would've been a refreshing win. But the next game feels like a must-win for the Wildcats. If not, they'll be 1-3 with a loss to Oregon State and needing to win five of their final nine games for bowl eligibility.
11. Oregon State (1-2; last week: No. 12) – Yes, we went back and checked. After spending the entirety of the 2017 season at the bottom, and the first three weeks of the 2018 season, the Beavers finally climb out of the power rankings similar. Simply put, they've won a game and actually gave their Mountain West foe a challenge. Unlike …
12. UCLA (0-3; last week: No. 11) – Chip Kelly probably figured it couldn't get any worse than a 38-14 loss to Fresno State. Then the UCLA coach was publicly criticized by his starting quarterback's father. So maybe LaVar Ball isn't the only loud dad in Westwood.
Local journalism is essential.
Give directly to The Spokesman-Review's Northwest Passages community forums series -- which helps to offset the costs of several reporter and editor positions at the newspaper -- by using the easy options below. Gifts processed in this system are not tax deductible, but are predominately used to help meet the local financial requirements needed to receive national matching-grant funds.
Subscribe to the Cougs newsletter
Get the latest Cougs headlines delivered to your inbox as they happen.
---