Paying attention to teen depression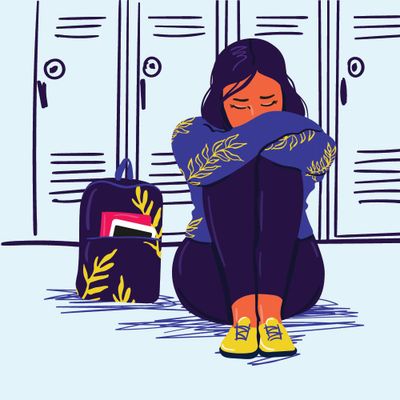 Teens are known to be moody. For parents and doctors, it can be tricky to tell the difference between normal adolescent emotions and depression.
"I think it's harder to detect depression in adolescents because it presents a different picture than in adults," said Katie Anderson, a Spokane family therapist and licensed mental health counselor.
"We can often mistake a teenager being grumpy or in bad mood as, oh that's just adolescence. That actually can be a sign of depression."
New Mayo Clinic research suggests teen depression is more common than most people realize. The American Academy of Pediatrics agrees, with the group this spring releasing its first update in 10 years for yearly depression screening of all youth between the ages 12 and 21.
This year's actions by medical groups mark a greater focus on recognizing teen depression, an issue often neglected in the past, said Anderson, who works for Sacred Heart Children's Hospital.
"We're getting more of a critical eye on how actually are our teens feeling, and then noticing, there's a gap," Anderson said. "We haven't been noticing this as much as we should."
Part of what's tricky is reading the differences between signs of depression versus what is normal adolescent behavior with strong emotions and a natural developmental instinct to pull away toward independence, Anderson said.
"It's harder to catch that – and we are just coming online with that – it may not be just mood fluctuation from being a teenager; there may be some clinical concerns. It's trickier to catch depression in teenagers than it can be with adults, because the classic signs we look for like sadness and lethargy don't often come up as much in teenagers."
Sacred Heart Children's Hospital recently partnered with KSPS to create a video on five warning signs that a teenager might be depressed. It's key to know what is typical behavior for your teen and if there's an abrupt shift, said Anderson, who also speaks in the video.
The hospital said warning signs are:
Persistent irritability out of context from a teen's normal mood
Withdrawing and disengaging from family, friends, hobbies and activities
Abrupt shift in friends who are out of context from teen's normal interests
Irregular sleep patterns beyond normal fluctuations, such as staying up all night or wanting to sleep more than typical
Too much screen time, in the sense that a teen is so plugged in to TV, phone and computer to the point it shuts out the real world
"Not just one or all of five of these signs is a guarantee that a teen is depressed," Anderson said. "They are simply warning signs to keep an eye out just in case your teen is depressed."
As many as 1 one in 5 teens experience depression during adolescence, but they often go undiagnosed and untreated, sometimes because they lack access to mental health specialists, the American Academy of Pediatrics says.
In its updated guidelines, the group distinguishes among mild, moderate and severe forms of Major Depressive Disorder.
"We would like to see teens fill out a depression screening tool as a routine part of their regular wellness visit," said Dr. Amy Cheung, a lead author among specialists tasked with developing the new recommendations.
In a recent article, the Mayo Clinic listed warning signs similar Sacred Heart's, but also included reminders to watch for sudden and severe weight change as well as any sudden drop in grades.
However, some of these warning signs also can fit children who might not be depressed, said Kent Hoffman, a Spokane psychotherapist and co-founder of Circle of Security International, which offers early childhood intervention models.
Hoffman suggests that parents and teachers notice any child who is acting "troubled" – withdrawn, unresponsive, agitated or angry toward students or teachers.
He suggests if adults notice these signs, they can begin a level of engagement that isn't accusatory or anxious.
"Rather, finding ways to build just enough trust to encourage an eventual discussion regarding the teen's concerns – fears, worries, confusion – is essential," Hoffman said.
"In the research, having access to one adult who can be trusted is what makes the difference. Without such access, problems begin to spiral until they show up as depression."
Anderson agreed. She said for parents who have concerns, they should seek a calm, one-on-one conversation with the teenager.
"Go into it with an attitude of curiosity about your child if you do catch some warning signs. No. 1, it communicates you're paying attention," Anderson said. "No. 2, it communications to the teenager that you can count on me to make sure you're doing OK, and I want you to be healthy."
Talking without making it stressful gets those messages across easier.
"There's a higher chance of your teen opening up to you," she added. "For any of us, the part of our brain that processes new information and uses logic, that part of the brain can go offline if you feel anxious or uptight."
The American Academy of Pediatrics guidelines also provide direction for physicians on when to consult with mental health care providers, based on the severity of psychiatric disorder. The earlier that teens who show signs of depression are identified, the better the outcome, the group says.
Physicians might be especially vigilant in monitoring teens who have a family history of depression, trauma, substance use or adversity, according to the guidelines. Other steps are to set up a treatment team that includes the patient, family and access to mental health expertise; education and screening tools; and counseling on depression and options for management of the disorder.
The group also suggests a treatment plan with specific goals for functioning in the home, peer, and school settings. Another step might be adding a safety plan, as needed, to include restricting lethal means such as firearms and having emergency communication methods.
---