News > Home
USC escapes Coliseum with 39-36 win over Washington State after blocking late field goal
Fri., Sept. 21, 2018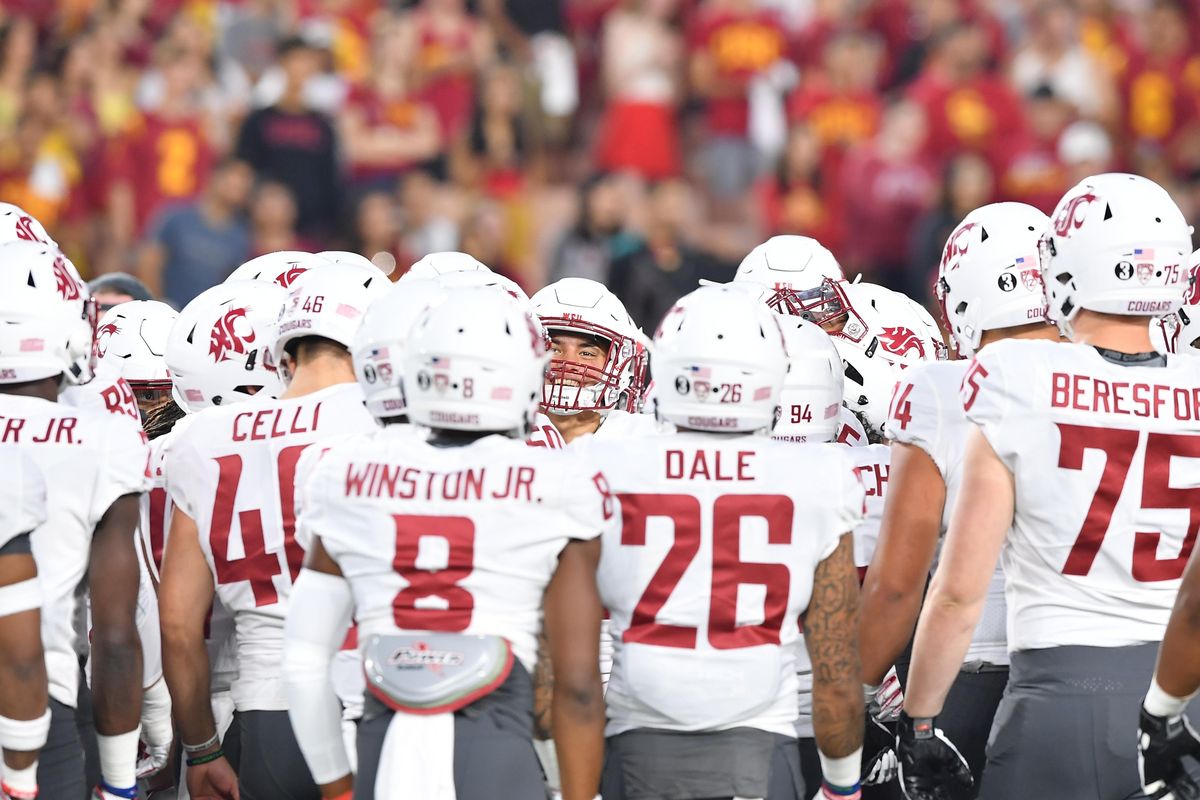 WSU huddles and cheers before the first half of a college football game against USC on Friday, September 21, 2018, at LA Memorial Coliseum in Los Angeles, Calif. (Tyler Tjomsland / The Spokesman-Review)
LOS ANGELES – At one point early in the third quarter, Washington State held a 13-point lead at the Los Angeles Memorial Coliseum. USC's 17-game home win streak was in danger and the Cougars were threatening to beat Clay Helton and the Trojans for the second time in two years.
But right on cue, JT Daniels and USC's talented crew of wide receivers began to get hot and a 38-yard WSU field goal was blocked with less than 2 minutes to play, allowing the Trojans to preserve a 39-36 win at the Coliseum and the country's second-longest home winning streak.
WSU (3-1, 1-0) hosts Utah next Saturday at Martin Stadium, while USC (2-2, 1-1) travels to Tucson for a Pac-12 South battle against Arizona.
While the Cougars could've sent a late-night game even later into the evening with a field goal that would've tied things at 39-39 with 1:41 to play in the fourth quarter, they'll also lament not being able to capitalize on the offensive drive that led to the 38-yard attempt from Blake Mazza.
WSU could've extended the drive on third-and-6 from USC's 21-yard line and potentially scored a go-ahead touchdown, but despite the success they'd established throwing the ball against the Trojans' man defense, quarterback Gardner Minshew checked into a run play at the line of scrimmage and handed off to James Williams, who was stuffed for no gain.
"That was all on me," Minshew said. "That was really stupid and that's something I regret."
WSU coach Mike Leach didn't offer much about the play, other than "it was a play," and "in hindsight, I wish it was a different play but in hindsight I wish a lot of plays were different plays."
Mazza, who'd hit a career-long field goal of 50 yards earlier on, then drove the potential game-tying kick into the arms of USC lineman Jay Tufele. The Trojans got one more first down and ran out the clock to hand the Cougars their first loss of the season.
"It looked like they got pretty good push and it looked like we struck it low," Leach said of the blocked kick.
Added USC coach Clay Helton: "It's a block that we've had in our package a long time. We put it in this week special and credit John Baxter. He had it based on which hash and which gap. The kids knew exactly what to do."
Both quarterbacks made it a long night for the opposing defensive secondaries. Minshew, the WSU graduate transfer, completed 37-of-52 passes for 344 yards, three touchdowns and no interceptions. Daniels, a true freshman at USC who'd struggled in his last two games, had his best performance in the cardinal and gold, completing 17-of-26 for 241 yards and three scores.
The Cougars were penalized 11 times in total and were flagged for three pass interference calls and three defensive holds, often trying to maintain their position against USC's fast and physical wide receivers.
"I was a little surprised because I thought some of them were in good position," nickel Hunter Dale said. "Some of them were obviously pass interference, but that's not my call to make. That's the referees and play the next play."
USC's once-sluggish run game woke up on the game's first drive and the Trojans got positive yardage on their first five offensive plays – all runs – and a 50-yard scamper from Stephen Carr helped set up a 3-yard rushing touchdown from Vavae Malepeai to make it 7-0.
But Carr didn't get another carry on the next two USC drives and the Cougars got on the board with the 50-yarder from Mazza and established their first lead when Williams punched in a 3-yard touchdown on the next WSU drive.
The Trojans finished with only 113 total rushing yards after earning 80 on the game's first drive.
USC got into the end zone once more in the first half. After Marcus Strong incurred a pass interference while guarding receiver Tyler Vaughns, the Trojans went back to that matchup on the next play and Daniels delivered a 9-yard touchdown strike to Vaughns to make it 14-10 USC.
But WSU's defensive pressure, and a few botched snaps, made it difficult for USC to move the ball the remainder of the half. The Cougars capitalized and re-took the lead after two passing touchdowns – one to Easop Winston Jr. and the other to Dezmon Patmon, who ran a 7-yard slant to haul in the first TD of his career.
USC had a chance to close WSU's lead to seven points near the end of the half, but Daniels' final pass to Michael Pittman was ruled incomplete, though it initially appeared the receiver had dragged his toe in the end zone.
The Cougars took a 24-17 lead into halftime, and eventually extended it to 30-17 on a bullish touchdown run from Max Borghi, but Daniels and his receivers were up to the test and eventually brought the Trojans back into the game. USC scored on a 50-yard screen pass to Michael Pittman, Daniels hooked up with Amon-Ra St. Brown for a 30-yard score and Vavae Malepeai ran in a 2-yarder to make it 39-36.
"I thought we played pretty good," Leach said. "We played hard across the board. I thought we had chances to win on all three sides of the ball. I think our effort is great. But we need to become a more consistent team."
Local journalism is essential.
Give directly to The Spokesman-Review's Northwest Passages community forums series -- which helps to offset the costs of several reporter and editor positions at the newspaper -- by using the easy options below. Gifts processed in this system are not tax deductible, but are predominately used to help meet the local financial requirements needed to receive national matching-grant funds.
Subscribe now to get breaking news alerts in your email inbox
Get breaking news delivered to your inbox as it happens.
---