Sports > Gonzaga basketball
Gonzaga basketball in wait-and-see mode with NCAA rules changes
Sept. 22, 2018 Updated Sat., Sept. 22, 2018 at 10:06 p.m.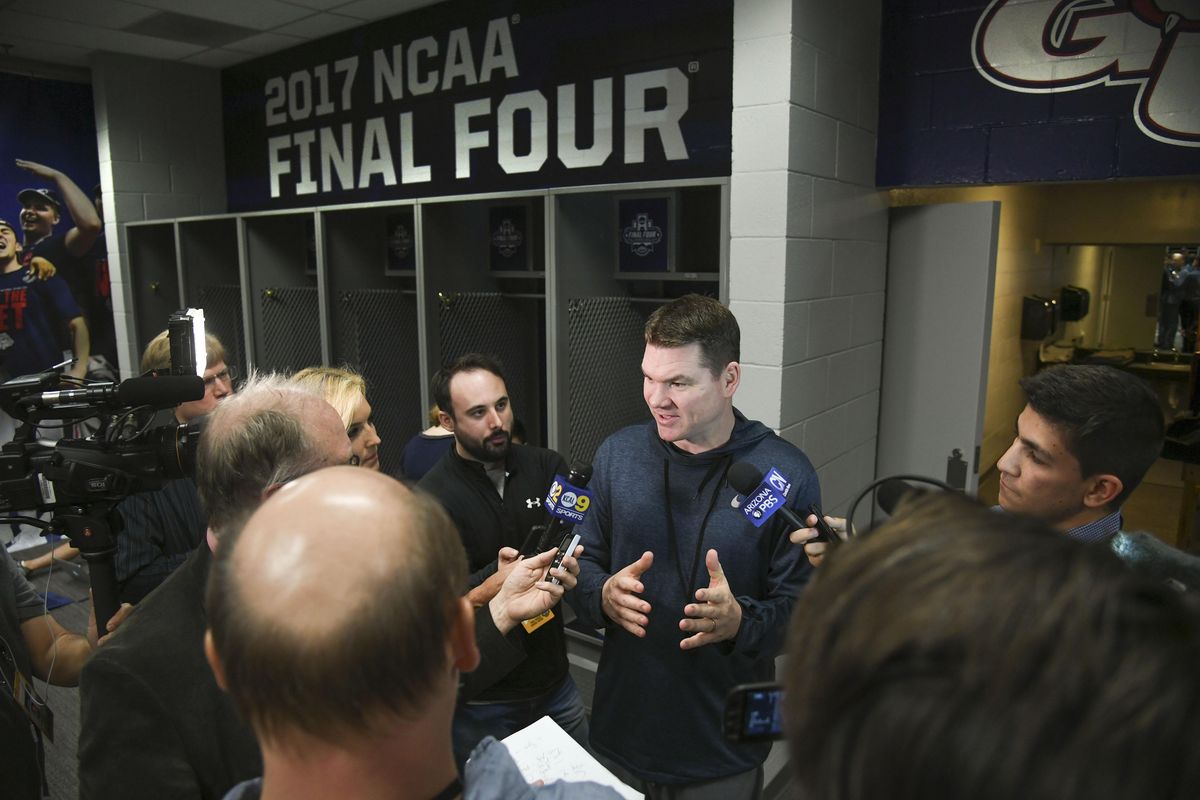 Gonzaga assistant coach Tommy Lloyd chats with reporters prior to the 2017 national championship game against North Carolina. (Dan Pelle / The Spokesman-Review)
It is June 20, 2019 – give or take a few days because a date hasn't been set for next year's NBA Draft – and unease is redlining around the Gonzaga men's basketball program.
Four Zags – Rui Hachimura, Killian Tillie, Zach Norvell Jr. and Brandon Clarke – have tested the NBA waters after the program's second trip to the Final Four in three seasons. Hachimura leads the way as a projected lottery pick, and Tillie is considered a late first-round selection.
The four wait to hear if their names are called during the night's draft. If not, they have four days to decide if they want to return to Gonzaga. The Zags also lose seniors Josh Perkins and Geno Crandall.
Meanwhile, GU coaches are in limbo waiting for the draft to unfold. They've signed several players but are on hold with a few others while the four plot their futures. Gonzaga's first practice is roughly three months away.
Could this actually happen? It's exceedingly unlikely, but theoretically possible under the new Commission on College Basketball-inspired rules changes in August.
Prompted by the FBI's investigation into corruption, the NCAA made sweeping changes with the headlines centering on allowing players to hire NCAA-certified agents during the draft process and retain the opportunity to go back to school if they go undrafted. Other important changes included a revamped recruiting calendar and potentially stiffer penalties for programs and coaches.
To fully comprehend several of the rule changes, however, it's important to read the fine print.
The option of returning to school only applies if the undrafted player has been invited to the NBA Draft Combine. In the 2018 draft, that scenario applied to five players. Players also would be required to request an evaluation from the NBA Undergraduate Advisory Committee.
Who picks the 60 players at the combine? The NBA, not the NCAA.
"It's so interesting that basically they're leaving it up to outside entities to determine who has right to do these things," Gonzaga assistant coach Tommy Lloyd said. "They take 60 players, but there are probably 100 or more that are worthy. A lot of times they're going to take a young, mysterious guy with a lot of upside over an established player, because they know what the established player can do."
If the changes had been in place last season, it's doubtful they would have impacted Gonzaga. Hachimura and Tillie didn't submit their names in the draft. It's possible Tillie would have explored it, given the additional time to recover from a hip injury suffered before GU's loss to Florida State in the Sweet 16.
"Half the people say it's a great opportunity," Lloyd said of the entering the draft process. "The other half say don't because it exposes the player and don't let (the NBA) form opinions until you're ready to be seen.
"With Rui, he wants to make sure when he makes that jump he's as close as he can to being ready. He's made huge progress on and off the court. He's really matured and the conversations you're able to have are more in-depth and thoughtful. He forms his own opinions and he's basically become an adult."
Lloyd is taking a wait-and-see approach on many of the rule changes.
"I'm going into my 20th year and we've had these things where they made big changes," Lloyd said. "Sometimes they work, sometimes they don't. If they don't work, maybe they scrap them."
Local journalism is essential.
Give directly to The Spokesman-Review's Northwest Passages community forums series -- which helps to offset the costs of several reporter and editor positions at the newspaper -- by using the easy options below. Gifts processed in this system are not tax deductible, but are predominately used to help meet the local financial requirements needed to receive national matching-grant funds.
Follow along with the Zags
Subscribe to our Gonzaga Basketball newsletter to stay up with the latest news.
---