Sports > Idaho football
Idaho Vandals fall behind early in Big Sky-opening loss to UC Davis
UPDATED: Sat., Sept. 22, 2018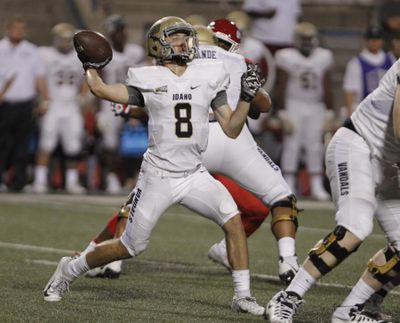 DAVIS, Calif. – UC Davis' high-speed offense yielded quick results, and in their return to the Big Sky Conference, the Idaho Vandals found themselves trailing 24-0 in the second quarter before they got off a punch against the Aggies.
Davis eventually led by as much as 44-7 before giving up a pair of late touchdowns to Idaho in a 44-21 victory. The Aggies are now 3-1, 1-0 in the Big Sky. Idaho fell to 1-2, 0-1.
The Aggies set the tone immediately, scoring on their first possession, moving 75 yards in 11 plays with a hurry-up offense that put withering pressure on the Vandals' defense. Vandals defenders failed to follow Keelan Doss when he went into motion on second down at the 20-yard line. Doss scored easily after taking a pass from Jake Maier, who put up 256 yards passing and three touchdowns, completing 23 of 37 throws.
UC Davis caught a break near the close of the first quarter. When Tehran Thomas scored on a 4-yard run, he lost the ball at the goal line, but it bounced right back to him. It pushed the lead to 14-0.
Idaho's peculiar special teams misfortune continued. Forced to punt from their end zone early in the second quarter, the Vandals let linebacker Connor Airey worm through the protection in front of punter Cade Coffey. Airey blocked the kick and Nomane Modise recovered in the end zone for a 21-0 Aggies advantage.
It was the third time this year Coffey had a kick blocked and returned for a score. It happened twice on field-goal attempts in the Vandals' opening game against Fresno State.
The Vandals also had their plans to use two quarterbacks derailed in the second quarter on the series that led to the punt block. Sophomore Colton Richardson injured his throwing hand while completing a short pass to Jeff Cotton. He left the game, having completed 2 of 5 passes for 15 yards.
Junior Mason Petrino went the rest of the way behind center for Idaho. He threw for a career-high 284 yards, completing 23 of 41 passes with three touchdowns and an interception.
David Ungerer, who led Idaho with nine receptions for 86 yards, caught a 14-yard strike and broke a tackle for Idaho's first score. On fourth-and-2 at the Aggies' 46-yard line, Petrino found Cotton with a long pass over the middle for a touchdown, and Petrino completed a 29-yard pass to Roshaun Johnson for Idaho's final points.
Max O'Rourke connected on a pair of field goals for the Aggies, from 32 and 29 yards. Thomas led all rushers with 119 yards on 15 attempts. He was followed closely by Idaho's Isaiah Saunders, who rushed for 102 yards on 20 carries. It was the third 100-yard game of Saunders' career.
Vandals coach Paul Petrino was not searching for any moral victories in Idaho's modest second-half comeback.
"It was disappointing," Petrino said. "Sometimes you get whupped. We had guys who played really hard. Some didn't. That's not good as a team. It's not a good sign."
One who showed up was senior linebacker Ed Hall. He made 12 tackles, including two for loss, and broke up a pass, even though he had to leave the game for a time with an injury.
Hall seconded Paul Petrino's assessment. Hall said the Aggies "ran plays we expected. I thought we were prepared for everything. Coach said we just weren't tough enough. I agree."
Local journalism is essential.
Give directly to The Spokesman-Review's Northwest Passages community forums series -- which helps to offset the costs of several reporter and editor positions at the newspaper -- by using the easy options below. Gifts processed in this system are not tax deductible, but are predominately used to help meet the local financial requirements needed to receive national matching-grant funds.
Subscribe to the sports newsletter
Get the day's top sports headlines and breaking news delivered to your inbox by subscribing here.
---