News > Spokane
Then and Now: 1972 International House of Pancakes
Mon., Sept. 24, 2018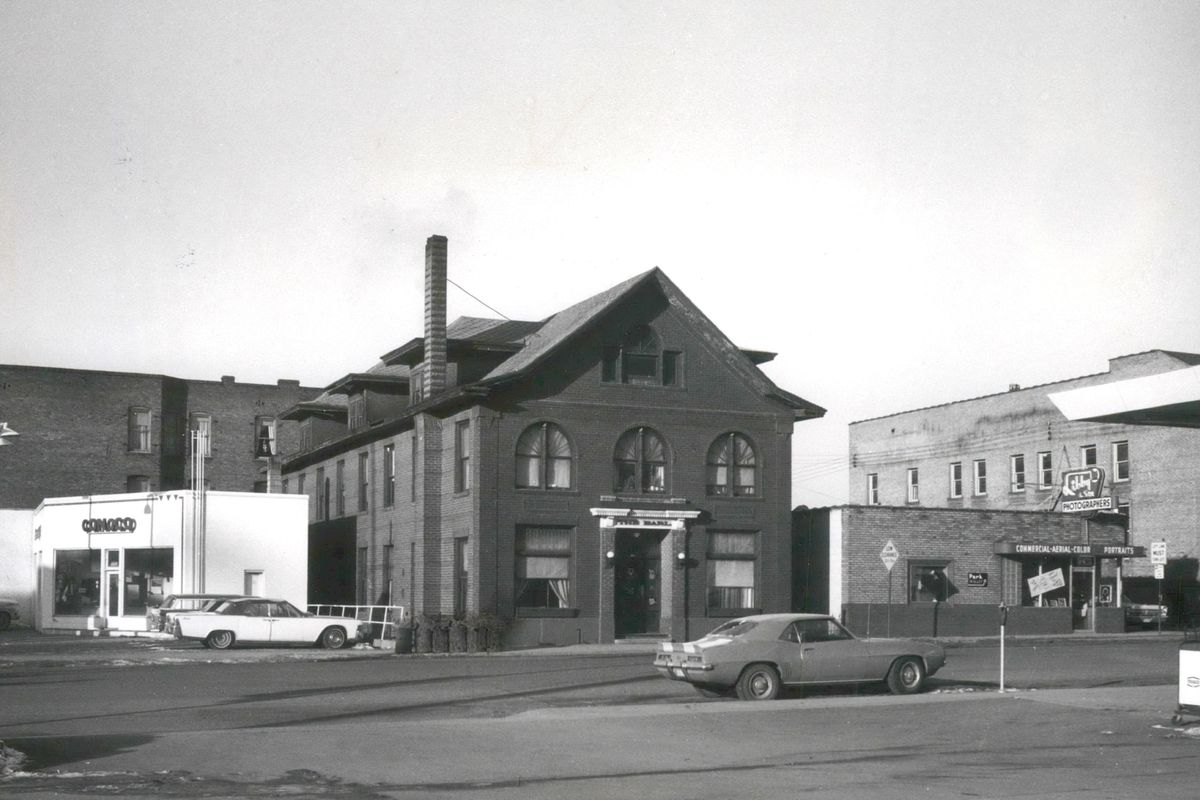 1972 - This business property at the northwest corner of Third Avenue and Lincoln Street, containing a gas station, the New Earl Apartments and the Libby and Sons Photographers studio, was sold in 1972 to the WD partnership, a Spokane investment group. Within a year, it would be home to an International House of Pancakes franchise. That IHOP closed in 2002 after 30 years in business and Molly's Family Dining took its place. (SPOKESMAN-REVIEW PHOTO ARCHIVE / SR)
Thing were changing quickly in the early 1970s in Spokane. Civic leaders were planning for Expo '74, and businesses were changing the look of downtown Spokane.
On the corner of Third Avenue and Lincoln Street, many changes were taking place. The New Earl Apartments, a three-story, 13-unit block at 224 S. Lincoln St., first appeared in the city's phone listings in 1927. By 1971, it was getting a little run-down.
Also on the block was the small office of Libby and Sons Photographers, founded in 1901 by Charles Libby Sr., a skilled and energetic photographer who chronicled Spokane from its early boom times, including the building of the Davenport Hotel and many other landmarks.
In 1905, Libby married Gretchen Schlessier, and son Charles Jr. was born in 1907. After graduating from Lewis and Clark High School, Charles Jr. became a military pilot. He later joined his dad in the business and the two offered aerial photography as well as portraits and commercial work.
The Libby studio had been in at least two other locations before moving to the small standalone building at 218 S. Lincoln St. in 1948. Charles Sr. retired in 1962 at the age of 82 and died in 1966.
In 1969, Charles Jr. sold the studio to Keith J. Henry, who had worked as a Libby photographer from 1963 to 1966. He also sold the building.
Businessman Frank DeLis, who had built his first International House of Pancakes on East Sprague Avenue in 1971, built his second at Third and Lincoln in 1972. He ran the two IHOP locations for about 10 years. He also owned two Frankie Doodle's diners.
The downtown franchise, which had multiple owners, lasted 30 years. In 2002, the restaurant lost its lease and closed.
Although no longer in ownership, DeLis helped Mike Crandell, one of his former employees, get access to the building to reopen it as Molly's Family Dining.
But before Molly's opened in July 2002, the bright blue roof, an architectural signature of the IHOP name, had to be repainted. Crandell still operates Molly's, with its bright green roof, today.
And DeLis' son Aaron now operates Luna, a longtime restaurant on the South Hill, with Hannah Heber.
Local journalism is essential.
Give directly to The Spokesman-Review's Northwest Passages community forums series -- which helps to offset the costs of several reporter and editor positions at the newspaper -- by using the easy options below. Gifts processed in this system are not tax deductible, but are predominately used to help meet the local financial requirements needed to receive national matching-grant funds.
Subscribe now to get breaking news alerts in your email inbox
Get breaking news delivered to your inbox as it happens.
---