News > World
Arrested senator and Duterte critic: 'Democracy lost today'
Tue., Sept. 25, 2018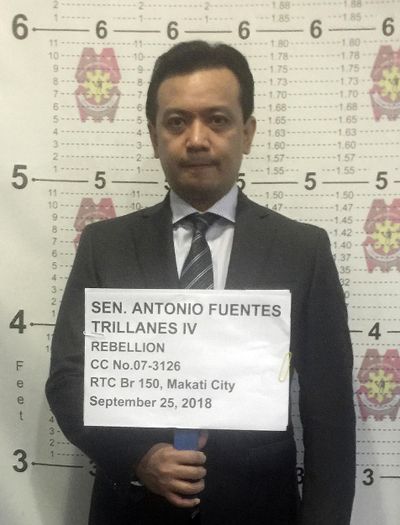 MANILA, Philippines – President Rodrigo Duterte's fiercest critic in Congress was arrested Tuesday after the president revoked his 2011 amnesty for a failed coup attempt and revived rebellion charges against him in an unprecedented legal move the senator called a blow to democracy.
Sen. Antonio Trillanes IV walked out of the Senate, where he had taken refuge for weeks, and was moved by police to their headquarters in Makati city, where his fingerprints and mugshot were taken. After being booked by police, Trillanes was escorted to a nearby court and posted bail, trailed by many journalists.
"Democracy lost today," Trillanes told reporters shortly before his arrest. "Darkness and evil prevailed in our country. Whatever happens in the future will be in the hands of the Filipino people."
Known for outbursts against his critics, Duterte has long expressed anger against Trillanes, who has accused him of large-scale corruption, involvement in illegal drugs and extrajudicial killings in an anti-drug crackdown that has left thousands of suspects dead since he took office in 2016. Duterte has denied the allegations.
Trillanes, a former navy officer, was jailed for more than seven years for involvement in at least three army uprisings, including a 2003 mutiny against then President Gloria Macapagal Arroyo when he and other young officers rigged part of a road in the Makati financial district with bombs and took over an upscale residential building.
After being amnestied under Duterte's predecessor, Benigno Aquino III, Trillanes successfully petitioned two Philippine courts to dismiss rebellion and coup cases, allowing him to later run for public office.
Duterte said he voided Trillanes' amnesty last month because the senator had failed to file a formal amnesty request and acknowledge guilt. Trillanes has strongly denied the president's claims and has provided news reports and defense department documents to counter Duterte's claims.
The Department of Justice has asked two courts to issue warrants for Trillanes's arrest and resume criminal proceedings against him. One of the courts issued the arrest warrant on Tuesday.
Aside from the rebellion and coup-related charges in the two courts, Duterte has also ordered the military to resume an inquiry into the senator's role in the mutinies.
Legal experts and the Integrated Bar of the Philippines, the country's largest lawyers' group, have expressed alarm over the legal moves against Trillanes for offenses that were canceled by the 2011 amnesty.
The lawyers' group said the move "runs roughshod over the constitutional guarantee against double jeopardy," or holding a person to answer twice for the same offense.
Duterte has also accused Trillanes, without offering evidence, of plotting with other opposition politicians, including the Liberal Party and leftist groups, to oust him. Trillanes and opposition groups have dismissed the claim as a lie and asked Duterte to focus instead on addressing poverty, inflation, rice shortages, traffic jams and a decline in the value of the peso currency.
Human Rights Watch said Trillanes's arrest "is part of the persecution of critics of the Duterte administration, the latest in the relentless campaign to silence those who dared to challenge the president's murderous `drug war."'
Under Duterte, another opposition senator has been jailed on illegal drug charges, a critical Supreme Court chief justice has been ousted by fellow judges, and foreign critics, including an Australian nun, have been barred from entering the Philippines or threatened with deportation.
Local journalism is essential.
Give directly to The Spokesman-Review's Northwest Passages community forums series -- which helps to offset the costs of several reporter and editor positions at the newspaper -- by using the easy options below. Gifts processed in this system are not tax deductible, but are predominately used to help meet the local financial requirements needed to receive national matching-grant funds.
Subscribe to the Coronavirus newsletter
Get the day's latest Coronavirus news delivered to your inbox by subscribing to our newsletter.
---