Sports > Area sports
Inland Empire trio make mark at Race for the Ages
Tue., Sept. 25, 2018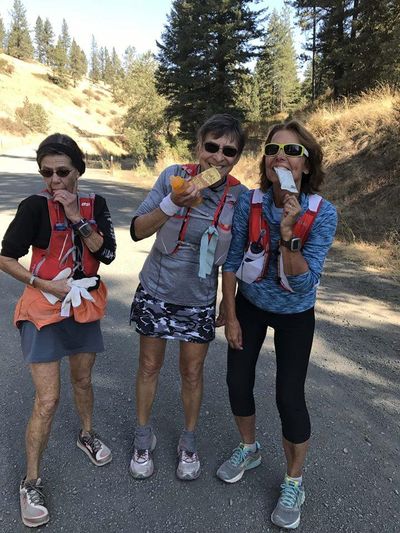 Gunhild Swanson, Sylvia Quinn and Mary Ann Clute, longtime fixtures in the Inland Empire running scene, are used to being recognized at racing events. But that wasn't the case when they checked in at the Race for the Ages in Manchester, Tennessee, over Labor Day weekend.
"Nobody knew who we were," said Swanson.
They soon found out.
The race began with 177 runners, 73 of them women. Swanson, 74, finished 10th overall and second among women, running 163 miles. Quinn, at 81 the oldest female competitor, finished 18th overall and sixth among women, running 150 miles. Clute, 65, finished 23rd overall and seventh among women, running 140 miles.
Each obliterated the previous race record for her age. Their mileage totals stand as the three highest for women over 60 in the race's four-year history.
The Race for the Ages uses a unique format, measuring runners in distance rather than time. The runners circle a mile-long course through Manchester's Fred Deadman Park, accumulating as many laps as they can manage during a set time period.
"It's very popular back east, this kind of run," said Quinn. "I thought it would be monotonous, but it wasn't; there were people out there to talk to and get their story."
Older contestants were given a head start; runners were allowed the same number of hours as their age. "For once, the old people had an edge," said Clute, laughing.
The most daunting obstacles were the heat and the humidity, both consistently in the high 90s, on a course that was only about 25 percent shaded. "We were able to run, but you just never really cooled off," said Clute.
"The key was to stay hydrated," said Quinn. "It took about a water bottle per mile."
The Spokane trio (Swanson lives in the Valley) used microfiber clothes designed by Swanson to keep ice around their necks. "It was a shock to the system when you first put it on," said Swanson. "But it really helped."
When the ice ran out, they wrapped themselves in shirts soaked in the icy water at the bottom of their coolers.
The trio, who camped to avoid lost time commuting back and forth to hotels, found cleanup tricky until a race volunteer pointed out a faucet attached to a utility building.
"We (found) a hose and we took a shower midway through the race," said Clute. "We got a lot of strange looks – we were fully clothed."
Quinn, by dint of her early start, led much of the race. "It was funny to watch Sylvia," said Clute. "She's so tiny … the leader vest was coming down to her knees."
The trio trained together all summer. The format required a mix of running and walking, something they weren't used to. "We practiced walking," said Swanson.
"Walking is a lot different from running," said Quinn. "When we started walking training, my muscles were so sore I couldn't move."
They enjoyed the change of pace once their muscles adapted. "We said, 'this is so much more fun than killing yourself, running as fast as you can,' " said Clute.
The training paid off in Tennessee; all three came out of the race healthy. "None of us were particularly sore," said Swanson. "We all had swollen ankles and feet, which is typical … but everything else felt good."
Each came away from the race feeling fulfilled.
"None of the three of us had any inkling what to expect," said Swanson. "We went with an open mind and a sense of adventure, and it delivered."
Clute found inspiration in the shared stories on the course. "The people I remember are the ones like a woman with multiple sclerosis walking a hundred miles using a walker, a stroke victim recovered enough to be able to walk a 15-minute mile … people just kind of reinventing themselves."
Quinn, who suffers from osteoporosis in her feet, had never run more than 50 miles before. "I was very unsure of myself," she said. "I never thought I could run 150 miles."
Nobody else thought she could, either. "Everyone thought I was crazy," she said, laughing. "I guess I am."
Local journalism is essential.
Give directly to The Spokesman-Review's Northwest Passages community forums series -- which helps to offset the costs of several reporter and editor positions at the newspaper -- by using the easy options below. Gifts processed in this system are not tax deductible, but are predominately used to help meet the local financial requirements needed to receive national matching-grant funds.
Subscribe to the sports newsletter
Get the day's top sports headlines and breaking news delivered to your inbox by subscribing here.
---