News > Nation
NASA's Mars Opportunity rover seen, but still not heard
Tue., Sept. 25, 2018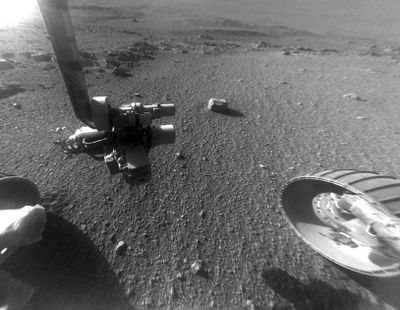 CAPE CANAVERAL, Fla. – NASA's Mars rover, Opportunity, has been seen, but still not heard.
A spacecraft around Mars has sent back a photo of Opportunity, which has been silent ever since a massive dust storm engulfed the red planet in late spring. The rover appears in the photo as a pale dot.
The Mars Reconnaissance Orbiter took the picture last week from 166 miles up. NASA's Jet Propulsion Laboratory released the photo Tuesday.
The global dust storm prevented sunlight from reaching Opportunity's solar panels, and the rover fell silent in June. Although the skies have cleared considerably, Opportunity has yet to send word to flight controllers. NASA has stepped up efforts to contact Opportunity, but acknowledge the nearly 15-year-old rover may not have survived the prolonged power outage.
Local journalism is essential.
Give directly to The Spokesman-Review's Northwest Passages community forums series -- which helps to offset the costs of several reporter and editor positions at the newspaper -- by using the easy options below. Gifts processed in this system are not tax deductible, but are predominately used to help meet the local financial requirements needed to receive national matching-grant funds.
Subscribe to the Coronavirus newsletter
Get the day's latest Coronavirus news delivered to your inbox by subscribing to our newsletter.
---