News > Spokane
Spokane County commissioners postpone votes on Five Mile Prairie and Whitworth-area developments
UPDATED: Wed., Sept. 26, 2018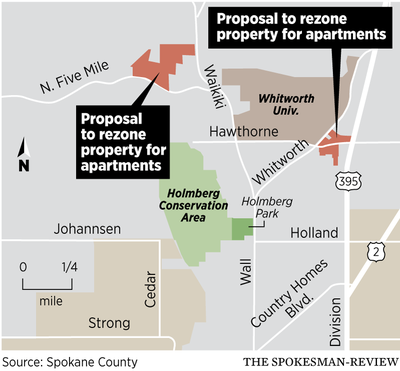 Spokane County Commissioners postponed a decision for two zoning changes that could bring new development to Whitworth University as well as a neighborhood north of Five Mile Prairie.
Two years ago, developer Harley Douglass proposed a zoning change from low to medium density residential for more than 22 acres of vacant land northwest of Five Mile and Waikiki roads.
The proposal has been controversial among residents, who voiced concerns about subsequent plans by Douglass to build more than 300 apartments in their neighborhood, citing increased traffic, disruption to wildlife and environmental impacts. They also appealed an environmental review for the zoning change.
The county's planning commission approved the zoning change with a condition that future development would be restricted to 100 apartments until a second access road is constructed, but the environmental study indicates plans for 300 apartments.
Commissioners also postponed a second comprehensive plan amendment initiated by Taudd Hume of Parsons/Burnett/ Bjordahl & Hume, LLP on behalf of Whitworth University to a future date.
The amendment calls for a zoning change from low density residential to mixed use and regional commercial zoning on more than seven acres of land near Hawthorne Road and Division Street.
It would allow for a proposed 30-unit student housing complex north of Hawthorne Road. The land contains 16 single family homes that were converted into themed student housing, according to an application filed with Spokane County.
Plans also call for addition of a coffee shop, restaurant or bookstore as well as development of more than 47 units of additional housing south of Hawthorne, according to an environmental study submitted to the county.
Spokane County Commissioner Mary Kuney motioned to postpone the decision for both comprehensive plan amendments, stating she needs additional time to review the files, given the history of the zoning change initiated by Douglass.
Kuney also added that Commissioner Al French, who was absent from the meeting, requested to be present for the vote.
Commissioners will vote on the amendments at a future meeting.
This article was updated to clarify the county planning commission's approval conditions and plans indicated by the developer on an environmental study.
Local journalism is essential.
Give directly to The Spokesman-Review's Northwest Passages community forums series -- which helps to offset the costs of several reporter and editor positions at the newspaper -- by using the easy options below. Gifts processed in this system are not tax deductible, but are predominately used to help meet the local financial requirements needed to receive national matching-grant funds.
Subscribe to the Coronavirus newsletter
Get the day's latest Coronavirus news delivered to your inbox by subscribing to our newsletter.
---