News > Spokane
Giant 'Baby Trump' balloon is coming to Spokane to protest Pence visit
Sept. 28, 2018 Updated Sat., Sept. 29, 2018 at 1:06 p.m.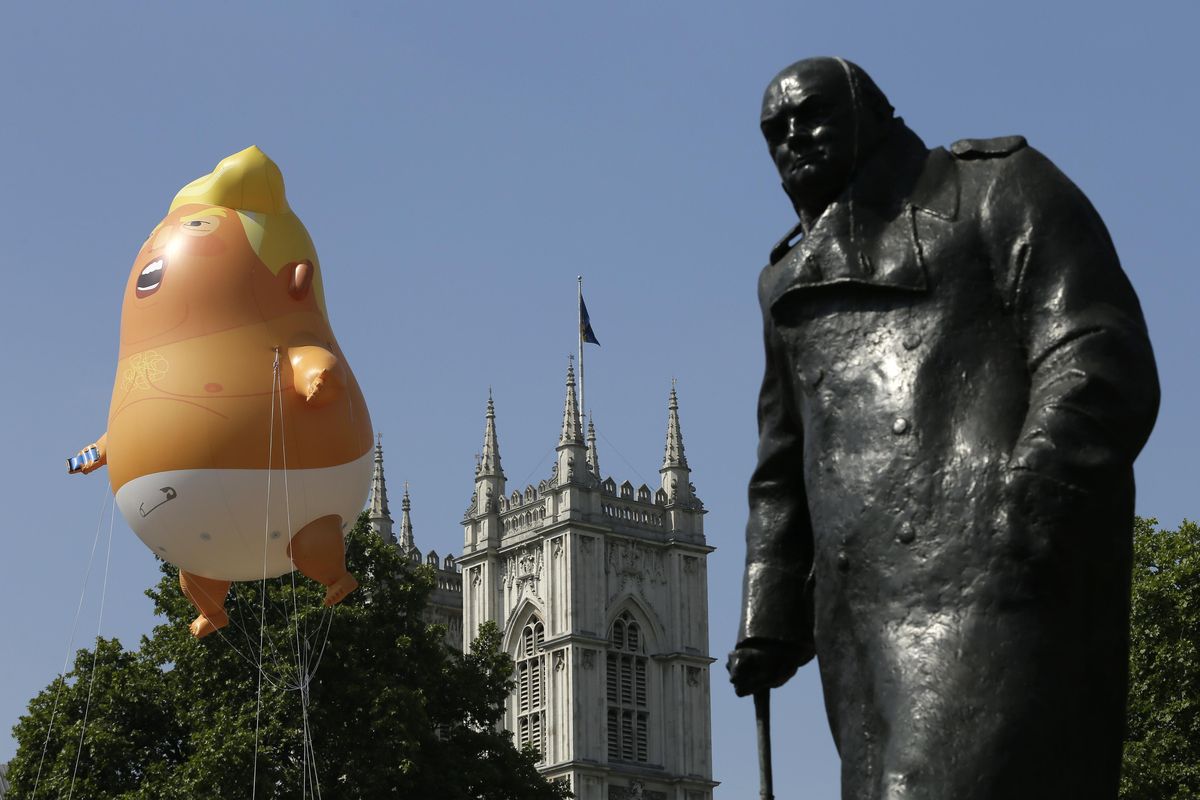 FILE – A six-meter high cartoon baby blimp of U.S. President Donald Trump hovers next to the statue of former British Prime Minister Winston Churchill, as it is flown as a protest against his visit, in Parliament Square in London, England, Friday, July 13, 2018. A replica of the balloon is expected to fly in Spokane next week during a visit by Vice President Mike Pence. (Tim Ireland / AP)
A 20-foot "Baby Trump" balloon is coming to Spokane during Vice President Mike Pence's visit on Tuesday.
The Backbone Campaign, an activist group that uses art to make political statements, is bringing the balloon in collaboration with Indivisible Spokane and hopes to get it as close as possible to Pence when he headlines an event in support of the re-election campaign of U.S. Rep. Cathy McMorris Rodgers, said Cynthia Hamilton, Indivisible Spokane organizer. But Hamilton is so far unsure exactly where that will be.
The balloon was made in Great Britain, and is a replica of the original that flew in London when President Donald Trump visited the city in July. The balloon that will fly in Spokane arrived in the U.S. in August and has traveled across the U.S. to New Jersey, Chicago and Los Angeles.
The balloon will fly from 1 p.m. to 4 p.m. in coordination with protests by the Handmaid's Solidarity Brigade, National Organization for Women and Planned Parenthood, Hamilton said.
Backbone Campaign local organizer Jacob Johns said it's a special effort to bring the Trump balloon to Spokane.
"It's a real powerful image to voice a lot of the Trumpism that's spilling into local stuff," he said.
On Monday, the Unitarian Universalist Church will host a training session for the balloon handlers, according to Backbone's website. The church will also have a sign painting workshop, said Todd Eklof, minister.
Hamilton said it cost organizers about $2,500 for helium to inflate it and the transportation. The Backbone Campaign will then raise the money to send it to another city, she said.
"It seemed like Pence's visit was an excellent opportunity, especially with the national conversations about misogyny and sexual abuse," said Bill Moyer, executive director of the Backbone Campaign. "It's principally about protesting the obscene behaviors of our president."
Moyer said the balloon will travel around California in October.
Update: Rep. Cathy McMorris Rodgers' spokesman Jared Powell released a statement on the balloon:
"Add the Backbone Campaign to a long, growing list of progressive, radical, far-left entities from Elizabeth Warren to MoveOn.org to Indivisible supporting Lisa Brown's campaign of tax hikes, government-controlled health care, and resistance to the booming economy in Eastern Washington."
Local journalism is essential.
Give directly to The Spokesman-Review's Northwest Passages community forums series -- which helps to offset the costs of several reporter and editor positions at the newspaper -- by using the easy options below. Gifts processed in this system are not tax deductible, but are predominately used to help meet the local financial requirements needed to receive national matching-grant funds.
Subscribe now to get breaking news alerts in your email inbox
Get breaking news delivered to your inbox as it happens.
---