Sports > High school sports
Mead fights off University behind third-quarter outburst, Isaiah Saldana's rushing
Fri., Sept. 28, 2018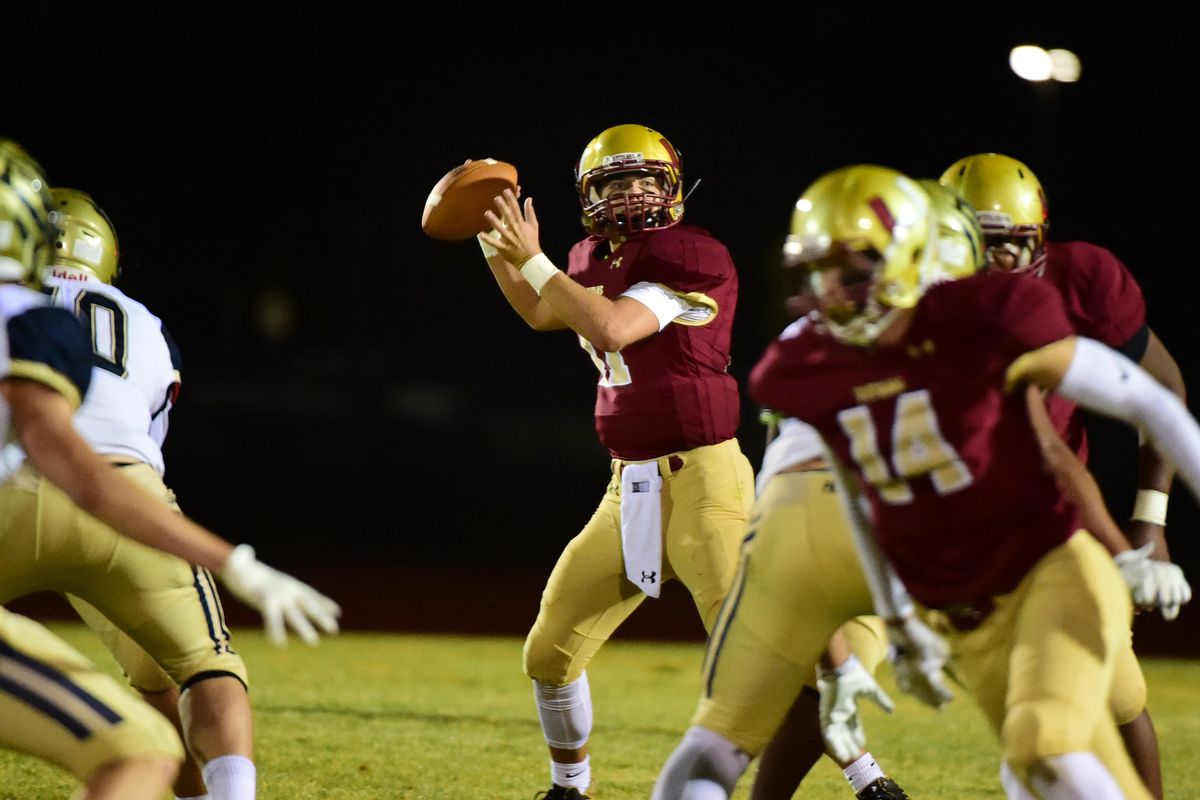 University quarterback Gavin Wolcott looks for a receiver downfield Friday, Sept. 28, 2018 during the Titans' game against Mead at University High School. (Jesse Tinsley / The Spokesman-Review)
It started as a sloppy track meet. It turned into a resounding statement game.
Isaiah Saldana rushed 24 times for 105 yards with three touchdowns and Mead put up 20 unanswered points in the third quarter and the visiting Panthers beat University 47-28 in a Greater Spokane League game on Friday.
Mead (4-1, 2-0) rushed out to a 21-point lead in a turnover-filled first quarter only to see that lead evaporate into a 24-20 advantage at the half.
Whatever Panthers coach Benji Sonnichsen said at half worked.
"We talked about (University's comeback) at halftime," Saldana said. "We calmed ourselves down and settled down and got the 'W.' "
"Third quarter you could see what our offense can do," Sonnichsen said. "We have lots of weapons out there. I think we did a really nice job on offense and we settled down and played good enough defense."
The coach had praise for Saldana, his somewhat surprising workhorse.
"He's a really good back," he said. "We've known that about him. He's a really good football player. He's tough and can make people miss. He can run over people."
Saldana said he wasn't surprised by the little bit of extra work this week.
"We had a couple of guys injured this week, so I knew I had to play a physical game."
Three of the GSL 4A teams have been ranked – or close to it ––so far this season, Mead being the notable exception.
"We're worried about ourselves," Sonnichsen said, waiving off the midseason rankings. "We're better than we have been.
"We're worried about playing our best football. And we're getting closer. When we play our best football, then I think we can be GSL champs and we can do something in the playoffs."
On the third play of the game, U-Hi quarterback Gavin Wolcott was sacked and the ball came loose. After a mad scramble, Mead's Nathan Puletasi came up with inside the U-Hi 10. A personal foul after the play pushed it back to the 24.
Mead tried some trickery on a wide receiver screen and pitch, but the exchange hit the turf and U-Hi's Danny Meyer fell on it at the 25.
U-Hi (3-2, 0-2) gave it right back. On third-and-8, Wolcott's screen pass was picked off by Cayden Miller at the 30.
The Panthers gave the ball to Isaiah Saldana four straight carries – the last for a 3-yard touchdown run and an early 7-0 lead.
On the Titans' next possession, Wolcott busted up the middle for an 11-yard gain but was stripped and Mead recovered again.
On the next play, Blair hit Michael Workman on a fly pattern for a 36-yard touchdown and 14-0 lead.
The pace settled a bit as the teams traded possessions, including Mead missing a 47-yard field-goal attempt.
Mead eventually got the ball back near midfield and Blair hit on 3 of 4 pass attempts to get into the red zone.
On second-and-10 from the 14, he found Kaveh Abghari in the flat. Abghari shook a tackler and trotted into the end zone to put Mead up 21-0 with just less than 9 minutes left in the half.
U-Hi finally got a spark, and got back into the game.
On the Titans' first play after a touchback, Isaac Matt (172 yards, two touchdowns) burst through the line and sprinted down the right sideline 80 yards to get the Titans on the board at 21-6.
U-Hi forced Mead to punt and took over at its 16. A roughing the passer penalty moved the ball near midfield, then Wolcott hit Marcus Roberson for a 29-yard gain to the Mead 36.
Two plays later, Wolcott connected with Kye Duplessis on a fly for a 29-yard touchdown catch to trim the deficit to 21-14 with 5:35 left in the half.
Mead put it on the turf again on its first play after the score and U-Hi went back to work.
Fullback Tyler Bishop made runs of 8, 5, and 7 yards to get it to the 1, then Matt pounded it in from there to draw U-Hi within one – after the missed extra-point attempt – with 1:09 left.
Mead was undeterred. Blair hooked up with Workman on a 35-yard catch-and-run to the U-Hi 40, then the Panthers picked up another 10 yards on a slant to Saldana with 19 seconds left.
An incompletion brought up second down with 6 seconds left. Junior kicker Eli Eldridge nailed a 47-yard field goal to put Mead up 24-20 at intermission.
"We stayed with it. They're a good team," Sonnichsen said. "They hung around and capitalized on their opportunities there in the second quarter."
Mead took the second-half kick and methodically walked down the field, gaining good chunks on each carry.
Saldana picked up 15 yard to the U-Hi 17. A couple of plays later, Blair hit Workman on a down-and-out at the flag for a 7-yard TD reception and put the Panthers up 31-10.
Blair finished 21 of 30 for 274 yards and two scores.
Mead forced a punt and got the ball back at its 25. A pair of 13-yard completions gave the Panthers some breathing room, and Blair hit Keli'i Zalopany with a short route that the receiver took down to the 2.
On the next play, Saldana fought his way through the line for his second touchdown and a 38-20 lead.
The Panthers' defense force another punt, but U-Hi botched the snap. The punt was partially blocked and Mead got the ball at the Titans' 3. On the next play, Saldana pounded it home to make it 44-20 at the end of three quarters.
U-Hi's Blake Tellinghusen made a big kickoff return to the Mead 35. The Titans tried to hit a home run, but Wolcott's deep pass intended for Duplessis was picked off by Jonathan Baird near the goal line.
Wolcott capped a short drive with a 1-yard plunge with just more than 6 minutes left and the 2-point conversion made it a two-score game. The Titans attempted an onside kick, but Mead recovered.
Mead walked it back into the red zone, with the benefit of a pass interference call, and Eldridge tacked on a 34-yard field goal to push the lead to 19 with 3:25 left.
Local journalism is essential.
Give directly to The Spokesman-Review's Northwest Passages community forums series -- which helps to offset the costs of several reporter and editor positions at the newspaper -- by using the easy options below. Gifts processed in this system are not tax deductible, but are predominately used to help meet the local financial requirements needed to receive national matching-grant funds.
Subscribe to the sports newsletter
Get the day's top sports headlines and breaking news delivered to your inbox by subscribing here.
---