Analysis: One long pass from Gardner Minshew to Easop Winston Jr. salvages victory for Washington State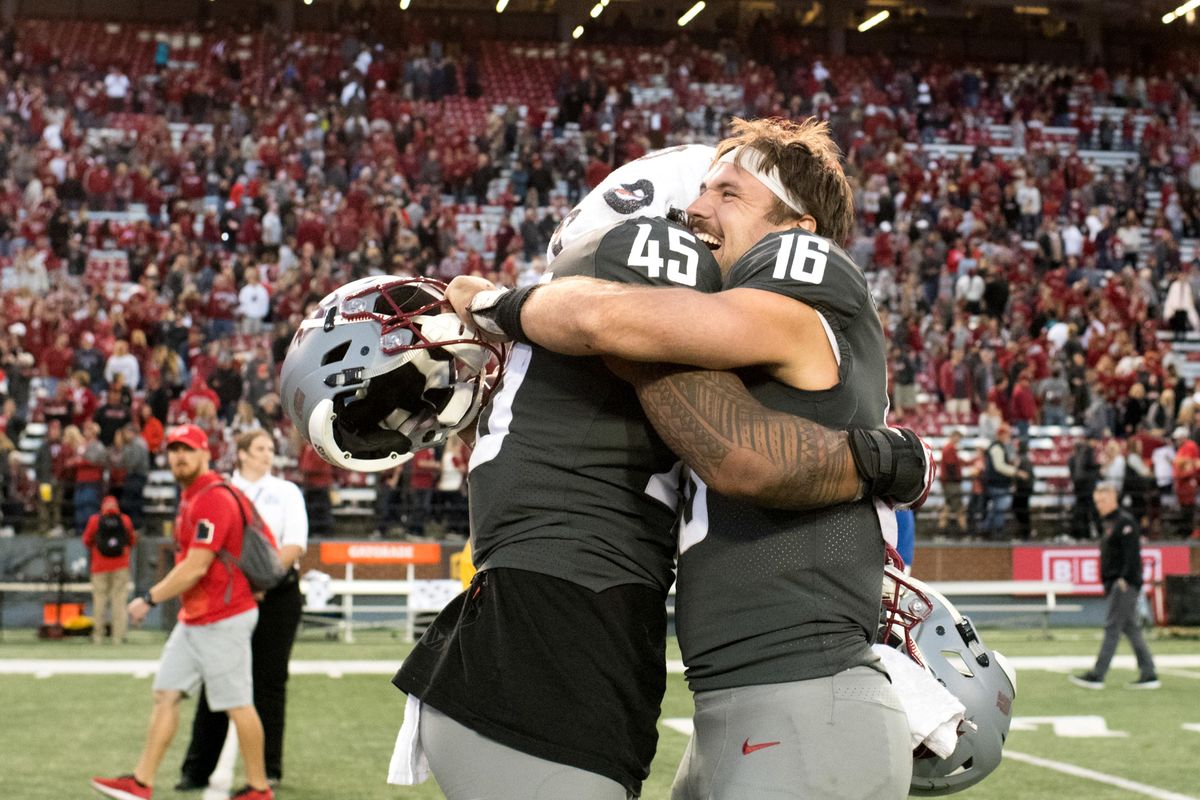 PULLMAN – Gardner Minshew and Kyle Sweet entered the postgame press conference wearing slick aviator shades and wide grins.
It very nearly was another look for Washington State's quarterback-receiver duo on this night.
WSU's offense woke up from a deep second-half slumber with 4 minutes to play in the fourth quarter and after six empty drives that included five punts, Minshew and Easop Winston Jr. hooked up for an 89-yard touchdown pass to secure a 28-24 win over Utah on Saturday at Martin Stadium in front of a homecoming crowd that numbered 30,088.
The Cougars extended their home winning streak to 10 games and improved their season record to 4-1 and 1-1 in Pac-12 Conference play. Utah, coming off a bye week, dropped to 2-2 and 0-2 in league play. WSU can move one game shy of postseason eligibility by beating Oregon State (1-4, 0-2) next week in Corvallis.
"This game was all about resiliency," said Minshew, who had his third 400-yard passing game in a Cougars uniform and finished with 445 passing yards, three touchdowns and one interception. "There was a time there when our defense was kind of struggling and (the offense) was playing OK, and then it kind of flipped. At the end we both had to make big drives, (the offense) had to make a big drive and (the defense) had to make a big stop. I'd say I am super proud of this team for its resiliency."
In the first half, the Cougars were throwing and catching the ball with relative ease, playing their version of basketball on grass as fluidly as they had all season. No team on Utah's schedule had scored more than 21 points against the Utes in a game this year, but the Cougars sprinted to that total by the 9:03 mark of the second quarter.
For reference, Utah's acclaimed defensive secondary had conceded 37 pass completions in three games this season. Minshew dealt 22 complete passes in the first half.
But in an instant, the Cougars' Air Raid offense went from highly operative to hardly existent. The Utes finally provided some resistance in the defensive backfield and some pressure up front that led to Minshew being sacked for the fourth and fifth time this season.
"I think we're still fighting consistency, part of it, they're a really good defense," WSU head coach Mike Leach said. "One of the top defenses in our conference and in the country, they're going to get you out occasionally."
So when the Cougars got the ball back on their 7-yard line with 5:07 left in the fourth quarter, and trailing 24-21, they certainly didn't look like an offense capable of stringing 10 to 15 positive plays together, covering 93 yards of ground and pulling off a come-from-behind win.
Maybe they had one big, explosive play left in the tank, though.
On second-and-6 from the 11-yard line, Winston ran past cornerback Julian Blackmon and Minshew floated a pass perfectly into his arms. Winston broke Blackmon's shoestring tackle and made a savvy juke move that led safety Corrion Ballard to the middle of the field while the receiver went right. Winston booked it down the sideline to finish off the longest WSU touchdown reception since Vince Mayle's 90-yarder against California four years ago.
"I saw a one-on-one with a guy that's pretty much unguardable one-on-one, so I just gave him a chance and he just made it work," Minshew said.
Winston, who's caught five touchdowns in five games for the Cougars in his debut season, finished with four catches for 115 yards.
"That was just another play I had to win my one-on-one matchup and Gardner threw a beautiful ball," he said. "I was able to kind of stack the corner and the rest was just playing ball after I caught it.
"The crowd was roaring and everything, I just had to get it into the end zone. That's all I saw in front of me. Just get there."
The homecoming crowd bellowed for the Cougars' defense, too. It managed to keep WSU in a one-possession game for the entirety of the second half, holding the Utes to three points in the third and fourth quarter.
Sixth-year senior linebacker Peyton Pelluer came up with a momentum-swinging sack in the final period that caused the Utes to lose 14 yards at a pivotal point in the game. The Cougars lured Utah into two costly penalties – a false start and a hold – as the Utes were marching downfield in the game's final minutes.
"It was big, and protecting our home is one of our big things that we value in the locker room," defensive lineman Will Rodgers III said. "And so the crowd coming out aggressive, hyped up, we were just as hyped up as them and we just rolled together."
---