20 years after crippling labor dispute, Kaiser and Steelworkers working together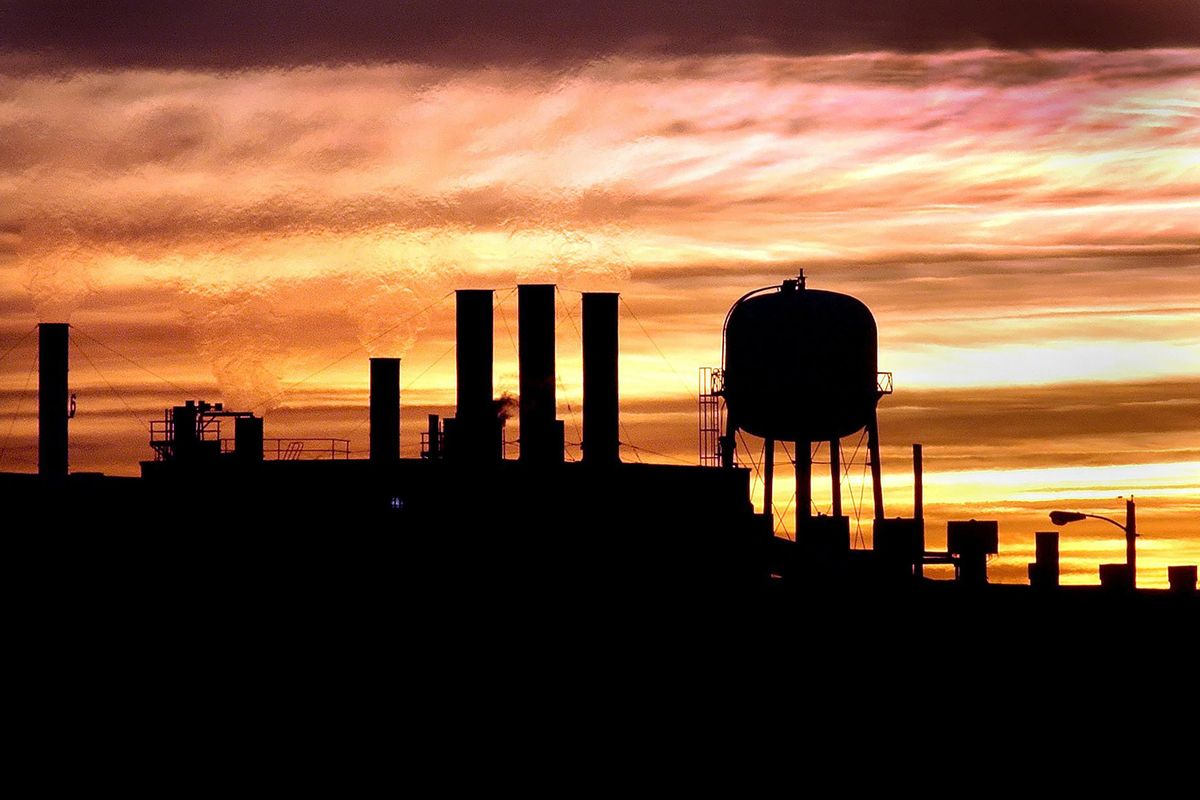 The arrival of trailers, fencing and extra security cameras at Kaiser Aluminum's Mead smelter gave Dan Russell a deep sense of foreboding.
It was August 1998, and the contract between Kaiser and its union – the United Steelworkers of America – was set to expire Sept. 30. The company appeared to be hunkering down for a protracted labor dispute. Russell, a former Marine, was the Steelworkers' local president, representing 1,000 hourly workers at the smelter.
At Kaiser's Trentwood rolling mill in Spokane Valley, Kyle England was the manager in charge of logistics. He was tasked with ordering trailers for the Trentwood mill and setting up a trailer park where replacement workers could stay.
England, who was 29 at the time, was a former Steelworker. He'd started working at Trentwood as a laborer when he was a 19-year-old college student. England knew many of the plant's 1,100 hourly workers. His stepdad was a Steelworker.
The sweltering weeks of August gave way to an uneasy September. Russell traveled to Minneapolis to serve on the Steelworkers negotiating team. As the days ticked away without an agreement, he became too nauseous to eat.
"I could see what was coming," Russell said. "I was thinking about the 1,000 people back at the Mead plant. They wanted to reach an agreement. They expected to keep working."
At Kaiser Trentwood, strike preparations continued. Beds arrived and were moved into the trailers for sleeping quarters. A shower trailer and portable laundry facilities appeared on the grounds. Off-site parking for security contractors was arranged.
"Everyone knew what was happening," England said. "There were no secrets."
When Sept. 30 arrived, the Steelworkers and Kaiser management were at an impasse. To give their negotiators extra leverage, the Steelworkers had taken an earlier strike authorization vote. It allowed their leadership to call a strike if a deal wasn't reached before the contract expired.
Shortly before the 4 p.m. expiration on Sept. 30, phone calls went out. The strike had begun.
England watched workers stream out of the Trentwood plant. "It was a surreal experience," he recalled. "The Steelworkers left in a massive exodus. I kept thinking, is this really happening?"
A bruising labor dispute
Today is the 20th anniversary of the walkout, which marks the beginning of a bruising labor dispute in Spokane County. The strike and a subsequent lockout lasted more than two years, dividing the community and creating economic hardships for many.
For decades, jobs at the two Kaiser plants had represented steady, blue-collar employment for local families. They came with wages that allowed people to buy homes, send kids to college and pay for vacations. Each union job at Kaiser supported four to five other jobs in the community, according to the Steelworkers.
The Mead and Trentwood plants had long histories in Spokane. During the nation's rapid industrial buildup to fight World War II, aluminum from the smelter was trucked to the mill, where workers rolled aluminum into sheets for bombers and other aircraft. After the war, the government sold the factories to industrialist Henry Kaiser.
Kaiser's Spokane presence paralleled the post-war rise of American manufacturing. The strike was the beginning of changes that would disrupt Mead, Trentwood and their 2,100 hourly employees.
After four months on the picket line, the Steelworkers offered to go back to work under the previous contract while negotiations continued. But Kaiser's management wouldn't allow the return to work. A bitter, 20-month lockout followed.
The National Labor Relations Board's attorneys eventually sided with the Steelworkers, determining the lockout was illegal. That set the stage for arbitration, which led to a new contract and the Steelworkers' return to work on Oct. 23, 2000.
But the victory was short lived. The Mead plant closed when the company determined it could make more money selling the smelter's low-cost allotment of electricity from the region's federal dams than running the plant. And more troubles loomed.
During the Great Recession, the highly leveraged Kaiser filed for bankruptcy. U.S. manufacturing was in the midst of a massive restructuring, and other Spokane-area manufacturers would close, shedding hundreds of jobs within a few years.
Kaiser was a survivor. It emerged from bankruptcy in 2006 after changing its product mix, investing heavily in the Trentwood plant and embracing lean manufacturing.
About 950 people – hourly and salaried – now work at Trentwood, producing aluminum alloys and semifabricated plates, sheets and coils for aerospace and other high-end manufacturing applications. For hourly workers, the average wage is around $60,000, according to the Steelworkers.
As part of the company's bankruptcy reorganization, the Steelworkers nominate four of the 10 members of Kaiser's board of directors. It's an unusual arrangement for a U.S. manufacturer, but one that works well, according to the Steelworkers and the company's management.
"Now, we have a great relationship," said Dan Wilson, the president of the Steelworkers Local 338, which represents Trentwood workers. Wilson, now 63, was a millwright and union officer during the dispute.
"We needed to work together for the good of the members to salvage what could be salvaged," he said. "I had to put some things behind me."
Out of the labor dispute and the bankruptcy, "we forged something different and new," said Scott Endres, a vice president at Kaiser. "Our relationship with the United Steelworkers differentiates us."
The union and management developed a strong sense of teamwork, focused on moving the company forward, he said.
When Wilson sees the red Kaiser Aluminum sign at Trentwood, he feels a sense of accomplishment. If things had turned out differently, the sprawling industrial complex could have been razed for a housing complex, he said.
"I hope this can grow and be even more successful," Wilson said of Trentwood, "and that we can hire more people and maintain our wages and benefits."
But memories of the labor dispute run deep. And for many, scars remain.
'I just had
so much anger'
John Witt was a union officer at Trentwood in 1998, a volunteer position representing 80 workers in a clerical and technical unit. Two months before the strike, he was asked to join the Steelworkers negotiating team.
"I had no experience of what I was getting into," said Witt, now a 68-year-old North Spokane resident.
He had started working at Kaiser at age 24, intending to earn enough money to finish a social work degree at Eastern Washington University. Instead, he stayed at Kaiser, advancing from flipping sheets of aluminum in Trentwood's heat treatment plant to an eventual job in the accounting department.
"Kaiser did a lot for John Witt," he said. "It helped me raise a family."
But he still finds the strike and lockout incomprehensible.
"Demand for aluminum was high and Trentwood had done a lot of good work on efficiency," Witt said. "They had a great workforce and they were making money. … We'd negotiated a bonus based on financial performance. The maximum payout was $5.20 per hour."
Kasier officials verified the bonus, but couldn't confirm the dollar amount.
Contract negotiations, however, were stuck on two points: The Steelworkers wanted to protect health benefits for retirees. They also wanted a master contract for Kaiser's five aluminum plants, which included other operations in Tacoma, Ohio and Louisiana. Company officials wanted to negotiate different agreements for each plant.
Witt was privy to many of the hardships members of his 80-person unit experienced. Among the Steelworkers as a whole, there were divorces, heart attacks and other serious health issues, and bankruptcies. Witt internalized the trauma, becoming bitter.
"The whole experience altered my personality," he said. "I was the one who sat in the meetings, heard the bad news and had to relay it to 80 people in the bargaining unit.
"For families where both the husband and the wife were Steelworkers, and for single mothers, it was a devastating event," he said. "I find it hard to forgive."
Witt was arrested twice for minor picket line infractions. Once, he confronted a worker who was crossing the picket line and was charged with fourth-degree assault. Another time, he flicked his cigarette on the windshield of a car driving through the line. In both instances, the charges were dismissed.
"On the picket line, I just had so much anger," Witt said. "It wasn't where I wanted to be."
There were "petty actions" by both management and the Steelworkers, he said. The parties alternated selecting the location where they would hold talks. "The company liked to take us to expensive hotels," Witt said. "We made them stay in union hotels."
Financially, Witt and his wife, Jane, were able to weather the labor dispute. Both were careful money managers, and they hadn't gone into the dispute living paycheck to paycheck. But Jane led the life of a single working mom, holding down her job as a claims adjudicator and parenting their two boys.
"Was I home?" Witt asked his wife. "Never," she replied.
"John was gone a lot from the role he took on," Jane Witt said. "He was putting in 10- to 12-hour days, even when he wasn't traveling."
'Something to keep up morale'
Other Steelworkers and their families became a source of solidarity and camaraderie for Mary Russell, whose husband was president of the local representing the Mead workers.
"We had Sunday afternoon car rallies. Workers would line up their vehicles and drive by the Mead plant," she said. "There were sports cars, jalopies. … We'd go by there and blast the horns. It was something to keep up morale."
Dan Russell had started working at the Mead smelter in the late 1960s, when $100-plus a week was a decent wage. His co-workers called him "Beaver," a nickname that stuck when a boss told him, "You work just like a beaver." Russell was a crane operator on the potline, and his tenure at the smelter predated fire-retardant apparel.
"I used to go down to Goodwill and buy shirts by the dozen. They got splashed with molten broth and metal and burned up," he said.
The Russells raised five kids on Dan's wages from Kaiser in a house overlooking Hillyard. Their kids were grown when the strike started, but they had two sons-in-law working for Kaiser.
The Steelworkers ran a food bank out of the union hall, which was generously supported by the local community, Mary Russell said. But, "it hurt me when you'd see parents coming with little kids," she said.
Russell threw herself into activities for Steelworkers' children. During the dispute, the union hall hosted Halloween parties and gave out Christmas gifts. A local hairdresser volunteered her time for back-to-school haircuts.
The union hall became a hub for all types of assistance, said Witt, the Trentwood worker.
"I was astounded by the strength of the membership," he said. "We set up departments to deal with public assistance, health care assistance and strike pay. You would have no idea of the talents production workers had. You had a regular Joe, and pretty soon he was educated on health insurance needs and options."
The Steelworkers had made a pledge that families wouldn't lose their homes or primary vehicles during the dispute. "That obligation was met," Witt said.
When Steelworkers depleted their savings, they were eligible for assistance with mortgage payments and car loans.
'Us' and 'Them'
For Kyle England and Scott Endres, the Kaiser managers, memories of the labor dispute are a blur.
They worked long days and fell asleep some nights on cots in their offices. Both were single at the time, though England had a girlfriend and a dog.
Endres had moved to Spokane just a year earlier to accept an engineering job at Kaiser. The company had a good reputation and a strong legacy – Henry J. Kaiser was an innovator and among the first industrialists to provide health insurance for his workers.
"The dispute was not something I expected to experience," Endres said. "It was difficult for everyone involved."
England had been through an earlier strike in 1995, but it ended after nine days. This time, the dispute touched him deeply.
"I knew a lot of the people. They weren't just employees, but friends and people I'd worked with on the floor," he said. "It was like a divorce. … It went to 'us' and 'them' in a matter of minutes."
England sensed the same conflict in the larger community. "Almost everyone in Spokane has a tie to Kaiser. Most folks knew or were related to somebody involved," he said.
At work, England arranged for buses to transport replacement workers to Trentwood so they wouldn't have to drive their vehicles across the picket line. He met regularly for coffee with representatives from the Spokane County Sheriff's Department and the Steelworkers, discussing issues that came up on the picket line.
Those meetings helped keep interactions respectful, said England, now Trentwood's human resources director and a company spokesman.
Despite the strong feelings the dispute triggered, "I never felt afraid," he said.
Back to work
Dan Russell's shift was the first to go back to work at Mead when the labor dispute ended.
"Cars lined up, flying Steelworker flags, and caravaned into the employee parking lot," he said. "And we went back to work on the potlines."
Within weeks, Russell heard that Kaiser was shuttering its Tacoma plant to sell the electricity contracts. The Mead plant closed next.
"What a slap in the face for us," he said.
Russell, now 72, retired from Kaiser in 2004. He was part of a skeleton maintenance crew that stayed on at the smelter after its closure. The plant was eventually sold and stripped.
At Trentwood, Dan Wilson and John Witt were among 600 workers who returned to the plant – 500 fewer than the numbers that had walked out two years earlier.
"We were happy to go back to work," Wilson said, "but we were sorry that people who started the journey with us were no longer with us."
Some workers had taken early retirements. And many of the younger workers moved out of the area for other jobs.
"Unfortunately, both for the company and the union, we lost a lot of talent," Witt said.
When people learn that Witt is a retired Kaiser Trentwood employee, they have a common reaction. "They're not aware it's still in operation," he said.
Russell contemplated taking his Steelworkers sign to the closed Mead smelter today and spending some time in reflection.
"This isn't a celebration, it was a hard time for all," he said. "We persevered. We'll remember it. It marks the battle we went through 20 years ago."
---