Sports > Seattle Seahawks
Seahawks edge Arizona on Sebastian Janikowski's 52-yard field goal
Sept. 30, 2018 Updated Sun., Sept. 30, 2018 at 8:50 p.m.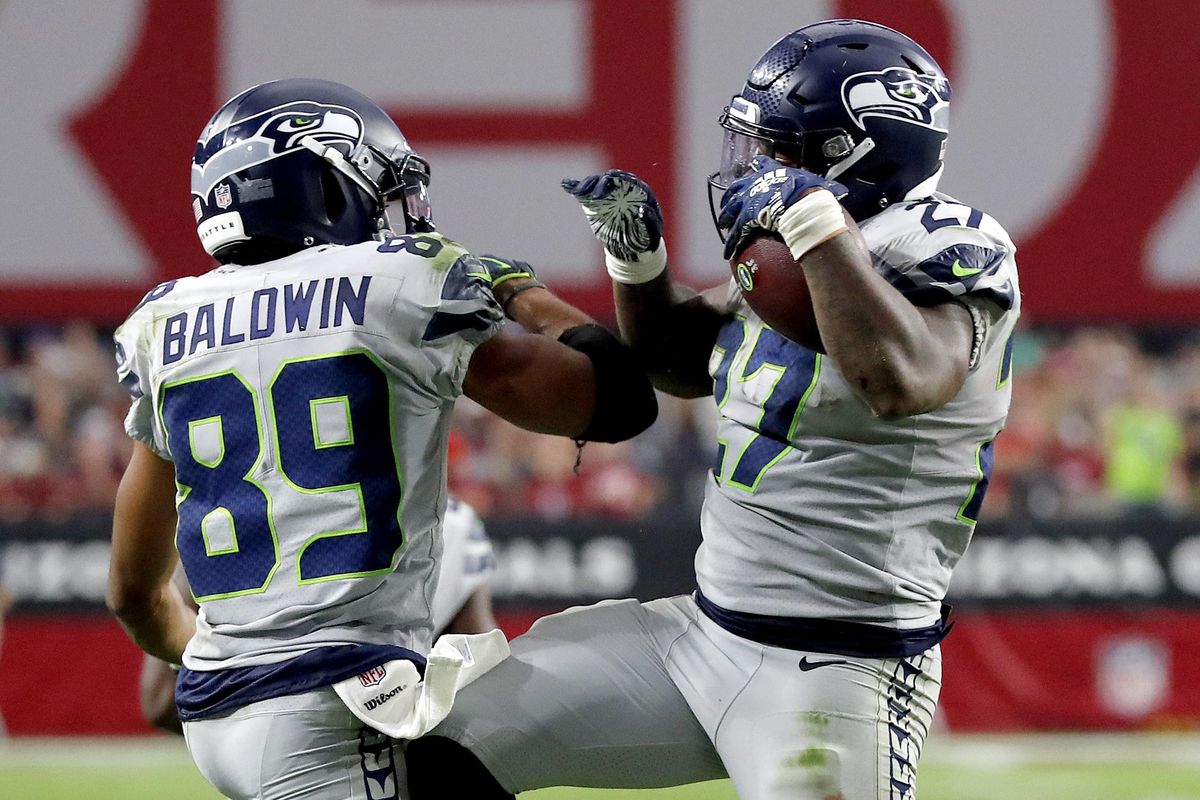 Seattle Seahawks running back Mike Davis (27) celebrates his touchdown with wide receiver Doug Baldwin (89) during the second half of an NFL football game against the Arizona Cardinals, Sunday, Sept. 30, 2018, in Glendale, Ariz. (Rick Scuteri / Associated Press)
GLENDALE, Ariz. — Music blared and handshakes and hugs were shared — all the usual postgame trappings of an NFL team celebrating a hard-fought and desperately-needed win.
Then Earl Thomas hobbled into the middle of the Seattle locker room on crutches, his lower left leg heavily wrapped, and anybody who might have momentarily forgotten the cost of this victory received a brutal dose of reality.
"Yeah, we got the (win),'' said defensive end Frank Clark. "But I feel like we're the losers at the end of the day because we lost a Hall of Fame player. We lost a player you can't replace. … It's Earl Thomas, let's be honest.'
It was the second consecutive year the Seahawks departed Arizona with a victory — this one dramatic as could be with Sebastian Janikowski hitting a 52-yard field goal as time ran out to put Seattle up 20-17 — but left largely lamenting what had been lost along the way.
Thomas suffered a fractured lower left leg with 8:59 left in the game, a play that almost certainly ends his season and potentially — if not probably — his Seahawks career. It was one of two likely season-ending injuries for Seattle in the game as tight end Will Dissly suffered a patellar tendon injury in the first half and also is likely done for the year.
A year ago on the same field, it was Richard Sherman (Achilles) and Kam Chancellor (stinger) who suffered injuries that ended their Seattle careers, an unhappy coincidence no one could avoid afterward.
"It's crazy to think about,'' said middle linebacker Bobby Wagner. "Last game it was Kam and Sherman and it's crazy for it to be Earl in this game.''
Thomas was injured on a play that helped Arizona tie the game on a 22-yard pass from rookie quarterback Josh Rosen to Chad Williams. Thomas appeared to get hurt as he dove over Williams while trying to make a play on the ball. His left leg appeared to kick Williams' body.
The Seahawks seemed stunned by the touchdown and injury, and went three-and-out on their next drive. Arizona took over at its own 24 with 7:11 left and converted a pair of third downs to move to the Seattle 27 and set up for a potential 45-yard Phil Dawson go-ahead field goal.
But as was fitting for a game that featured four missed field goals, at least four dropped passes by Arizona and just general inartfulness all around, Dawson misfired, the ball sailing wide right.
The Seahawks took over at their own 35 and used a 13-yard run by Mike Davis and two Russell Wilson completions to Doug Baldwin and Tyler Lockett to set Janikowski up for a 52-yarder with four seconds remaining.
The 40-year-old missed kicks of 38 and 52 yards in the first half. But his final shot at redemption was true as could be, sending the Seahawks into a celebration that Carroll thought was as emotional as any he's seen in his long coaching career.
"It was because of what had also occurred to the other guys,'' said Carroll, who twice used the term "bittersweet'' to describe the day.
"I was already emotionally messed up because of that," Carroll said. "I don't know what I was doing when you saw me at the end but I was already kind of half-wrecked because of the guys getting hurt.''
Carroll said he felt even more conflicting emotions because he said the team and Thomas had come to something of a truce this week after Thomas sat out two practices the previous week while saying he wanted to protect himselfwith his contract situation uncertain. Thomas was given a rest day Wednesday, but listed as a full participant in practice Thursday and Friday.
"We just turned everything around and everything was going in a positive direction,'' Carroll said. "It breaks my heart that we're talking about this right now.''
The Seattle defense struggled mightily without Thomas in 2016, allowing 34 or more points in two of the four games he missed and going 2-3 in the five games he sat out. Seattle went 1-1 without Thomas last season, one of the victories coming in Arizona.
That Seattle at least got the victory means the Seahawks can point to the home game next Sunday against the Rams as a chance to get back into the division race. But the game in Arizona nonetheless exhibited all kinds of warts — Seattle somehow won despite going 0 for 10 on third down.
Local journalism is essential.
Give directly to The Spokesman-Review's Northwest Passages community forums series -- which helps to offset the costs of several reporter and editor positions at the newspaper -- by using the easy options below. Gifts processed in this system are not tax deductible, but are predominately used to help meet the local financial requirements needed to receive national matching-grant funds.
Subscribe to the sports newsletter
Get the day's top sports headlines and breaking news delivered to your inbox by subscribing here.
---