Washington State is running less than usual this year, but could Oregon State tempt Cougars to give the ground a try?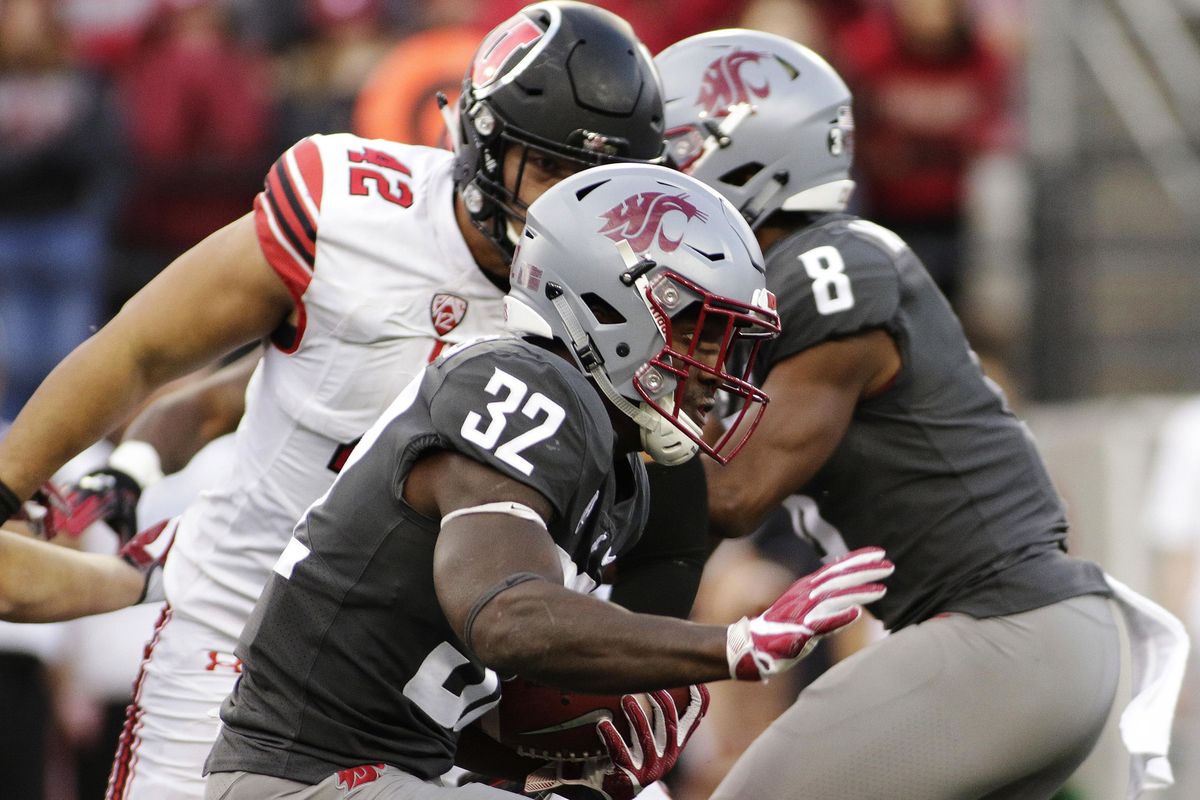 PULLMAN – There's no statistical evidence to suggest the Cougars will try something new, or do anything other than try to throw the cover off the football, when they travel to Oregon State on Saturday with hopes of picking up their first road Pac-12 Conference win.
But just case in case, keep these numbers in mind: 40, 280, 6.
The first digit is how many rushing attempts Washington State totaled two years ago during a home win versus Oregon. Never have the Cougars had more rushing attempts under seventh-year coach Mike Leach. The second number is how many rushing yards they accumulated in the same game against the Ducks, also a program high under Leach. The third is the quantity of rushing touchdowns from the early October game in 2014.
Leach and WSU (4-1, 1-1) have adhered to their Air Raid roots through the first five games of the 2018 campaign, trying 284 passes and no fewer than 52 in a single game. If you look at the Cougars' passing numbers through the first five games of each of Leach's seven seasons, you'll find that's the second-most, next to the 301 attempts Connor Halliday tried during WSU's 3-2 start to the 2014 season.
WSU confronted the country's top passing defense on Saturday by throwing the ball 56 times, and completing 31 of those for 445 yards and three touchdowns in a 28-24 win over the Utah Utes. Gardner Minshew sprayed the ball to 10 different targets and beefed up his FBS-leading completions total to 185. Minshew's 1,992 passing yards lead all FBS quarterbacks who've played in five or fewer games.
Leach's stubborn approach to throwing the ball has been successful so far this season, but if there was ever a game to deviate, it'd be the next one on the Cougars' schedule.
Leach and his patented Air Raid should be a sight for Oregon State's sore eyes, even when you consider the system's recent success against the Beavers. In four games against OSU, Luke Falk completed 163-of-206 passes for 1,689 yards, 22 touchdowns and just two interceptions.
With the Beavers (1-4, 0-1), the Cougars will face the lowest-performing rushing defense in the Pac-12 and the third-worst at the FBS level. Two weeks ago, OSU gave up 442 yards on the ground to Arizona in a 35-14 loss at Reser Stadium and on Saturday, the Beavers splintered some more, conceding 392 to Arizona State during a 52-24 loss in the desert.
Cougar tailbacks James Williams and Max Borghi should perk up when they see that UA's J.J. Taylor ran for 284 yards and finished with a per-carry average of 10.5, or that ASU's Eno Benjamin turned in 312 yards on 30 carries in Saturday's game.
Williams and Borghi have hardly gone unused by WSU this season and they have already accounted for 11 touchdowns and 599 all-purpose yards. But the running backs aren't getting many designed carries, either, and through five games the Cougars have recorded only 104 rushing attempts. By the same juncture of the 2017 season, WSU was up to 132. In 2016 that number was 150 and in 2015 it was 121.
Saturday against Utah, Minshew handed the ball off to a running back just five times – Williams had each of the five carries – and the Cougars finished with a net rushing total of zero yards.
It's almost guaranteed that won't happen Saturday evening at Reser Stadium, and Williams and Borghi should be featured at least a little more than usual. But will their workload allow them to put the record rushing numbers from the 2016 game on notice?
---