News > Spokane
Nadine Woodward running for Spokane mayor
UPDATED: Wed., April 3, 2019 A month after signing off for the last time on KXLY, longtime TV news anchor Nadine Woodward has set her sights on Spokane's highest elected position.
Standing in front of a couple of dozen supporters near the Rotary Fountain in Riverfront Park on Tuesday morning, she pledged to work collaboratively with city staff and constituents.
Woodward, 57, criticized recent proposals supported by her most well-known opponent in the race, City Council President Ben Stuckart. Stuckart supported opening City Hall to the public without a time limit, requiring the city to switch to renewable energy by 2030 and barring immigration enforcement from the Greyhound bus depot.
Woodward also said she would protect city employees, especially women, from bullying and harassment and would work to solve conflicts between city leaders.
"What is the use of a good idea if you are so caught up in fighting, or you're so abrasive, that you can't build the consensus to make it happen," she said.
Woodward had been an anchor at KXLY since 2010 and retired at the end of February. She also spent 19 years at KREM, before leaving over claims that the station discriminated against her based on her age and gender.
If she were elected mayor, she would be the second KXLY anchor and fourth woman to take office.
She had long been rumored to be interested in running for office and has been encouraged to run by some prominent conservatives.
Woodward has been endorsed by Phil Altmeyer, executive director of the Union Gospel Mission, and former City Councilman Steve Corker.
Jesse Tinsley
Corker, who lost to Stuckart for City Council president in 2011, said he is concerned Stuckart has overlooked regional solutions for homelessness.
"I support people who can do the best job," he said.
Woodward echoed several of the positions Mayor David Condon has taken, such as adding more police officers without raising taxes.
Voters approved a $5.8 million property tax to pay for new police officers and firefighters in February, a proposal Condon opposed. Since he took office, he has added a few officers a year and in last year's budget included funding for 10 new officers.
Woodward said the city needs to do something about property crime and supported hiring new officers every year, but the city shouldn't raise property taxes to do it.
"I like being able to spend within our means," she said.
She said she also would like to bring together all types of providers to find a regional solution to homelessness, saying she would listen to the community before taking a firm stance on how Spokane should address the issue.
"We need to get a handle on the situation before we become Seattle," she said. "I intend to bring people together."
Woodward did not offer specifics on addressing homelessness or public safety, saying she hoped to bring community members and groups together to find solutions. She said Stuckart, who has announced specific policy proposals, has already had seven years in City Hall.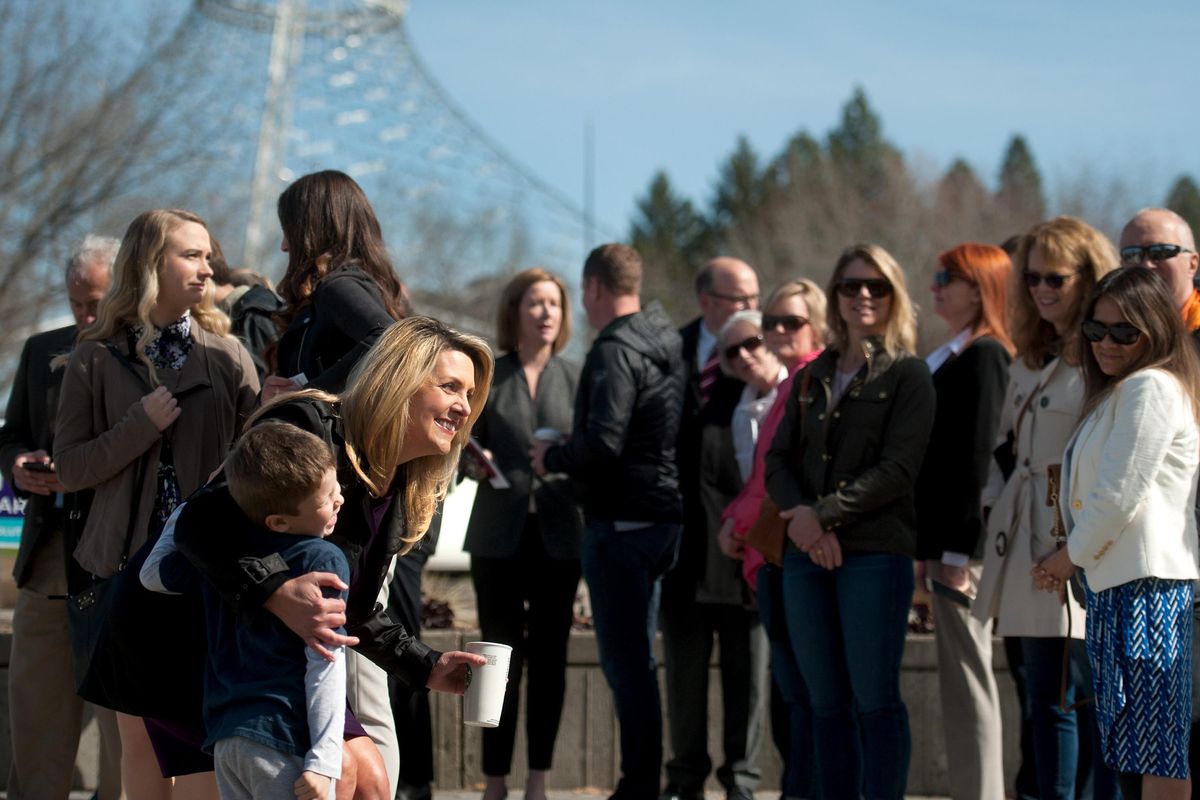 Nadine Woodward poses for a photograph with Patrick Hickey, 6, before announcing her run for mayor of Spokane on Tuesday, April 2, 2019. (Kathy Plonka / The Spokesman-Review)
Michael Cathcart, executive director of Better Spokane, a pro-business nonprofit, called Woodward the clear front-runner in the race, saying none of the other candidates who have filed has the name recognition to succeed against Stuckart in a general election.
"The other candidates may have a lot of virtues they bring," he said. "But they're just not known."
Stuckart said he hoped to talk about Spokane's future with everyone in the race.
"I look forward to discussing the issues and the future of Spokane with all the candidates," he said.
Stuckart laid out a progressive agenda during his campaign kickoff last month, promising to start a city office for human rights, make climate change and sustainability a city priority, address the shortage of affordable housing and urbanize the city. Stuckart has been endorsed by former Spokane Mayor Jack Geraghty, former City Council members Steve Salvatori and Mike Allen and most members of the current City Council.
During his campaign kickoff, other community public figures such as Carol Evans, chairwoman of the Spokane Tribe, and former Downtown Spokane Partnership President Mike Tedesco also shared their support for him.
Salvatori, a former pro-business city councilman, said he thinks Woodward is a good candidate who will give Stuckart a "heck of a race." He said Woodward, who already has been the face of a KXLY billboard campaign, has built a lot of trust in the community as a newscaster and is likely more familiar with the issues than many of the candidates because of her long career in news.
Salvatori recently moved to Florida to be closer to his family, but said even though he hasn't always agreed with all of Stuckart's decisions, he'll still be following the race and supporting him. He said Stuckart is set up to smoothly transition into the mayor's office because of his seven years in City Hall.
Several other candidates are in the race, including firefighter Shawn Poole, who has the endorsement of Spokane County Sheriff Ozzie Knezovich, and Air Force veteran Andy Rathbun.
Rathbun, who has pledged to spend $30,000 of his own money on the race, welcomed Woodward, saying he was looking forward to the discussions another candidate would bring to the election.
"I look forward to competition because competition is what built America," he said.
Other candidates in the race who have not raised or spent money on their campaigns include Kelly Cruz, a West Central Neighborhood Council member who has run unsuccessfully for City Council in the past; Chris Schroll, a progressive candidate and coordinator at a local auto body shop, Flash's Auto Body & Paint; Jonathan Bingle, a former pastor and owner of event and entertainment business Bent Events; and Jason Dixon, the owner of now-defunct medical marijuana dispensary Herb Nerds and owner of Liberty Smoke and Vapor shop.
Woodward's campaign coordinator is Eleanor Baumgartner, who is married to Spokane County Treasurer Michael Baumgartner, a former state senator who announced he would not be running for mayor in January and endorsed Woodward after the news conference Tuesday.
Local journalism is essential.
Give directly to The Spokesman-Review's Northwest Passages community forums series -- which helps to offset the costs of several reporter and editor positions at the newspaper -- by using the easy options below. Gifts processed in this system are not tax deductible, but are predominately used to help meet the local financial requirements needed to receive national matching-grant funds.
Subscribe now to get breaking news alerts in your email inbox
Get breaking news delivered to your inbox as it happens.
---