News > Spokane
City of Spokane Valley files claim against contractor after new City Hall shows signs of structural damage
April 3, 2019 Updated Wed., April 3, 2019 at 9:37 p.m.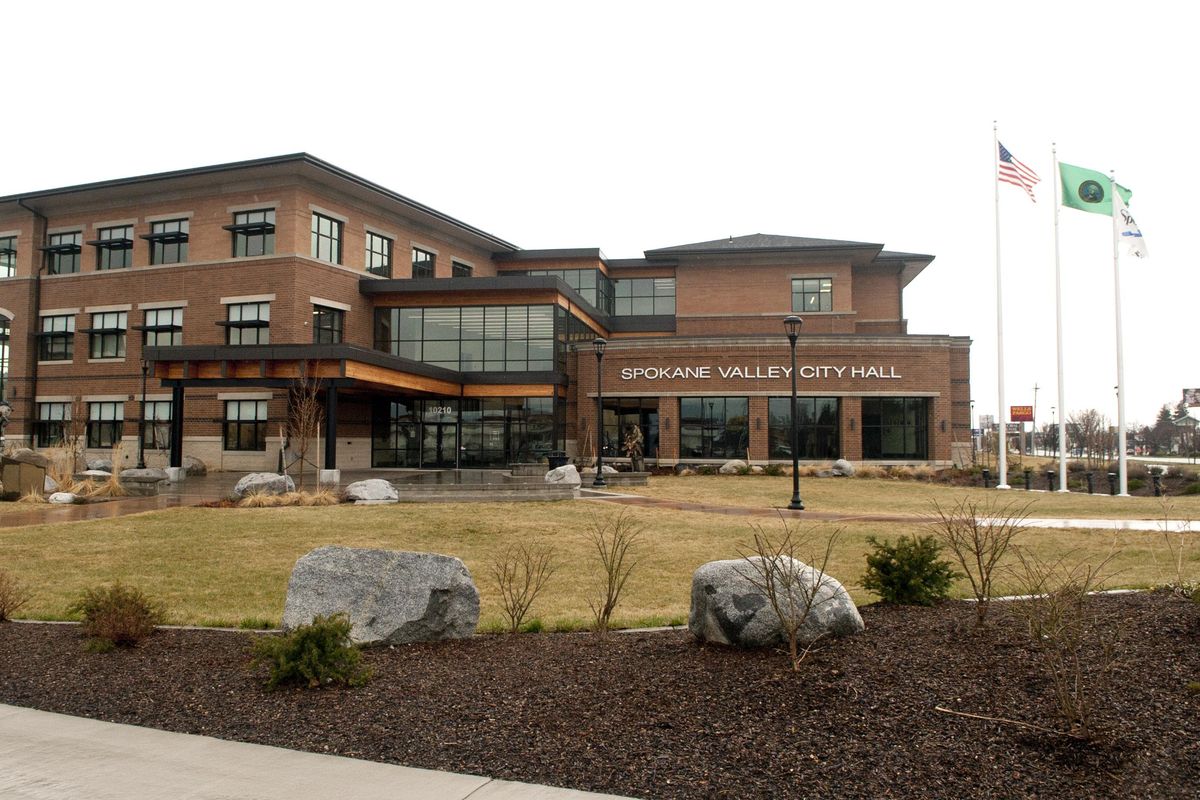 Spokane Valley's new $14.2 million City Hall, photographed on Wednesday, April 3, 2019, is starting to have structural damage. (Kathy Plonka / The Spokesman-Review)Buy a print of this photo
The city of Spokane Valley has filed a claim against the contractor responsible for building its state-of-the-art City Hall, alleging the structure has sustained damage because of of soil settlement under the building.
The city, which contracted with Meridian Construction in 2016 to construct the $14.2 million building, claims the company breached its contract because soil wasn't properly compacted under the northeast wall of the City Council chambers, resulting in significant settlement of the footings that support the building's foundation.
An attorney representing the city, Shane McFetridge of Paine Hamblen, wrote in a Feb. 21 letter to Meridian Construction that settlement of the building also resulted in structural damage to concrete floors, drywall and the brick exterior of the northeast wall.
McFetridge indicated in the letter that Meridian Construction was responsible for soil testing as well as inspections of soil filling and work performed by employees and subcontractors under its contract with the city.
Meridian Construction failed to document if there was soil compaction testing, which was required during construction, the letter said.
Spokane Valley spokeswoman Annie Gannon said the city is working with several outside consultants to identify the extent of the building's settlement and develop a plan to repair damage.
"The investigation by the city's consultants is currently ongoing. However, the structural engineer retained by the city as part of the investigation has determined that the settling does not pose any risk of structural instability with respect to council chambers," she said.
The city declined to comment further on estimated repair costs and who is paying for damages, although McFetridge wrote that conditions of the contract hold Meridian Construction responsible for payment to fix construction defects as well as attorney's fees.
"It's the city's desire to work with Meridian and its insurers to resolve the claim without the need for formal litigation," he said in the letter.
Meridian Construction was founded by Mark D'Agostino in 1999. Some of the company's projects include work at Northern Quest Resort & Casino in Airway Heights, Banner Bank in downtown Spokane, the Spokane Valley Fire Department's administration building and renovations to the SCRAPS animal shelter on Trent Avenue.
D'Agostino did not respond to requests for comment.
Spokane Valley's 65,000-square-foot City Hall opened in 2017 and was lauded as a major accomplishment by city officials because it was completed on time, within budget and without raising taxes. The building serves as an anchor for what could be considered the "heart of the community," and is designed to serve as a catalyst for economic development in the area.
Mayor Rod Higgins said he's sure repairs will be completed, but it's too early to identify which entity will pay for them.
"I have every confidence city staff will take care of it and make sure everything is OK in the end," he said.
City Councilman Arne Woodard said it's not unusual for some building settlement to occur in commercial construction, and he is confident City Hall will undergo necessary repairs.
"It's going to get handled," he said. "(Building settlement) is not surprising or alarming, especially when you catch it early on and decide to do things to stabilize it."
City Councilwoman Brandi Peetz said it's disappointing that the building has sustained damage.
"When you have a large project such as City Hall, you assume all the details are worked out, and then to come back several months later and find out there is all these issues … it's very disappointing," she said. "I hope we can remedy the situation and move forward."
Local journalism is essential.
Give directly to The Spokesman-Review's Northwest Passages community forums series -- which helps to offset the costs of several reporter and editor positions at the newspaper -- by using the easy options below. Gifts processed in this system are not tax deductible, but are predominately used to help meet the local financial requirements needed to receive national matching-grant funds.
Subscribe now to get breaking news alerts in your email inbox
Get breaking news delivered to your inbox as it happens.
---